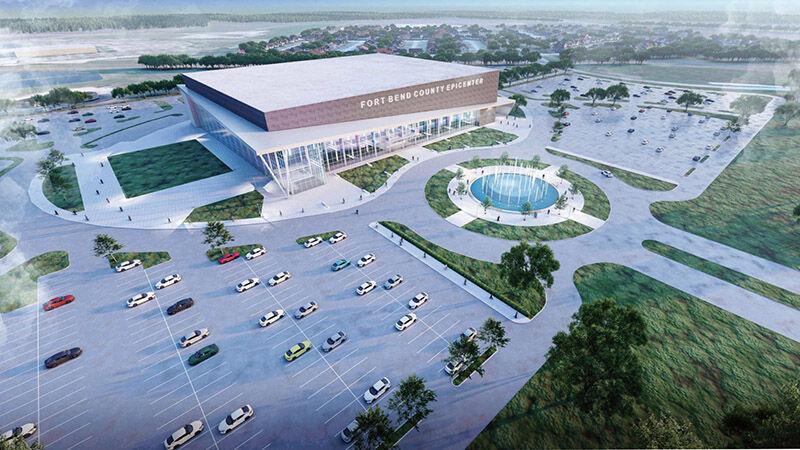 A new multipurpose arena is set to come to Fort Bend County near the site of the county fairgrounds in Rosenberg. 
On Feb. 23, the Fort Bend County Commissioners Court approved the construction of the EpiCenter, a 230,000 square foot facility scheduled to be built by the end of 2022 on a 51.75-acre site near the southwest corner of Highway 59 and State Highway 36. 
The total development cost of the project is expected to be $120 million.
The EpiCenter concept emerged as a topic of discussion in 2015 when proposals for a facilities bond election were under the county's consideration. The commissioners court authorized a feasibility study that was completed in 2018 and, according to a news release, "showed that market demand exists to support the facility."  
County Judge KP George said Monday that in light of Winter Storm Uri and the widespread power and water outages that affected the Houston area that a contingency plan with backup power generators was "absolutely" under consideration. 
While George said the county is not building an emergency center with the EpiCenter, he reiterated the building's functionality as a "multiuse" facility and cited the area's elevation as one of the strengths of the venue's location. 
"That is the highest point in Fort Bend County," George said. "That area doesn't get flooded under any normal circumstances." 
This, George said, will allow the building to also serve as an operations center and evacuation emergency shelter for hurricanes or other disasters.
The county's plans for the facility are for it to host a variety of events, including conferences and trade shows, festivals and fairs, graduations, sports and recreation, spectator events, community events and agriculture, livestock or equestrian shows.
The project will be built utilizing a "public-private partnership delivery method often used for developing similar facilities," according to a news release. 
Under the agreement, the county will lease the property to a developer that will construct the project and lease the building back to the county. The county will retain ownership of the land and will own the building when its debt is paid.
The news release from the county cited county commissioners Vincent Morales of Precinct 1 and Grady Prestage of Precinct 2 as contacts for the project. Neither responded to emailed questions seeking more information about the specifications of the planned facility and who will use it.