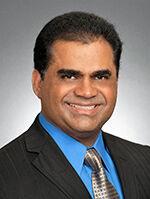 Fort Bend County Judge KP George has not been shy in his attempts to recruit major employers to the area. 
 According to a report from The Dallas Morning News that Texas Gov. Greg Abbott shared on his Twitter feed, Samsung could expand its U.S. manufacturing footprint with a $10 billion chip-making plant. 
 Samsung purchased a tract of land in Austin next to one of its existing facilities, and the capital of the Lone Star State is the most likely location for the company to build the site, according to the report. But that didn't stop George from writing a letter to Kinam Kim, the company's vice chairman and CEO, pitching Fort Bend County as a potential home for Samsung's next facility.
 "As the top elected official of Fort Bend County, the nation's most diverse and fastest-growing community, I formally invite Samsung Electronics to establish their new chip-making plant (in) Fort Bend County in the Lone Star State," George wrote. "I'm glad that you have already identified Texas as the destination for this important factory. In Fort Bend, Samsung would be welcomed with open arms — and a top-notch workforce ready to observe all safety protocols while firing up the processors of both your cutting-edge technology and our economy."
 George cited several reasons for Samsung to consider expanding in Fort Bend County, including the area's high graduation rates, its strategic location within Greater Houston and skilled workforce as well as the affordability and availability of land in the county. He also said Texas has become an "attractive destination for important technology companies from Amazon, Dell, Tesla, HP, SpaceX, and many more."
This isn't the first time George has publicly shared his efforts to reach out to large technology companies. In September, he wrote to Vanessa Pappas, TikTok's interim CEO, with a similar pitch following then-President Donald Trump's announcement that he had tentatively approved a deal that would bring the popular video-sharing app's global headquarters to Texas. 
 While nothing substantial has materialized on the TikTok front, the county has seen continued investment from industry leading-firms. In December, Amazon announced its plans to build a 1 million square foot fulfillment center in Missouri City this year. It is expected to create more than 500 new full-time jobs.