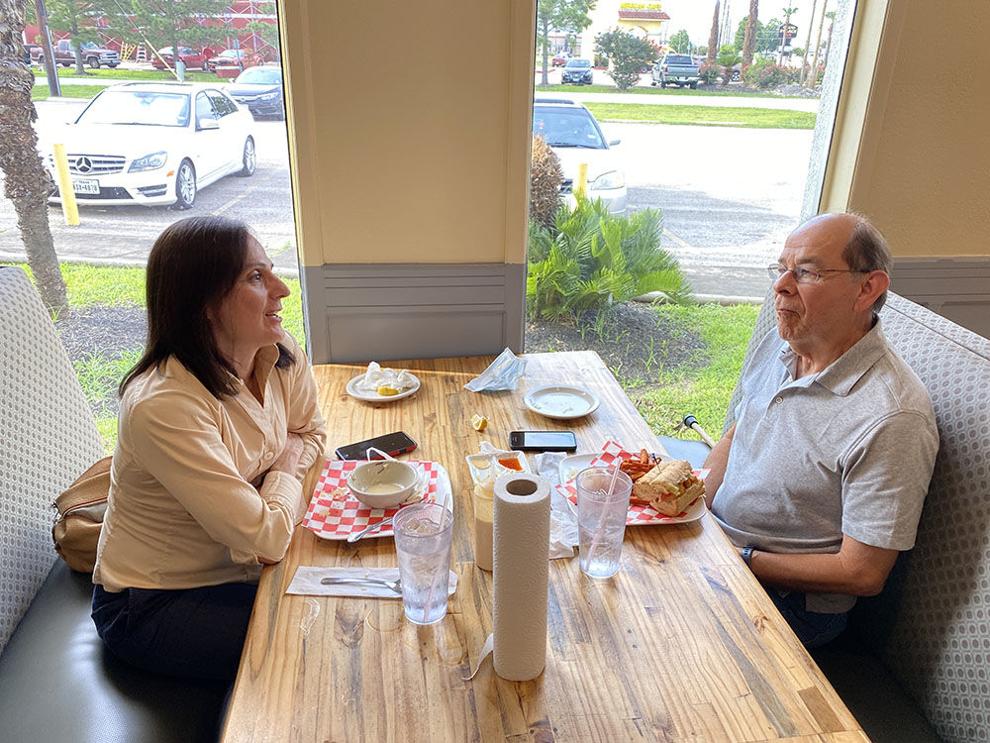 A strong five-week stretch that began March 11, when Vu Dau reopened his restaurant following relaxed COVID-19 restrictions, led him to dream about growing his business and even about putting down roots in Stafford.
But the resurgence was short-lived for Pier 61 Asian Cajun, which closed Monday night. 
"I thought we were going to hit our quota and make a breakthrough," Dau said. "Because if it's just one week, I could say, 'Yeah, it might be a fluke.' But it was five good weeks. I still have a little money left just to ride out a month, but I don't want to go deep into debt." 
Dau, a first-time restaurateur who employed his three daughters as servers, hired additional staff and stocked up on additional food in response to the busy spurt. He said he appreciated the opportunity to host a meet-and-greet for residents and Stafford elected officials and donated a crawfish dinner for the Stafford Police Department. 
But the tide began to turn for Dau three weeks ago, when the economic realities of a 30 percent increase in costs for his food supply, rising inflation and labor shortages forced him to shutter his doors. 
"We were looking to give back to the community and get more involved," Dau said. "All of my planning, and I didn't get a chance to do it." 
Before reopening in March, the restaurant had been closed since after Thanksgiving of last year as Dau had to come up with rent for nearly five months without any revenue coming in from Pier 61. 
A group of loyal customers tried via word of mouth and a social media campaign to support and promote Dau's restaurant, and several of them showed up along with a mix of locals and visitors from out of town on Monday, the last night of operations for Pier 61, which became popular for its Viet Crawfish offerings. 
Dau said he traveled to Vietnam to learn the traditional recipes, and that his next restaurant venture will likely focus on pho, which is Vietnamese soup. 
Among the final group of customers Monday were Sugar Land residents Sonia Serrato and Larry Falcon, who dined together to celebrate Falcon's birthday. 
"I like the crawfish," Serrato said. "I like the seasoning, and the food is really fresh. I'm sad to hear that they're shutting down. I don't eat out very much, but I like to support places like this. It feels more like a family." 
It was Falcon's first time at Pier 61, and he said he enjoyed his experience. 
"If they open up another location, I'll go," he said. 
Dau had planned to invest in improving the restaurant's curb appeal, adding new landscaping and neon to the sign facing traffic on 12106 Murphy Rd., as well as boosting his advertising and marketing budget. But the pandemic threw a wrench into his vision. 
He said he would gain traction and engagement on Facebook and Nextdoor, but that it wouldn't always translate into people walking through the door. 
Dau said his operating expenses at Pier 61 are around $20,000 per month. His landlord owns the Los Gallitos Mexican restaurant next door, and Dau said he and his peers across the restaurant business in the Houston area have all endured similar struggles. 
He's faced steep competition from Capt. Benny's Seafood, a Stafford mainstay, Pappadeaux Seafood Kitchen and others.
"Some of our items have doubled in price," Dau said. "It's usually a busy street, but the traffic count is even slower." 
He said he has invested $500,000 into the business from the time he took over the lease in September of last year, including $100,000 in renovations. 
One of the major logistical challenges for Dau was the layout of the building, which put a premium on spacious and plentiful seating and sacrificed kitchen space, limiting his team's ability to be as productive as he had hoped. 
And regular customers from nearby businesses on Murphy Road who would regularly order crawfish by the pound made less frequent visits as they tightened their own belts by laying off employees. 
In a Facebook post Sunday, Dau wrote he was in "liquidation mode." However, at the time, he wanted to try to make it through another month to help support his kitchen staff. Dau also owns a construction business, which he said has been slow as well. 
Tiffany Dau, one of Vu Dau's daughters and a server at Pier 61, sat at a table with a group of friends from across the Houston area. 
She said customers would often ask about her two younger sisters and if the three were related.
The University of Houston senior and political science student said she's grateful for the family atmosphere her father created with Pier 61. 
"He's always hard-working," Tiffany said. "Every time he'd pick us up from school, he'd go straight back to the office and we'd hang out with him while he worked. So when we opened the restaurant together, it had a similar feeling of nostalgia." 
No matter what Vu does with his next venture, Tiffany said she and her sisters will be there to support their father. 
"Him and I have our differences on what we think about business," Tiffany said, "but we all have the same goal, and that's to see this place thrive. But even if it doesn't work out in this particular location, we'll move somewhere else that will be better for both of us."