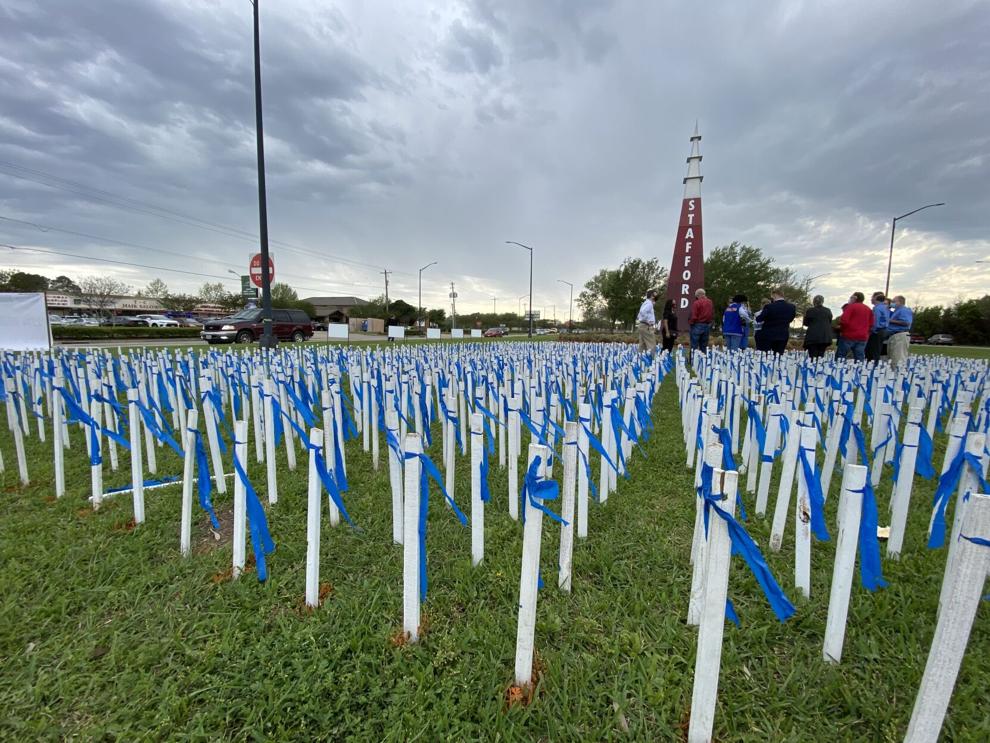 The Fort Bend Exchange Club (FBEC) honored the thousands of child abuse victims who have been served by Child Advocates of Fort Bend through the dedication of its "awareness field" Monday in Stafford.
The dedication took place at a median near the intersection of Highway 90 and Present Street, at the border of Stafford and Missouri City, in advance of Child Abuse Prevention Awareness month, which is observed in April.
FBEC members drove 2,274 white wooden stakes clad with blue ribbons into the grass, each to symbolize a child who received services from Child Advocates of Fort Bend (CAFB) in 2020. 
The figure was an increase from 2019, when 2,168 Fort Bend County children were recorded as victims of abuse. 
Kelli Metzenthin, president of FBEC, said the goal of Houston-area exchange clubs is to "create more and more awareness so that parents and adults can be aware of the issue and know that most children don't report (abuse)." 
Metzenthin added the school closings that occurred as a result of the COVID-19 pandemic made reporting abuse cases more difficult because teachers and counselors are usually the first to alert parents that their child may be showing physical or psychological signs of abuse.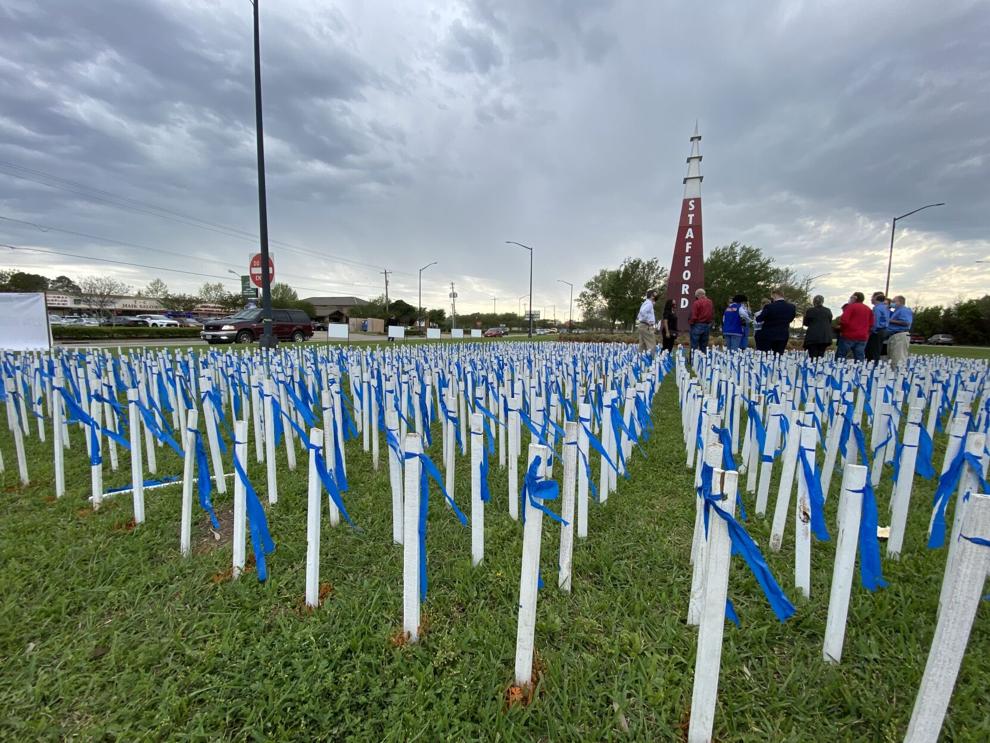 Metzenthin said the organization partners with local law enforcement and Fort Bend County District Attorney Brian Middleton's office in an effort to prevent child abuse. Middleton, Stafford Mayor Cecil Willis and Missouri City Mayor Robin Elackatt were among those present for the ceremony. 
FBEC also fundraises for CAFB, the Fort Bend Rainbow Room in Rosenberg and Parks Youth Ranch in Richmond to find shelter and aid for children who have been subject to abuse, neglect or related trauma. 
The Rainbow Room, Metzenthin said, is a crucial component of the supply chain for nonprofit organizations battling child abuse, accepting donations of food, clothing, toys and other essential items for minors who have been placed in the care of Child Protective Services, CAFB or a youth shelter. 
"Sometimes CPS will pick up children in the middle of the night and they'll literally have nothing with them," Metzenthin said. "Whether it's a change of underwear, a clean pair of socks, a pillow — or if it's a baby, diapers or formula." 
Fort Bend residents looking to help alleviate those who have suffered from child abuse can volunteer to become a court-appointed advocate through CAFB, or volunteer through Parks Youth Ranch, as well as donating money, food or other supplies. 
Metzenthin also encouraged county residents to get involved in service organizations like the exchange clubs by going to www.nationalexchangeclub.org to find their local chapter.
"We do that through community involvement," Metzenthin said. "We can always use more volunteers."