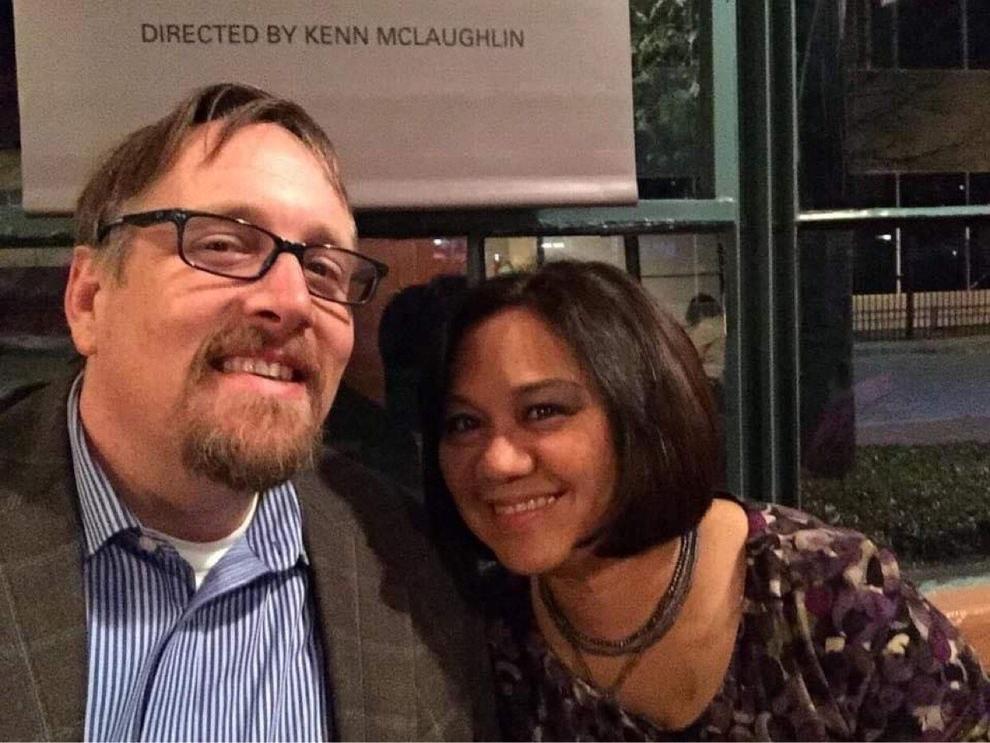 Against all odds, the love story of Missouri City's Chad and Ellen Bishop is an example of Fort Bend County's growing fondness for diversity.
 "It just blows my mind that so many people just didn't like us as a couple," Ellen said. "People were always like, 'Y'all aren't gonna make it,' or, 'Y'all aren't gonna make it more than a couple of months.'"
Chad and Ellen, who are both teachers and used to be Fort Bend ISD colleagues, are among the local couples who shared their love stories ahead of Valentine's Day on Sunday.
The two are closing in on their 27th anniversary and have three children. While their path to becoming high school sweethearts may not have been the smoothest one, the Bishops both are glad to be along for the ride. 
It began in late April 1990 at Westbury Christian School, when Chad, then a junior, and Ellen, a freshman, met after school. Ellen and a friend were waiting for their parents to pick them up after cheerleading practice and Chad had been disciplined with corporal punishment for talking back to a teacher. 
"I was sitting in the hallway with my friend, and we were talking," Ellen said. "It was when we were about done with practice and I remember Chad coming down the stairs and he didn't look so happy." 
Ellen and Chad hit it off from there, and began dating just weeks after that fateful run-in.
Chad said he knew very early on that he wanted to spend the rest of his life with Ellen. 
When Chad's parents moved to Phoenix in the summer of 1992, a year after he graduated high school, Chad realized he had to get his life in order if he wanted to maintain his relationship with Ellen.
Six weeks after Ellen graduated high school in 1993, Chad proposed to her at the duck ponds near the old Transco Tower in Houston, the site of which is near the Galleria and the Waterwall. 
After Ellen accepted and the pair was engaged, Chad decided to move to Phoenix. He got a job in Arizona working an overnight shift for an insurance company. 
It wasn't easy for the Bishops, especially in the days before the Internet was used for everyday communication, if it was available at all. They were dependent on long-distance phone calls, which were quite expensive. But Chad found a loophole that made him look forward to his daily lunch breaks and ensured he and Ellen could keep in touch during their time apart, using his calling card on weekends. 
"I made friends with the switchboard operator," Chad said. "I would go eat my lunch in the room where the operator was so Ellen would call the 1-800 number and the operator would switch her over to me on an extension."
In 1994, they were married at First Baptist Church of Bellaire. 
"Just two weeks (after we met), we were 'going together,'" Chad said. "Who would have thought that getting paddled at school would have led me to find the love of my life?
Ellen said her parents loved Chad, but there were cultural clashes with her Filipino family in the beginning of their marriage that were a source of frustration at times. 
"In American culture, the bride's family pays for everything (in a wedding)," Ellen said. "But in my culture, the groom's family does. So I had to explain to my parents, 'This is how things work.'"
Despite some of the initial differences, Ellen's parents were so endeared to their new son-in-law that they called all of the hotels nearby where the Bishops were staying on their honeymoon so they could hang out with the newlyweds. 
Chad described himself as very independent, but over time he grew to understand the importance of cultural differences like the use of honorifics instead of first names for older relatives 
"I tell my students all the time that I'm half-Asian," Chad said. "My better half. You get a few snickers, and it's kind of a dad joke. But the reality is I have my white family and my Filipino family and they both accept me as just another member of the family now. I don't think I could have ever imagined blending in with different cultures would be to my own persona."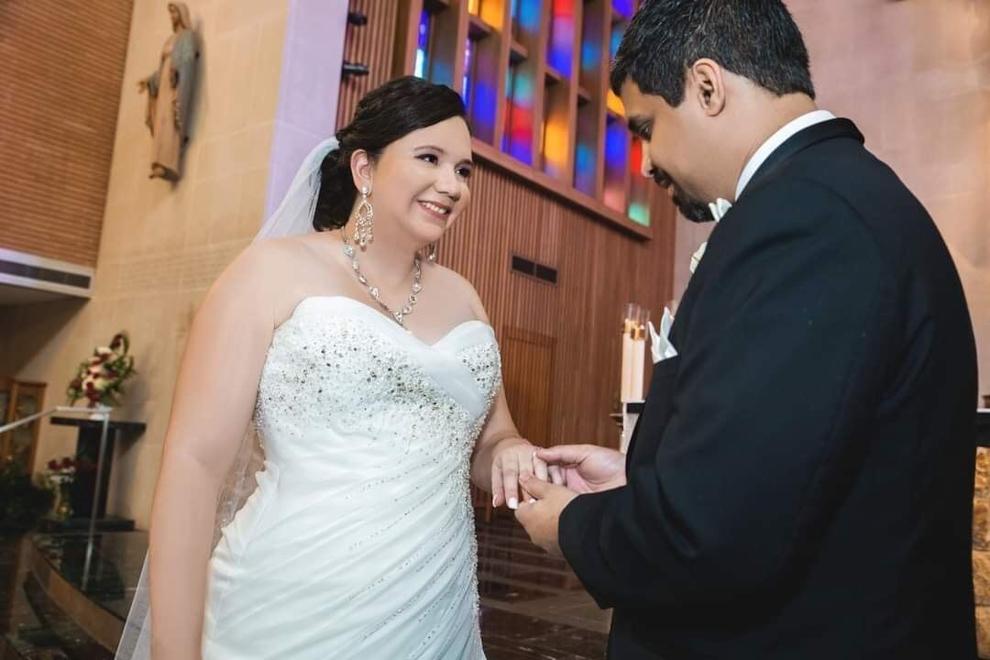 Bonding over the beautiful game
Stafford's Clint and Liza Mendonca will be the first to admit they weren't planning on becoming famous with their footwork when they became acquainted at a jazz dance class in 2014. 
The classes were held at St. Vincent DePaul, a Catholic church both Clint and Liza attended in Houston, and they immediately clicked and became friends.  
"He was the only one who thought it was as stupid as I did," Liza said. "Everyone else was taking it way too seriously, but he was able to have fun with it and I was like, 'He gets it.'"
Just when Clint and Liza were getting better, the dance classes paused, but fortunately for the two of them, their budding friendship continued.  
"Neither of us learned how to dance well from those classes," Clint said. "But we still consider them a success."
The Mendoncas have been together for more than six years and married for more than three, having tied the knot in July 2017.
Clint is a banker and Liza is the counselor at Stafford Middle School. 
"Our relationship is deeply rooted in our faith," Clint said. "We love and support each other, and we look for opportunities to support our church and local communities like they have supported us." 
They are both children of immigrants — Clint's family hails from Karachi, Pakistan, and Liza's family is from Mexico — and both bonded over their shared love of soccer. 
For what would eventually become known as their first date in 2014, Clint used his season tickets to take Liza to see a Houston Dynamo game at BBVA Stadium. They also got to attend a news conference with recent Dynamo signee and international star DaMarcus Beasley of the U.S. Men's National Team. 
Liza said attending the game was the "coolest thing ever," but as she wrote in her recollection of that fateful day on her wedding announcement, channeling the words of Mrs. Potts from Disney's "Beauty and the Beast," it wasn't until after the news conference that the two began to realize they were something more than friends. 
"There was a spark, something that wasn't there before," Liza wrote. "The rest is now history."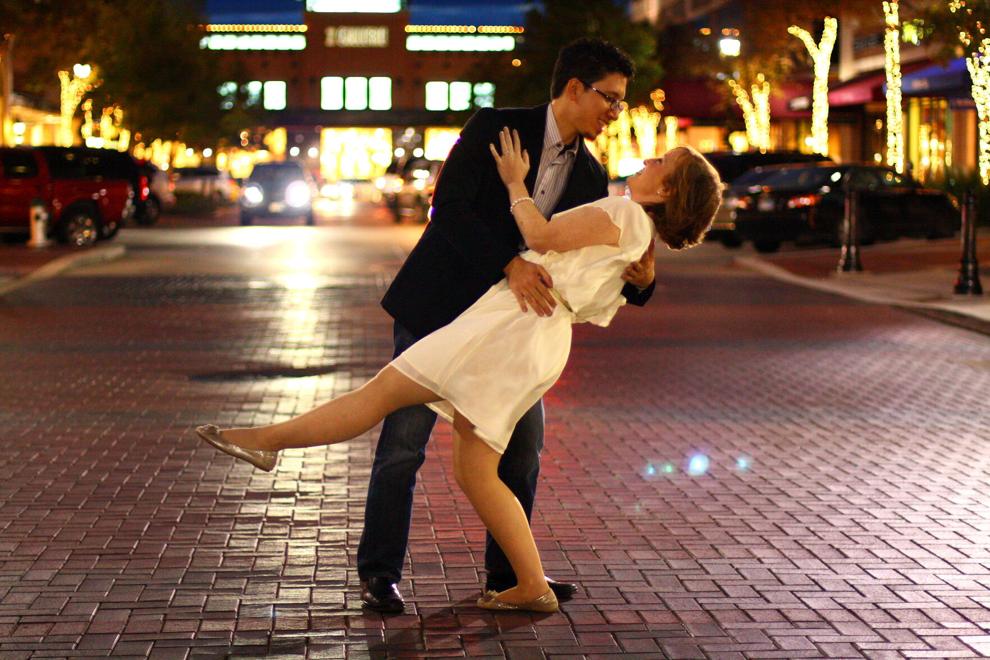 Stirring the melting pot
Lara and Nathan McClurkin of Sugar Land met at Houston First Baptist Church in 2009. The two developed a friendship over their shared passion for mission work and traveled together to eastern Asia on a mission. 
After beginning her career as a special education teacher, Lara now works at Houston First Baptist as a special-needs family ministry education assistant. Nathan is a structural engineer at Parker Drilling, a Houston-based oil extraction company. 
The McClurkins have called Sugar Land home for the last six-plus years, and the city they came to know a decade ago when they began dating has changed quite a bit. The now-closed Sabai Thai restaurant in Town Square where they had their first date in April 2011 and the Ben & Jerry's location they used to frequent have been replaced by Jupiter Pizza & Waffles and Japaneiro's, which the couple said is their go-to spot for anniversary and birthday celebrations. 
Nathan proposed to Lara on a bench in November 2012 at Oyster Creek Park, and later the couple shot their engagement photos there and at Town Square. The McClurkins were married in May 2013 and lived in Houston for a short time before buying a house in Sugar Land. 
"We've definitely put down roots here," Nathan, a Sugar Land native, said. 
Nathan described his relationship with Lara as an adventurous one. Nathan's mother is from the Philippines and Lara grew up in Saudi Arabia and traveled around the world because of her father's job at Saudi Aramco. Both Lara and Nathan's parents have since settled in Sugar Land and are only 10 minutes away. 
They have a 5-year-old daughter and 2-year-old son and are grateful for the opportunity to "travel the world" with them in the absence of the opportunity to embark on actual long-distance travel because of the COVID-19 pandemic. Like their parents did for them, the McClurkins said their children are very much "exposed" to different cultures by perusing through the rich cultural tapestry that is their neighborhood and through trips to 99 Ranch Market in Katy. 
"We're big foodies and we love going to all the hole-in-the-wall places for the most authentic version of everything," Lara said. "We really like going to bubble tea places as well."
While raising two young children during a pandemic is a daunting task, Lara and Nathan feel grateful to have each other's backs and to have the support of their families as well.  
"They say opposites attract but we're very similar," Lara said. "We're very much always on the same team and understand each other when no one else does."