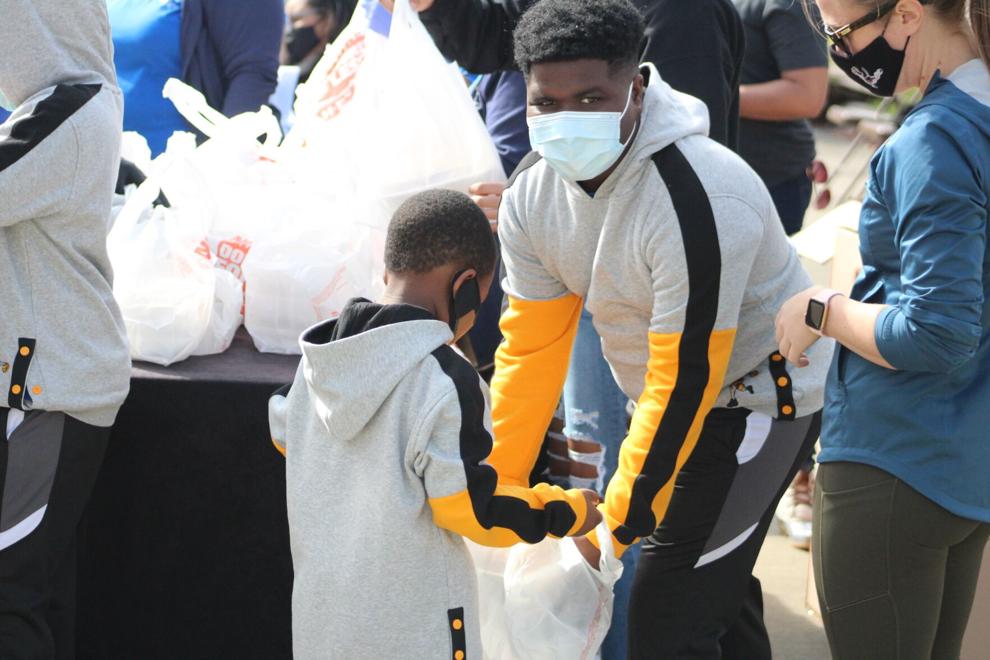 Since the start of the COVID-19 pandemic, Chris Williams has helped to donate over 145,000 meals in neighboring Harris County.
Although he is not a Fort Bend County resident and is still learning his way around the area, the head chef and owner of Lucille's, a Southern restaurant in Houston's Museum District, has big plans for a future in Fort Bend. He found the opportunity to deliver prepared meals to those in need Monday at the Gus George Law Enforcement Academy parking lot in Richmond was a fitting way for him to give back and honor the legacy of Martin Luther King Jr. on the federal holiday designated for the civil rights pioneer.
Williams' great-grandmother, Lucille B. Smith, was a renowned chef and businesswoman in Fort Worth, and she was once photographed with King during the 1960s after she prepared and served food for him.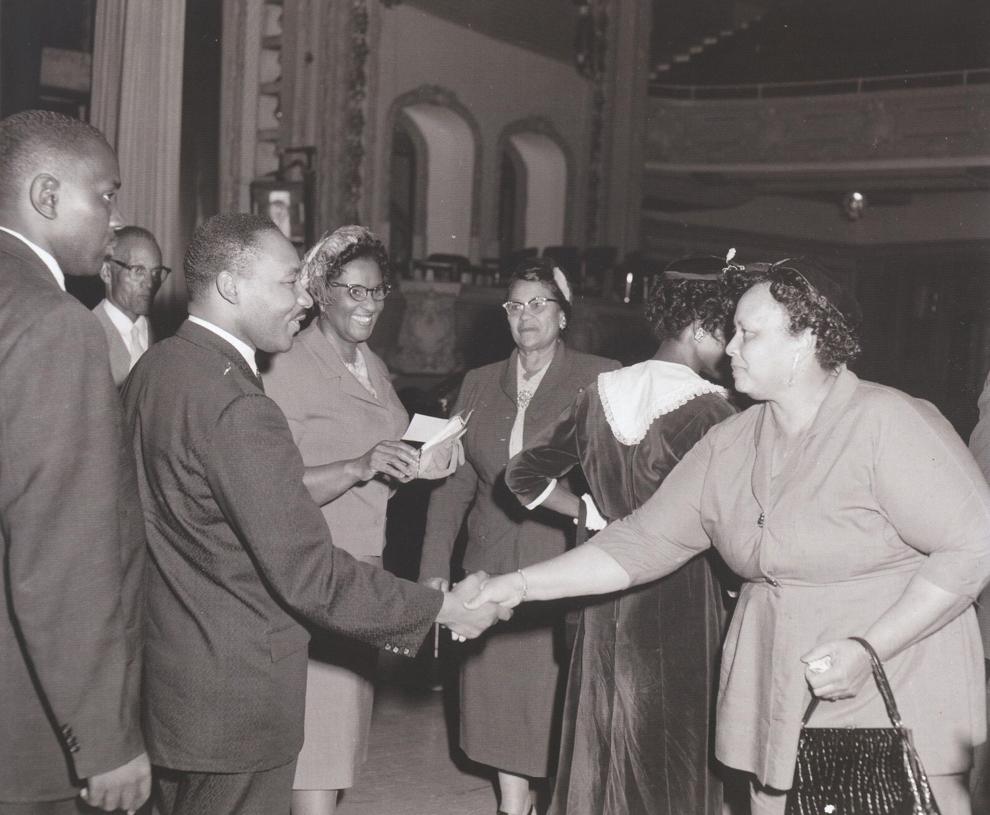 "It's an honor to have that kind of legacy in our family," Williams said. "(King) set the groundwork for us, he's paved the way, and afforded a lot of change. It's great to be over here. A lot of people think this is a day to take a day off, and we find that this is a day for service, to continue the good work."
Now, Williams is trying to forge his own legacy with the restaurant and nonprofit named after his great-grandmother.
"What we're trying to do is build a vertically integrated ecosystem that is going to allow people the space to discover a self-sustainable lifestyle through the medium of food," Williams said.
Shaneka Smith, the office manager for Fort Bend County Judge KP George, asked Williams and his nonprofit arm, Lucille's 1913, to help provide approximately 1,000 meals to families in need during Monday's drive-through events, another of which was held at Tony Becerra Park in Rosenberg. 
Williams said his restaurant will create at least 60 new jobs for Fort Bend County residents, 30 of which will be Kendleton residents, and 15 each from Richmond and Rosenberg. He has partnered with Attack Poverty, a Stafford nonprofit which will allow him to access more production kitchens to train new hires like the kitchen the organization utilizes in Richmond and another it plans to build in Rosenberg. He said he "likes to move fast" and hopes to have the kitchens open and running by April. 
"We have a lot of different nonprofits or initiatives that just want to give food to people," Williams said. "But it doesn't really consider what the people want. And it's kind of dehumanizing. It's like, 'Here, you're having a hard time, here's some food, you're welcome.' I don't think that's enough, because these are our elders. These are our neighbors. And that's why we're so specific and deliberate with the stuff that we serve because (Lucille's 1913) is a chef-driven organization."  
He subscribes to the biblical adage of teaching one to fish rather than merely giving them a fish, and believes the skills people can learn in the kitchen can set them up for success. 
"The gift of the culinary arts is that if you can cook, then you'll always be in demand," Williams said. "We're also going to train them to farm, because Kendelton's a historic farming community and it's kind of in the DNA of the people over there." 
One of Williams' other aims, aside from self-sufficiency, is to help deliver in an area of systemic need: Kendleton is at least 10 miles away from the nearest grocery store, and he said its lack of available fresh produce makes it a food desert. 
"We thought this would be a great way to kick off this initiative along with KP George and (Precinct 2 Commissioner Grady Prestage) who have really been leading the charge on this," Williams said. 
Recipients in Richmond, which has a strong African-American presence, and Rosenberg, which has a significant Latino population, received different meals, which "specifically speak to the palette and the life experience of two different communities," Williams said.
The first was, as Williams described, a standard African-American New Year's meal, featuring smothered pork, cabbage, black-eyed peas, and rice. The second, Bistec ala Mexicana, included charro beans, rice, and grilled peppers.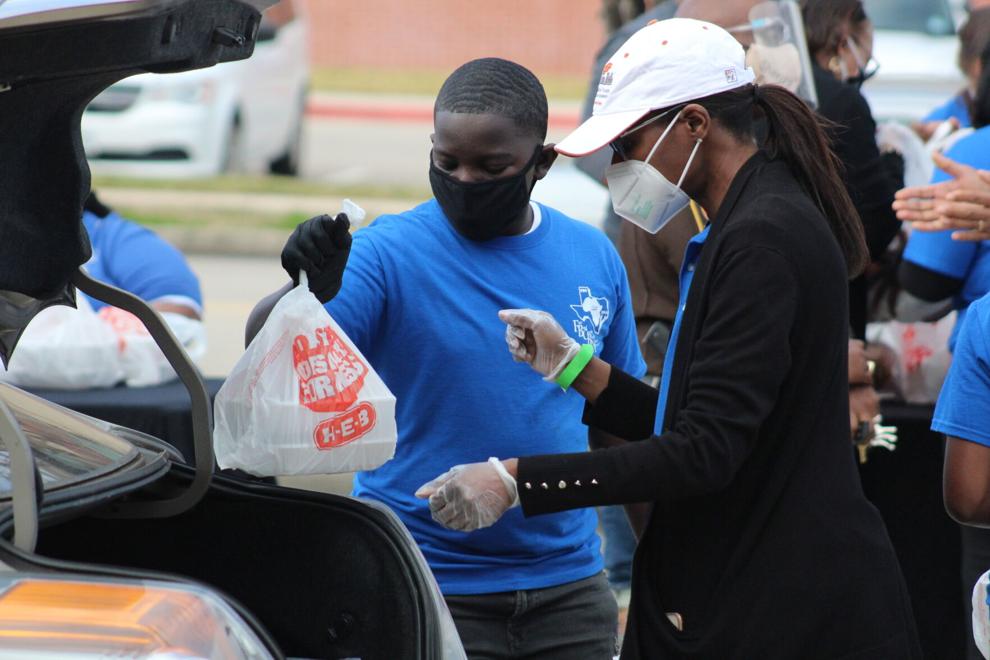 The Fort Bend County Black Nurses Association (FBCBNA) assisted in the distribution of food as well as 500 kits of personal protective equipment to help slow the spread of the coronavirus.
Lola Jefferson, the founder of FBCBNA, said several of the members of her organization brought their children with them to help participate in the event. She said county officials have also asked her group to help with administering COVID-19 vaccinations. 
She said she thought King would have approved of the efforts of those who volunteered their time and effort to serve their community. 
"He would say, 'This is what I'm talking about, not all this fighting and screaming, everybody getting along and getting together and helping out,' " Jefferson said.