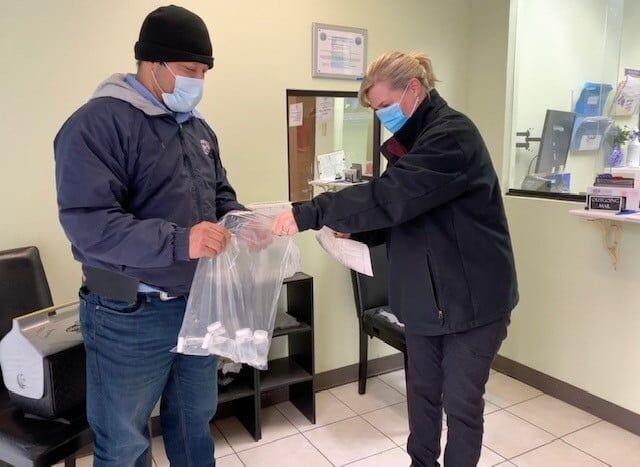 While temperatures rose above freezing Thursday, officials across the county urged drivers to exercise caution as the National Weather Service issued a hard freeze warning from midnight Friday to 9 a.m. 
Wind chill temperatures are expected to dip between 15 to as low as 5 degrees in some parts of Southeast Texas. 
As of 6:19 p.m. Thursday, 99.4 percent of CenterPoint Energy customers had their power restored, leaving 15,813 without electricity.
According to CenterPoint's outage tracker, the areas most affected by outages in Fort Bend County are near 1st Street and Highway 59 in Rosenberg and in the Trammels neighborhood of Missouri City south of Highway 6. 
Warming centers have opened in Missouri City at the city's Recreation & Tennis Center at 2701 Cypress Point Dr., open through Saturday at noon, and at the Fort Bend Community Church at 7707 Highway 6 from 9 a.m. to 6 p.m. Friday. 
Fort Bend County Health and Human Services (FBCHHS) announced Thursday it would resume COVID-19 vaccinations from 12 p.m.-6 p.m. Friday and 9 a.m.-6 p.m. Saturday. 
Those who had appointments earlier this week or earlier than noon Friday will receive a text or email from FBCHHS to reschedule, county officials said. 
Vaccine-related questions can be sent to ahcovidvaccine@myaccesshealth.org.
FBCHHS said it would notify patients of any scheduling changes that may occur due to weather conditions or possible venue changes. 
In Stafford, Mayor Cecil Willis said City Hall would be closed Friday and open Monday during normal operating hours. 
Willis said he spoke with Fort Bend County WCID No. 2 officials, and reported that water pressure in their mainlines was "almost at normal" but a boil water notice remains in affect. 
Customers of WCID No. 2 can call 281-499-1031 for questions about their water service. For a full list of active boil water notices across the county, visit https://fbcoem.org/.
After early voting on Thursday and Friday and were cancelled due to inclement weather, the city's election for City Council Position 5 will be held as originally scheduled from 7 a.m.-7 p.m. Saturday at 2610 S. Main St. 
With concerns of price gouging for essentials such as water and fuel beginning to circulate Fort Bend County Attorney Bridgette Smith-Lawson and County Judge KP George in a Facebook Live video Thursday announced they had created a price gouging email account at reportgouging@fortbendcountytx.gov and a phone hotline at 832-471-1600.
Fort Bend County District Attorney Brian Middleton said if gouging activities are found to have escalated to fraud that penalties would be elevated from civil to criminal, and potentially a felony. 
"Don't prey on our citizens in Fort Bend County, because we will come after you," Middleton said. 
George also said the county is partnering with the Houston Humane Society to provide free pet food and supplies to residents affected by the emergency situation on a first come first serve basis. 
The drive-through event will run from 12 p.m.-2 p.m. Friday at the Fort Bend County Fairgrounds at 4310 Texas 36 S. in Rosenberg.