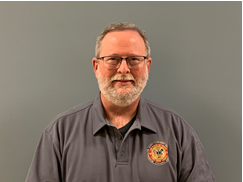 Fort Bend County first responders in need of trauma counseling now have a support officer available for meetings within the department.
Fort Bend County EMS announced Jan. 15 that Curtiss Lanham has been hired as its first Peer Support Officer. In the role, Lanham will work to develop "best practice approaches to crisis and non-crisis interventions and suicide awareness and prevention" while providing a resource for counseling in the department, according to a news release from the county.
FBCEMS said Lanham's hiring is an extension of its Mental Health and Wellness Initiative, which began contracting a department chaplain or counselor in 2018.
"The two years since the program first began showed that progressive and pre-emptive care for employees does have a positive impact on the employees and can save those who are there to save you," Fort Bend EMS chief Graig Temple said.
Lanham has previously worked as a paramedic and EMS educator, and has training and education as an associate pastor.