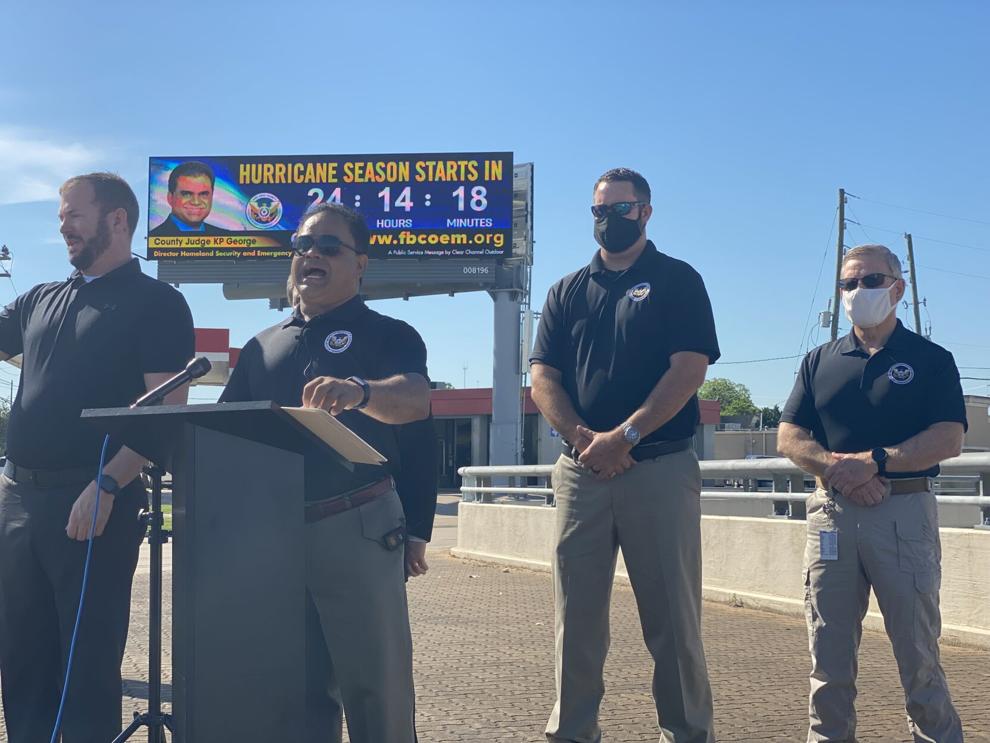 With temperatures steadily increasing as the summer approaches, county officials are asking residents to remain vigilant as another active hurricane season is expected to make its way to the Texas Gulf Coast in the coming months. 
Fort Bend County Judge KP George and other local officials announced last Friday in Stafford that the county would utilize 10 billboards — provided by Clear Channel Outdoor at no cost to the county, George said  — in various locations with a 2021 countdown clock to mark the start of this year's hurricane season, which begins June 1. 
"It is very important for our citizens to prepare, just in case," George said. "If you need to evacuate, if you need to do anything in relation to addressing a major storm." 
George and local officials said they will follow guidance from the National Weather Service (NWS). The organization launched National Hurricane Preparedness Week, which began Sunday and runs through Saturday. NWS suggests families should take stock of their emergency plans, including having a list of contacts, securing, important documents and creating a list of essential supplies such as food, water, and medicine. 
Determining your risk and if you are in a flood-prone area, fortifying windows or doors in your home and formulating a written plan are other key steps to safely navigating hurricane season, according to NWS. 
George emphasized the importance of having an insurance check-up with a local agent to make sure families take inventory of their valuables and that they are covered for potential losses or damages, something that he said was an issue for several area families in the aftermath of Winter Storm Uri.  
George also encouraged residents to check on their neighbors, particularly the elderly and disabled, to find out how to best assist them in the event of a major storm. 
For additional information, residents can visit the Fort Bend County Office of Emergency Management (FBCOEM) website at  https://fbcoem.org/ or call 281-342-6185.