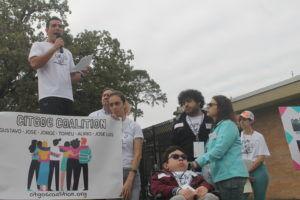 Gustavo Cardenas and Jorge Toledo had been released to house arrest twice before, which at the times were encouraging signs to their families.
But the reprieves were short-lived for the Fort Bend County residents and four other Citgo executives, all of whom have been imprisoned since November 2017 by the regime of Venezuelan leader Nicolas Maduro. They were convicted on corruption changes in November 2020 – just a few months after the Katy resident Cardenas and Toledo of Sugar Land were allowed to leave a Caracas prison and spend a second stint under house arrest in Venezuela.
The two men are now under house arrest for a third time, according to their sons in the United States. They were released from prison last Friday night along with the other four members of the so-called Citgo 6 – Katy residents Jose Pereira and Jose Luis Zambrano, along with Tomeu Vadell and Zambrano's brother, Alirio. 
"I like to think it's a positive step," said Cardenas' son, also named Gustavo. "It's certainly better for his morale."
The younger Cardenas said he views the development as a "show of good faith" by the Maduro regime to U.S. President Joe Biden, who had recently been elected when the Citgo 6 were convicted by a Venezuelan judge. Former U.S. Secretary of State Mike Pompeo called the proceeding a "kangaroo court" and said the convictions were "wrongful," while the men's families have described them as political hostages.
Citgo is a subsidiary of PDVSA, an oil and gas company run by the Venezuelan government, and the six U.S.-based executives were called to a meeting in Caracas shortly before Thanksgiving 2017, arrested and accused of trying to make a deal that would financially inhibit PDVSA. Five of the men are dual citizens, and Pereira is a legal U.S. resident.
"It's far past time they be safely reunited with their families in the United States," U.S. Sen. Ted Cruz from Texas wrote Monday on Twitter.
Richmond resident Carlos Anez, Toledo's stepson, said he is grateful for the diplomatic work done so far by the state department, the Office of the Special Presidential Enjoy for Hostage Affairs and former New Mexico Gov. Bill Richardson, who has tried to lobby for the release of the Citgo 6. And like the younger Cardenas, Anez said he is cautiously optimistic.
The younger Cardenas said releasing the men to house arrest appears to a goodwill gesture by the Maduro regime that it is willing to communicate with the Biden administration and possibly negotiate the release of the Citgo 6. Sanctions were placed on Venezuela by former U.S. presidents Barack Obama and Donald Trump.
It remains to be seen how Biden and his administration will respond. The younger Cardenas said he is hopeful.
"We once again welcome the move," Anez said. "… But we continue to ask for the rightful release of the men so they may return home."