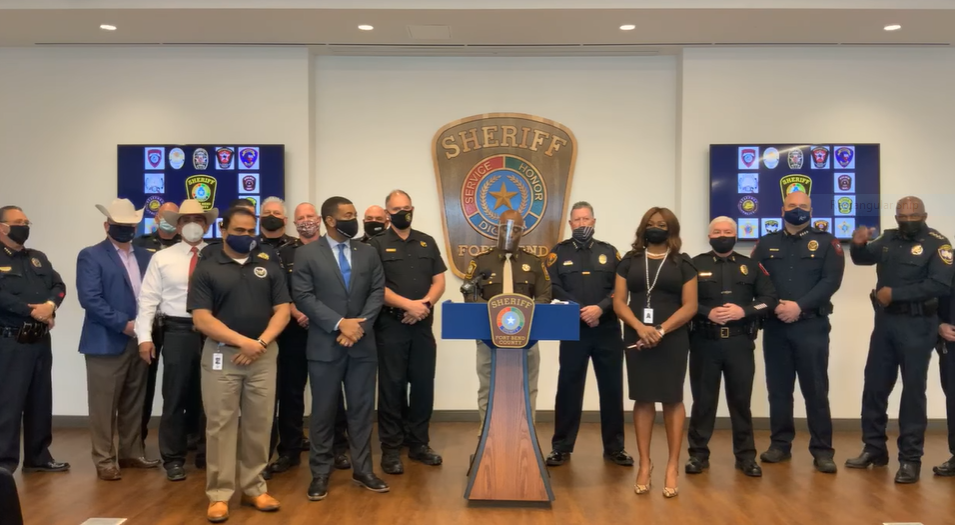 In anticipation of today's inauguration of President-elect Joe Biden and Vice President-elect Kamala Harris following the Jan. 6 attack on the U.S. Capitol by supporters of President Donald Trump, new Fort Bend County Sheriff Eric Fagan announced in a news conference Monday that countywide and local law enforcement agencies will be vigilant in their deterrence of any potential violence or unlawful disruptions at local government buildings or in the general public. 
Fagan said he and all local law enforcement in Fort Bend County stand in solidarity with the Capitol Police officer killed by rioters and that various agencies at the county and municipal levels will be in close contact in an effort to snuff out any potentially dangerous activity before it occurs. 
"What this ordeal proved is that law enforcement was not prepared for events such as this one," Fagan said. "Despite plenty of warning of possible insurrection and ample resources and time to prepare, police planned only for a free speech demonstration."
Fagan said the sheriff's department has canceled all time off for today and that all officers, including those that work within his investigative units, will be in uniform. 
In addition, Fagan said the mobile command staff of the sheriff's department would be ready to be deployed to assist any local law enforcement should the need arise. 
"While we pray for no unrest, we want to be prepared for anything that may rise," Fagan said. "Although no substantiated threats have been identified, we continue to monitor for potential security concerns." 
Fort Bend County District Attorney Brian Middleton said he'd "seen enough" in terms of security bulletins received from the federal government to warrant the actions Fagan plans to take to safeguard the areas within his jurisdiction. 
"This is about prevention and preparedness," Middleton said. 
Fagan said county officials welcome those who will participate in peaceful demonstrations, but that there will be no tolerance for rioting, looting or vandalism. 
"While we respect and will protect those who choose to exercise their first amendment right to peacefully protest, I'm asking them to do so in a respectful manner," Fagan said. "I want to make this very clear — any criminal activity, destruction of property, violence, or threats of violence that prevent others from peacefully expressing their first amendment right will not be tolerated." 
Fort Bend County Judge KP George said all county buildings, including those that are normally open to the public, would remain open during their normal operating hours today, and no additional restrictions beyond health guidelines already in place due to COVID-19 would be implemented. 
"We wanted to send a clear message, as (Middleton) mentioned, we are prepared, but we are not stopping anything that we are doing," George said.