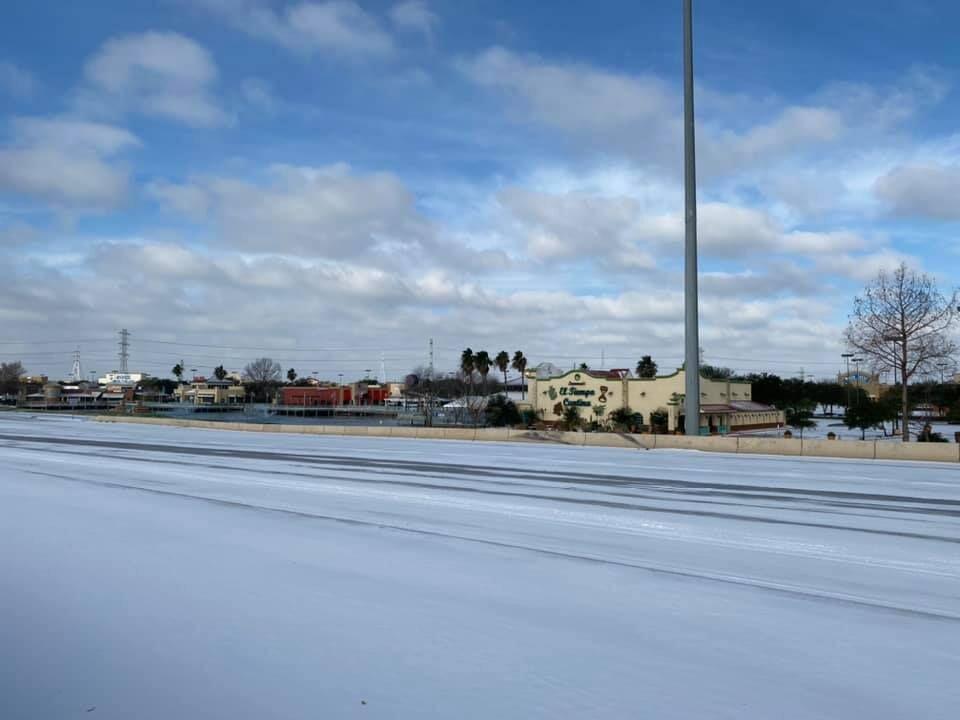 Fort Bend County, Greater Houston and much of Texas hunkered down over the weekend due to a cold snap. The dipping temperatures were followed Sunday night and Monday morning with reports of ice, sleet, and snow across the Houston area, resulting in widespread road closures, shutdowns of schools and county and municipal buildings, and power outages in some areas. 
In response to the inclement weather conditions, all Fort Bend County facilities will be closed Monday and Tuesday, Fort Bend County Judge KP George said.
The county's COVID-19 testing and vaccination sites will be closed Monday and Tuesday, Fort Bend County Health and Human Services (FBCHHS) said. Those who have scheduled appointments can expect a call from FBCHHS to reschedule. 
Around 1 a.m. Monday, the Electric Reliability Council of Texas (ERCOT) declared a statewide power generation shortfall emergency and asked electricity suppliers to begin controlled, rotating power outages.  
"The Texas electric system is facing an unprecedented power shortage situation due to the extreme winter weather impacting the entire state, including Houston and the region," CenterPoint Energy, one of the largest power distributors to the Houston area, said in a statement. "Texans' electricity consumption needs have far surpassed current power generation."
CenterPoint said customers currently experiencing an outage should be prepared to be without power for at least the rest of the day. 
Fort Bend County Deputy Emergency Management Coordinator Alan Spears said CenterPoint told county officials that restoring power would be a "very slow process." 
Spears also said some areas of the county have low water pressure or no water at all. 
According to poweroutage.us, 9,832 of the 305,559 CenterPoint Energy customers in Fort Bend County were without power as of 10:30 a.m. Monday. CenterPoint's outage tracker estimated nearly 100 customers were without power in the Quail Run subdivision of Missouri City. Dozens of customers were affected between Beasley and Kendelton along Highway 59, and the remainder were concentrated in the Cinco Ranch and Katy area near the Fort Bend-Harris County line. 
The City of Rosenberg also reported Sunday night that "a large majority" of the city had lost power.  
Gov. Greg Abbott issued an emergency declaration Friday for each of the state's 254 counties.  President Joe Biden followed with a federal emergency declaration on Sunday. The Federal Emergency Management Agency (FEMA) will be coordinating with and assisting state and local efforts, according to a news release from The White House. 
The City of Meadows Place said it was closing all city facilities until further notice. The City of Sugar Land will be closed for normal business on Monday.
Stafford canceled early voting Monday and Tuesday for its special election for City Council Position 5. Election Day is Saturday. 
In Stafford, emergency response crews spent Sunday preparing roads for possible ice, dispersing sand and gravel at all major intersections, Stafford Fire Marshal Efrem Burns said Sunday. 
The City of Sugar Land said its Fire Department and EMS staff will have additional personnel and equipment and added that icy conditions may affect typical response times. Its public works department has dump trucks with salt spreaders ready to treat frozen city roads and bridges if necessary, city officials said. 
The Fort Bend County Office of Homeland Security and Emergency Management (FBCOEM) tweeted shortly after 6 p.m. Sunday night an accident involving multiple cars occurred in Beasley at the intersection of Highway 59 and the TX-10 Spur. 
"For the safety of the traveling public, we highly discourage travel during this severe weather event," Eliza Paul, P.E., Houston district engineer at TxDOT said in a news release.  "Safety is our number one priority and it's important that the public limit travel until the temperatures are above freezing."
At about 10 p.m. Sunday, FBCOEM announced in a tweet that Highway 59 southbound was closed from Reading Road thru Highway 36 in Rosenberg. 
The Fort Bend County Sheriff's Office (FBCSO) reported Fort Bend County toll roads are being closed due to ice on overpasses. For updates on road closures and traffic light outages, residents can check the FBCSO's Facebook and Twitter accounts. 
According to Sugar Land city officials, Grand Parkway has been closed at New Territory Blvd. 
Missouri City officials reported Sunday the Highway 6 Fort Bend Toll Road overpass is closed and the Highway 288 ramp to Beltway 8 is closed. 
Fort Bend County Sheriff Eric Fagan said nearly every road in the county was unsafe to drive on.  
"The wind is blowing very hard, so if you don't see a barricade, that doesn't mean a road is not dangerous," Fort Bend County Sheriff Eric Fagan said. "That just means (the barricade) has been knocked down." 
For updates on road conditions, Texans can visit drivetexas.org.
Fort Bend ISD and Stafford MSD announced last Friday they were closing their campuses and conducting virtual learning only on Tuesday. 
FBISD said it would adjust its virtual learning schedule if affected by potential rolling blackouts or power outages. 
The University of Houston's Sugar Land and Katy campuses will also close Monday and Tuesday. Its online classes will continue as scheduled and in-person classes will transition online at their regularly scheduled times.
HCC will be closed Monday in recognition of Presidents Day and close its campuses Tuesday due to the inclement weather conditions. Its face-to-face classes will meet virtually Tuesday and online classes will continue to meet as scheduled. HCC's plans to resume normal operations Wednesday are subject to the weather conditions. 
Texas State Technical College (TSTC) in Rosenberg will remain closed Monday and Tuesday. All on-campus classes and online classes and remote operations have been canceled. 
Meadows Place, Missouri City, Stafford, Sugar Land, Richmond, and Rosenberg city officials all said they are suspending trash pickup services on Monday.