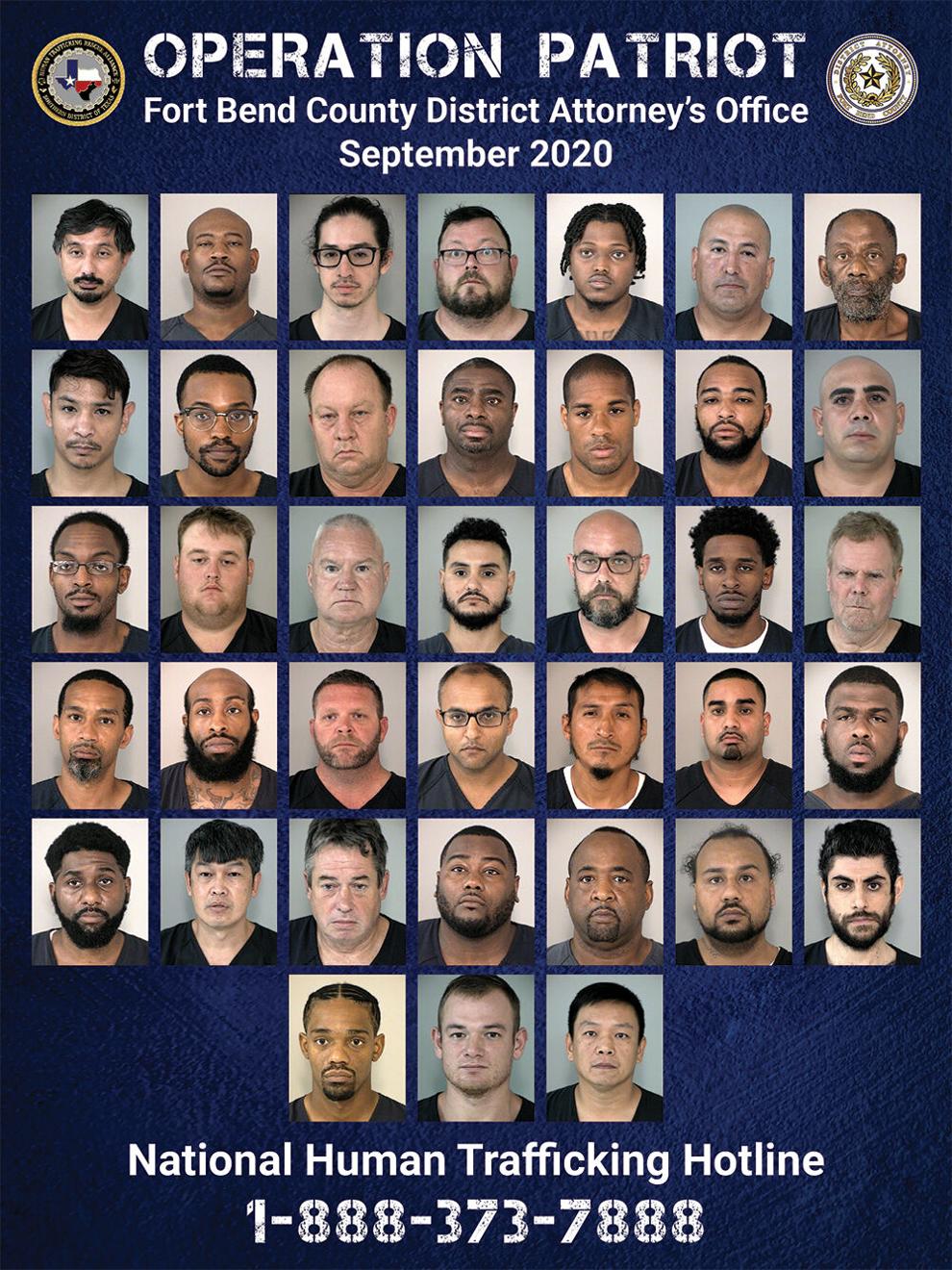 By STEFAN MODRICH
A multi-agency human trafficking sting over a four-day span in September yielded 46 arrests and resulted in the rescue of five victims, Fort Bend County District Attorney Brian Middleton announced during a Wednesday news conference at the Fort Bend County Justice Center in Richmond.
"(Human trafficking) is a crime that preys on the most vulnerable in our society, namely, young adults and children," Middleton said.
The sting operations took place in Missouri City between Sept. 9-11 and in Stafford from Sept. 15-16, according to the DA's office.
"That tells you how serious the problem is," Middleton said. "But it also tells you our commitment to fight this crime."
County Assistant District Attorney Claire Andresen said six people were arrested on charges of promotion of prostitution. There were more than 50 total criminal charges filed, including six charges of possession of a controlled substance.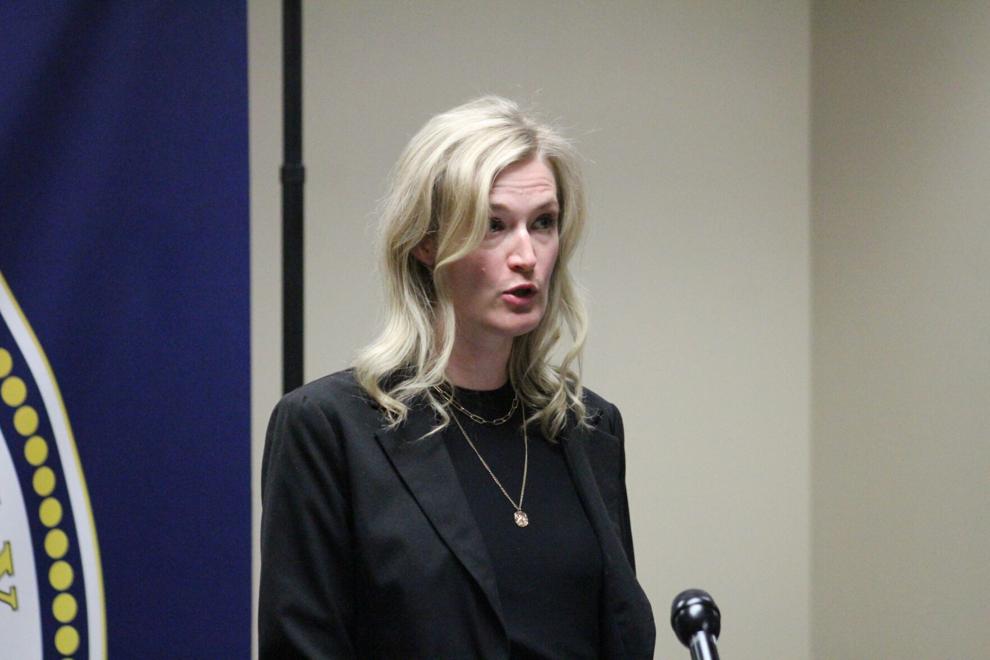 In Stafford, authorities said 32 people who sought to buy sex, commonly referred to as "johns," were arrested in a span of 48 hours. Five people were arrested in Missouri City in connection with promotion of prostitution, authorities said. The operation was carried out at two houses in Missouri City and a Stafford hotel, according to the DA's office.
"That's remarkable that we have this many people," Andresen said. "And it's illustrative of what a problem human trafficking is in our jurisdiction."
Andresen said all five of the victims rescued were female, ranging from 22 to 35 years of age.
Mary Magness of the Homeland Security Investigations (HSI) unit in Houston said Operation Patriot focused on "disrupting the demand side of sex trafficking" by going after buyers and sex trafficking organizations.
In 2019, HSI Houston arrested 205 individuals for human trafficking-related offenses, which accounted for approximately 10 percent of all human trafficking-related arrests in the U.S., according to a report from HSI.
Magness said providing "trauma-informed support" to victims was also another key component of the operation.
Khara Breeden, CEO of the Texas Forensic Nurse Examiners, provided on-site medical care to victims during Operation Patriot.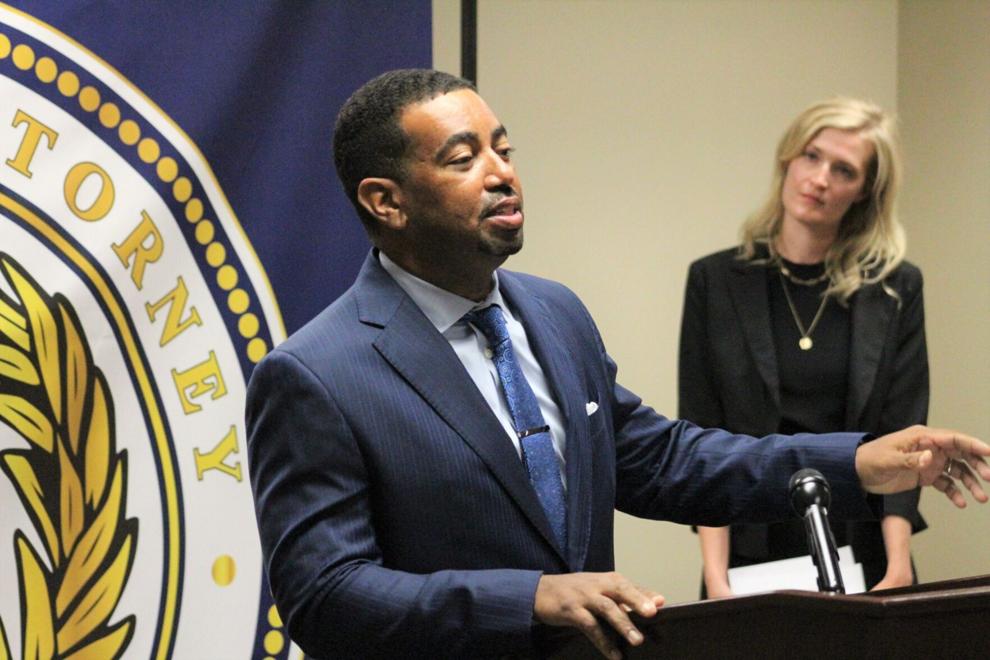 "Our goal has always been to meet victims of violence where they are at, rather than to expect them to navigate a quite complex system," Breeden said.
Breeden noted victims are often forced to live in subpar conditions and lack essential medications or tools for basic hygiene. They are also at risk for sexually transmitted infections, she said.
"When we can offer medical care and advocacy services on-site and make this initial connection, we have a better chance at keeping (victims) engaged with follow-up care and other important services," Breeden said.
The bust was conducted by 23 law enforcement agencies and nonprofits, led by the Human Trafficking Rescue Alliance of the Southern District of Texas in cooperation with the Fort Bend County District Attorney's Office, DeliverFund, Department of Family and Protective Services, Department of Homeland Security, Department of Public Safety, the Federal Bureau of Investigation, Fort Bend County Sheriff's Office, Fort Bend County Precinct 1 Constable's Office, Fort Bend County Precinct 2 Constable's Office, Fort Bend County Precinct 3 Constable's Office, Galveston County District Attorney's Office, Harris County District Attorney's Office, Harris County Precinct 5 Constable's Office, Harris County Sheriff's Office, Houston Police Department, Missouri City Police Department, Montgomery County Sheriff's Office, Office of the Texas Attorney General, Stafford Police Department, the Texas Alcoholic Beverage Commission, Texas Forensic Nurse Examiners and YMCA – International, Middleton said.
"To anybody in our viewership who is engaged in human trafficking: We are going to find you, and we will arrest you," Middleton said. "And in our pursuit of justice, we will be relentless. Fort Bend County will not tolerate human trafficking. … The pandemic has not stopped our efforts and we will continue to pursue law violators."