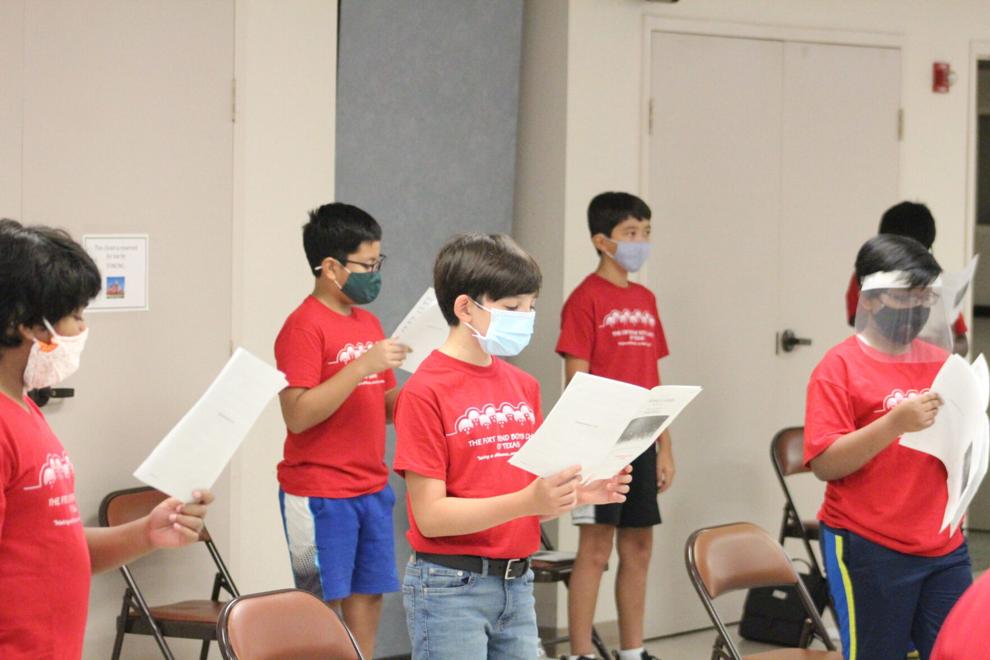 On a rainy September evening in Missouri City, masked boys steadily funnel into the First United Methodist Church.
They are greeted with a temperature reading and sized for T-shirts before making their way into the rehearsal room.
There, Bill Adams, the artistic director and founder of the Fort Bend Boys Choir, goes to work.
"Mr. A," as he is often called by his students, feels his role goes beyond teaching them how to harmonize — he hopes to shape young boys into men and "make a difference," as the choir's shirts read, "one boy at a time."
"We always have said that music is the vehicle, the medium that we use to teach boys about life and community and about themselves," Adams said. "So they learn a lot more than just the musical end of things."
The tour choir, a select group of top boys, has sung the national anthem at Houston Texans games and performed alongside the Houston Symphony. It has visited Canada and European cathedrals and was planning to make a trip to Mexico before the COVID-19 pandemic postponed those plans.
In January, the choir sang six tracks for the recently-released video game "Wasteland 3" and performed Ludwig van Beethoven's "Ode to Joy" in a Polish film called "The Hater" after the producers of the movie discovered their recording of the track on Spotify and obtained permission to use it.
The boys, who range between the ages of 8-12, have been eager to resume singing together after they were forced to stay apart for a few months. For some, the choir is far more than a mere extracurricular activity. After practicing on March 5, the choir suspended all its rehearsals until Aug. 24., the first time they met in person since the pandemic took hold in the U.S.
"It's pretty significant that we're able to do this," Adams said. "It's going well, and they sound great. They feel like they have a sense of purpose again."
The boys keep their masks on for the entire duration of the rehearsal, maintain 6 feet of distance between each other, and leave the room to get some fresh air and allow the room's air to recirculate every 30 minutes.
Their enthusiasm was palpable.
"They were just champing at the bit," Adams said. "'When are we going to come back? Are we going to sing when school starts?'"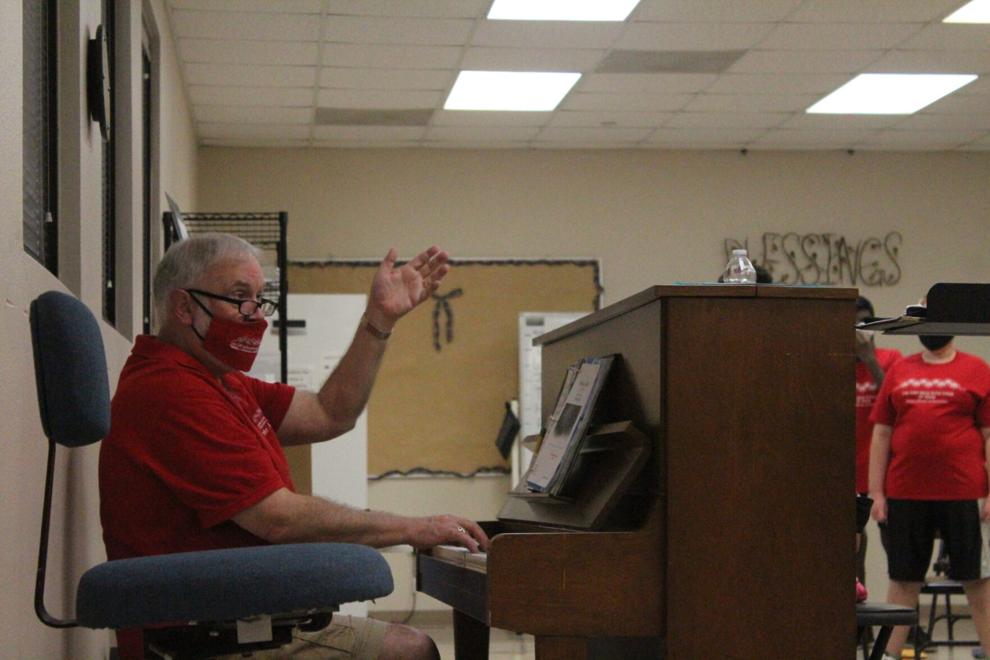 Added 13-year-old tour choir member Gavin Leslie: "There have been some struggles with the mask. "You don't hear other people as much."
Adams said he has adhered to the guidelines outlined by the Centers for Disease Control and Prevention and followed the scientific research of the virus closely. He also maintains contact with several European choirs, and sought to replicate their successful return to practicing.
Last year, Adams had nearly 100 boys enrolled across all levels of the organization.
Because of both the normal phasing out of boys whose voices have matured and the COVID-19 pandemic, the number of participants this year has shrunk to about half of that figure.
"Some parents are a little reticent," Adams said. "They've said maybe they'd like to join after Christmas, with all this talk of a vaccination coming up."
Due to local regulations limiting the size of gatherings, performances will be limited during the holiday season, one of the choir's busiest seasons. But Adams is optimistic that the choir will soon be able to perform safely.
Tiana Mortimer, the executive director of the choir, said the boys themselves are so used to performing at a high level that they may not even realize how much they are capable of, singing songs in Aramaic and tackling challenging material like John Adams' "On the Transmigration of Souls."
"The work was so hard that the Houston Symphony Chorus was having problems with it," Mortimer said. "And then our boys come into the rehearsal and nail it. And these professional adults were in awe that these boys could handle such a difficult work. … They never cease to surprise me, they don't realize how awesome they are."
Several boys said the choir has become an integral part of their life.
Tony Fata, 14, joined the training choir as an 8-year-old and was promoted to the tour choir at 10.
"I've made so many good friends," Fata said. "It's nuts how much this choir has changed my life, in a good way."
Tony's younger brother, Sammy, is also in the tour choir.
Landon Bynum, 12, an alumnus of the "Music Magic" program for 6 and 7-year-old boys, said one of the highlights of his tour choir tenure was a trip to Michigan's Mackinac Island.
David Mendoza, also 12, said he joined two-and-a-half years ago and has gotten a sense of purpose and direction from the choir. He also draws inspiration from Adams as well as his fellow singers, who have supported each other.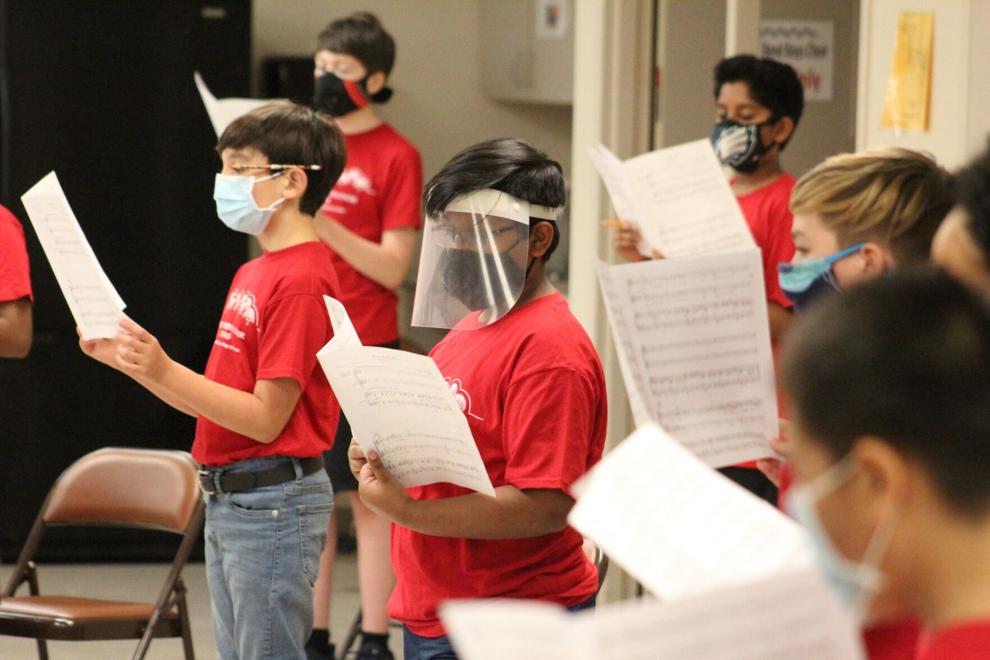 "Even though we're spaced far apart and we have masks on, I think it's brought us close together emotionally and mentally," Mendoza said. "We have to go through these struggles together, there's not really a way for us to go through it by ourselves. We just have to be together, even if we're 6 feet apart."
Adams has encouraged his students to continue in their resolve and determination to better themselves and brighten their days with the shared experience of making music.
During a recent rehearsal, they somberly acknowledged the anniversary of the terrorist attacks on the U.S. on Sept. 11, 2001, and at another point, indulged Adams playfully puppeteering a stuffed animal pink zebra to review their performance, a tongue-in-cheek reference to Pinkzebra, the choral music producer and composer.
"The Hater" features a triumphant moment of epiphany for the main character, with the choir providing the musical backdrop for the film's climax.
"Nothing is good all the time, and nothing is bad all the time," Adams said. "The 'Ode to Joy' is hopeful and uplifting and expectational. It's a metaphor for life."