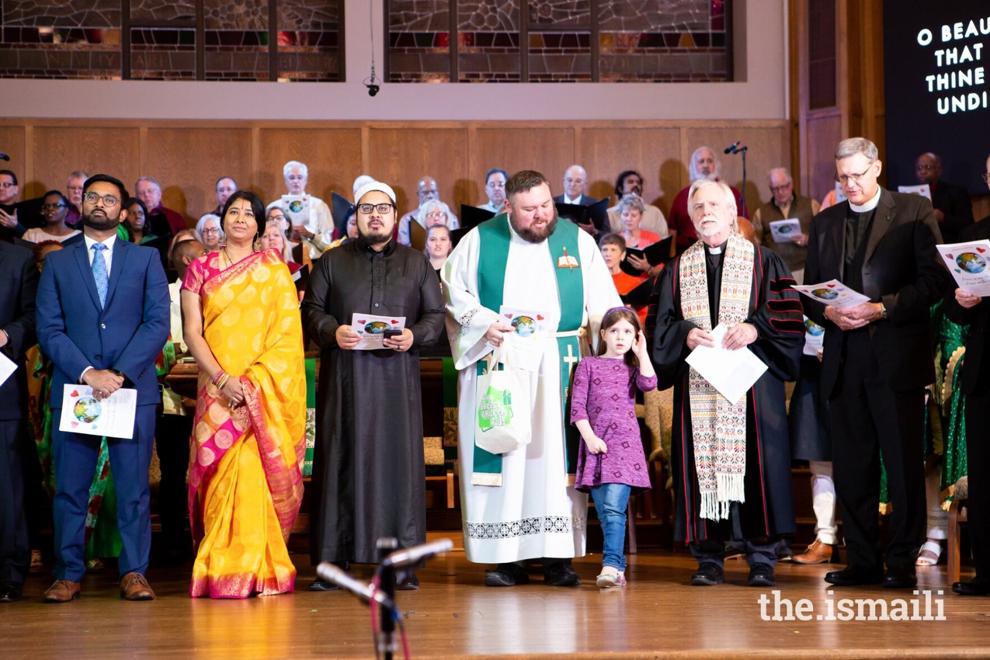 By STEFAN MODRICH 
Before the COVID-19 pandemic, Fort Bend County residents had numerous ways to showcase their cultural and spiritual diversity through festivals and commemorations of holidays and other significant events.
Now, the Fort Bend Interfaith Council (FBIC) is rallying to flex its muscles of religious heterogeneity virtually as it prepares for its sixth annual Interfaith Thanksgiving Service, to be held at 7 p.m. Nov. 23 via Facebook Live and YouTube.
A unique feature of this year's event will be the opportunity for each of the 13 participating faith communities to showcase their own worship spaces as many of their musical elements or spoken readings were prerecorded due to the lack of an in-person audience for this years' service.
"There's always something certainly very powerful about having so many voices and so many faces united in worship and in Thanksgiving," said Will Starkweather, the chairman of the FBIC. "As folks tune into this event, they get to be in everyone's place of worship. And I'm thinking that's going to be quite a lovely thing this year."
Starkweather is also the senior pastor at St. Martin's Lutheran Church in Sugar Land.
The Baha'i, Christian, Hindu, Jewish, Muslim and Sikh faiths and various denominations within them will be represented. There are more than 40 members of the interfaith community in Fort Bend County.
On Nov. 13, County Judge KP George issued a proclamation to make Nov. 23 an official "Fort Bend County Day of Prayer."
"In Fort Bend County, because we have such a diverse area, we have the opportunity to have every single one of these different religions represented," said Valerie Tolman, a spokesperson for FBIC representing the First Unitarian Universalist Church. "We're really lucky that way."
Irfan Ali is the honorary secretary for the Ismaili Council for the Southwestern U.S. and an FBIC board member representing Ismali Muslims.
He is not alone on the council in seeing the socially-distanced broadcast this year as not merely a necessity, but an opportunity to grow and expand the organization's mission of religious pluralism and tolerance.
"A lot is going to be different, but the goal remains the same," Ali said of the virtual service. "Hopefully we can actually leverage the platforms of social media as well as the online platforms to bring a much wider audience to this than in the past. Because I think it is important."
Among the messages FBIC seeks to promote are the shared values and basic tenets that make up the principles of the various members of the diverse coalition of faiths, like caring for neighbors and looking out for the most vulnerable in society.
"There are some common shared values that each faith tradition sort of espouses and encourages the followers of those traditions to maintain and propagate, which includes some universal values of compassion and generosity and looking out for their fellow brothers and sisters," Ali said. "Whether or not they follow (the same) faith tradition is immaterial."
Nihala Zakaria, a Muslim-American and an FBIC board member and event coordinator, said it is important for people of faith to get to know their neighbors and have conversations to better understand each other.
"I feel like we've had opportunities to meet. We've had dinner dialogues, so many opportunities to learn from one another," Zakaria said. "We've really realized that we all want the same thing, we all want to take care of our families. It's very nice to have a new group of friends that you can move forward with and do meaningful projects with."
This year's event will feature a homily from the Hindus of Greater Houston as well as musical and dance presentations and scripture readings from several different groups, including the Ismaili Muslim Choir, Christ Church Sugar Land, a United Methodist branch, and the Jewish Congregation Beth El.
Starkweather said there is also an interfaith choir that has been working diligently to put together a program for the viewing audience.
"Quite frankly, I'm excited to see what it looks like because that's completely outside of my comfort zone," Starkweather said.
In addition to highlighting the similarities between the various sects or denominations within groups, Ali said he welcomes acknowledging the differences. He said the biggest source of common ground among different religions is their "shared responsibility to help others."
"It's not necessarily a bad thing," Ali said. "It's OK to have that diversity. Because if everyone was exactly the same, then the world would be quite a boring place. But how do you learn about one another, and where do you go? These types of interfaith exchanges are quite vital in building these bridges within communities, which hopefully can start and inspire some action for followers to do what they can to help others."
Zakaria said she feels fortunate to be in such a diverse community because of the exposure it's provided for her and her four children. And while others may not have the same appreciation for other cultures or faiths, she said it's something that can be overcome with dialogue and mutual understanding. She wants FBIC to be a "safe place" for that communication to occur.
"A lot of times it's fear, you fear the unknown," Zakaria said. "We try to dispel that fear with conversation and human interaction to get that conversation going and getting to know somebody new. It's hard to take that first step and I just feel like we have that opportunity because we do have that diversity around us."
Starkweather said it was important to exhibit gratitude and respect for the sacrifices and hardships many have endured during a time of anxiety and stress for many, while having an appreciation for the things that are often taken for granted.
"We have a choice about how to feel about this and what sort of attitude to approach it from," Starkweather said. "It's really easy to be disappointed about the things that we aren't going to be able to do and the things that feel like loss, but at the same time, I think the spirit of this day and the spirit of what we've tried to do over the past several years is to sort of shift our focus and say, 'OK, well in the middle of hard times, what is it that we still have to be thankful for? And what is it that can bring us together, even when we need to be apart?'"
Starkweather said it is this year's central theme, hope, that unites people from vastly different backgrounds.
"Hope is that thing that brings all together, and unites us when everything seems like it's falling apart," Starkweather said. "What better reason to gather a bunch of folks together? And what a great witness. Fort Bend is among or maybe the most diverse county in the U.S. And so it has this wonderful opportunity to celebrate that diversity and says, 'This is why we're here.'"