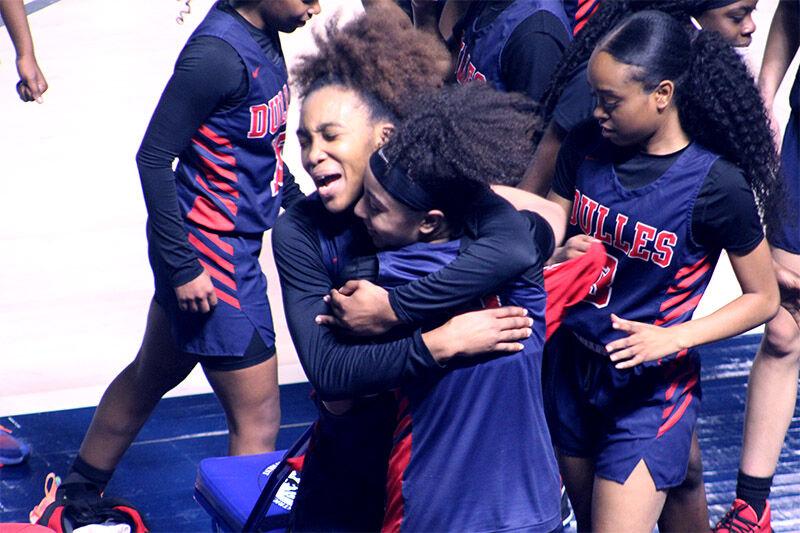 Those in attendance at Houston ISD's Delmar Fieldhouse Saturday afternoon could see how much the Dulles Lady Vikings' most recent playoff win meant to those taking part in it.
Dulles head coach Jay Simon was overcome with emotion after the 75-68 win against Jersey Village, his head in his hands as the final buzzer sounded to send his girls basketball team to the Region III-6A quarterfinals. Star guards Peyton Overton and Nya Threatt embraced while simultaneously letting out screams of joy.
The win was a long time coming for the program.
"It all just came out emotionally, especially on my end, knowing that we as a coaching staff have invested so much into these young ladies," Simon said. "They've been here every step of the way through all this adversity."
Dulles (24-0) has reached the third round of the playoffs for the first time since 2009 in a season marked by the COVID-19 pandemic. Last week's Winter Storm Uri threw more challenges at the Lady Vikings, whose second-round game was rescheduled multiple times.
They only had two days of practice to prepare for Jersey Village, their toughest opponent to date. But the Lady Vikings beat the Lady Falcons, ranked eighth in the state by the Texas Association of Basketball Coaches, to continue their undefeated season.
Five players scored in double digits for 10th-ranked Dulles, led by Jakiya Thompson's 18 points. Overton had 16 points and eight rebounds, while Dai Dai Powell had 11 points and nine rebounds along with three blocks. Threatt added 15 points.
"For them to focus and come out of it with a win was huge for everybody," Simon said. "I just kind of sat down to myself and took it all in. I got emotional because I was so happy for them."
Though Dulles has reached the playoffs in all but one of Simon's five seasons, the area round had been a thorn in its side for each of the past two seasons. The Lady Vikings lost second-round games last season to Cypress Creek and to Jersey Village in 2019.
But after the Lady Falcons took a 62-58 lead early in the fourth quarter Saturday, the Lady Vikings responded with 10 unanswered points to take a lead they would not relinquish.
"It's huge for this program to be at this point at the season with only 32 teams left in 6A, and it feeds into what Dulles girls basketball is all about with tradition," Simon said. "It really reminds you of the tradition that we have here and that we're trying to bring it back here."
Dulles outscored Jersey Village 17-6 over the game's final five minutes – which Simon said is no surprise given that his team ranks in the state's top 10 in scoring. The Lady Vikings just needed to kick the door down once it was cracked open.
"We've been playing fast all season, and we have a multitude of weapons that can go off at any time. Offensively, we know that we're always going to be able to make a run," Simon said. "Jersey Village was so good offensively that we had to abandon what we normally do defensively – we knew we had to score in the half court. Our kids are multi-skilled talents, and we're thankful for that, because it put us ahead for good."
Dulles now turns its attention to District 19-6A champion Katy Tompkins, the state's 18th-ranked squad. They are scheduled to play at 7 p.m. Wednesday at the Merrell Center in Katy.
Simon knows it will be a challenge for the Lady Vikings to win three more playoff games and return to the state tournament for the first time since 2002, because seven teams in Region III ended the regular season ranked in the TABC's top 25. But he also knows his team is always up for a fight and that it steps up when the stage is biggest.
"The thing about these kids is that they're so loose, I don't think they can ever be overwhelmed by the spotlight," Simon said. "I don't think they'll be uptight, and they'll always be ready to play. At this point everybody is pretty good, and we have one of the toughest brackets in the state. Each team we go through now is going to be a district champion or a 20-win team, so we can't afford to look past anybody."
However long the run lasts, Simon and the Lady Vikings are going to enjoy it.
"We're extremely proud of these girls," he said. "And the community's really behind them."