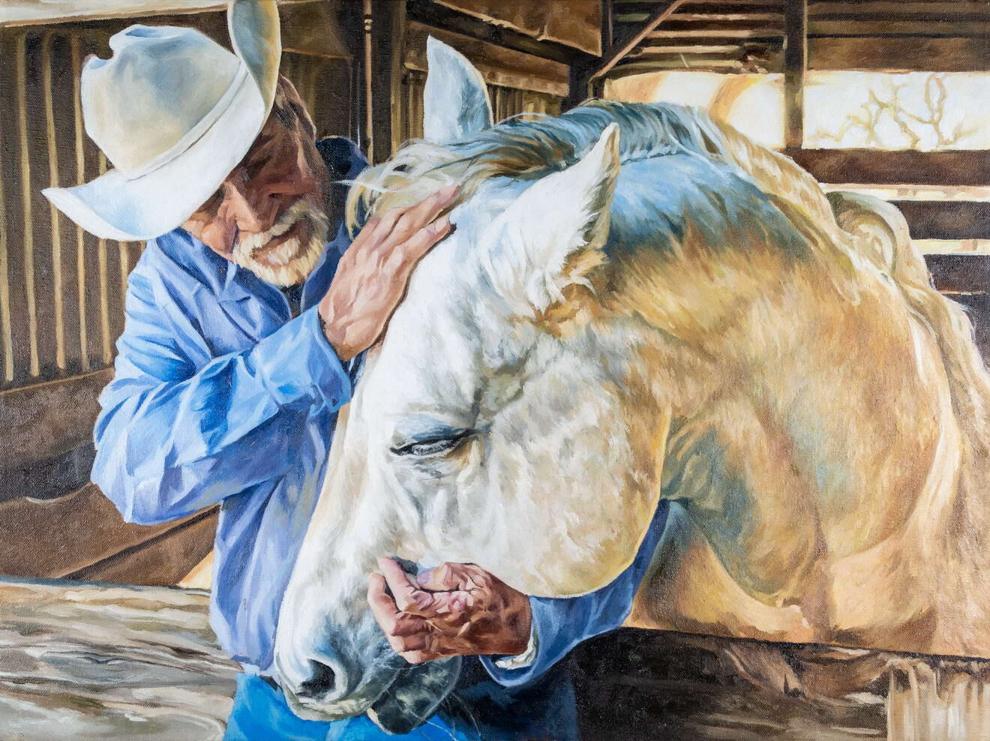 Elkins High School senior Jaydan Kisinger can't remember a time when she didn't have some sort of art utensil in her hand.
Her lifelong passion has helped Kisinger take the top honor in the Houston Livestock Show and Rodeo's 2021 student art competition. The 18-year-old's painting was named as "Grand Champion" last Sunday, after she was named a Class Reserve Champion in 2020.
Kisinger's piece entitled "Through the Years" was crowned out of more than 3,000 pieces of artwork initially submitted for preliminary judging in January. The judges selected 712 pieces of artwork to advance to the next round of judging on Feb. 13, when 72 students were selected to participate in the School Art Auction.
"I almost jumped out of my seat before running to the stage, I was just so excited and thrilled. It's a dream come true, really," Kisinger said. "I never expected this to happen. Going in, I just wanted to at least get into the auction."
Kisinger was not alone among area students who won big. Stafford High School sophomore Justin Amomoy's piece was named Reserve Grand Champion (second place), while Fort Bend Christian Academy's Jason Nguyen was also honoredas a 3D Premium Award Winner in the competition. Claire Pumphrey from Huggins Elementary in Fulshear won the rodeo's inaugural essay contest.
"I couldn't be prouder of the entries that we received in just our first year, especially during a pandemic," said Tonya Yurgensen-Jacks of the rodeo's Trailblazer Committee, which picked the essay winners. "The talent, creativity and tenacity that these young Texans displayed was not just encouraging, but truly heartwarming."
Evolution of passion
Kisinger's 2021 rodeo artwork featured art teacher Ryan Morales at his ranch in Rosenberg with one of his horses. To get the photo she recreated, she said Morales and her family drove out to Morales' ranch, where she eventually whittled down the winner out of more than 800 that she took.
After coming up short last year, she said her competitive nature took over once she had her canvas.
"There's nothing in particular that inspired me, but what motivated me was my competitiveness in my heart. The people around me supported me and were looking forward to my success," she said. "In a way, I wanted to live up to the standards they had for me – not because I'm pressured to, but because they all have special places in my heart and I wanted to make them proud."
Though she has had a lifelong passion for art, Kisinger said it wasn't until middle school that she began considering pursuing it as more than a hobby. The passion became even more real, she said, as she moved from anime and other forms of "unrealistic" art to what she called a more sophisticated style upon reaching high school.
She also said 2020 was the first time she had entered her art into the Houston rodeo's annual competition.
"I had always done it for fun, but I made a friend with this girl who was into art and was pretty good at it. That's probably the first time I felt that competitive flame in my chest," she said. "I thought, 'She's so good – but I want to be better.' So we just competed with each other."
Upon graduation from Eilkins, Kisinger plans to go to a community college to study art and see where the path takes her.
She said art offers her a sense of freedom, which she felt while developing "Through the Years" at 2 a.m. while listening to music or podcasts later in the process.
"It was just a nice time for me to clear my head and focus on something right now while forgetting about everything else," she said. "There's just so much freedom in visual arts – there are so many different styles you can do, and I just don't think that's found in any other kind of art. There are such a wide range of things to do, and you have your entire life for your art to continue to develop. It's just an interesting process to watch."
Kisinger could win as much as $38,000 in the rodeo's auction on May 16 now that she is the Grand Champion. But whatever the future holds, for now she's going to relish a moment that has been years in the making.
"When I was little I remember being so proud when I could stay between the lines when I was coloring," she said with a laugh. "Now here I am (as the Grand Champion)."