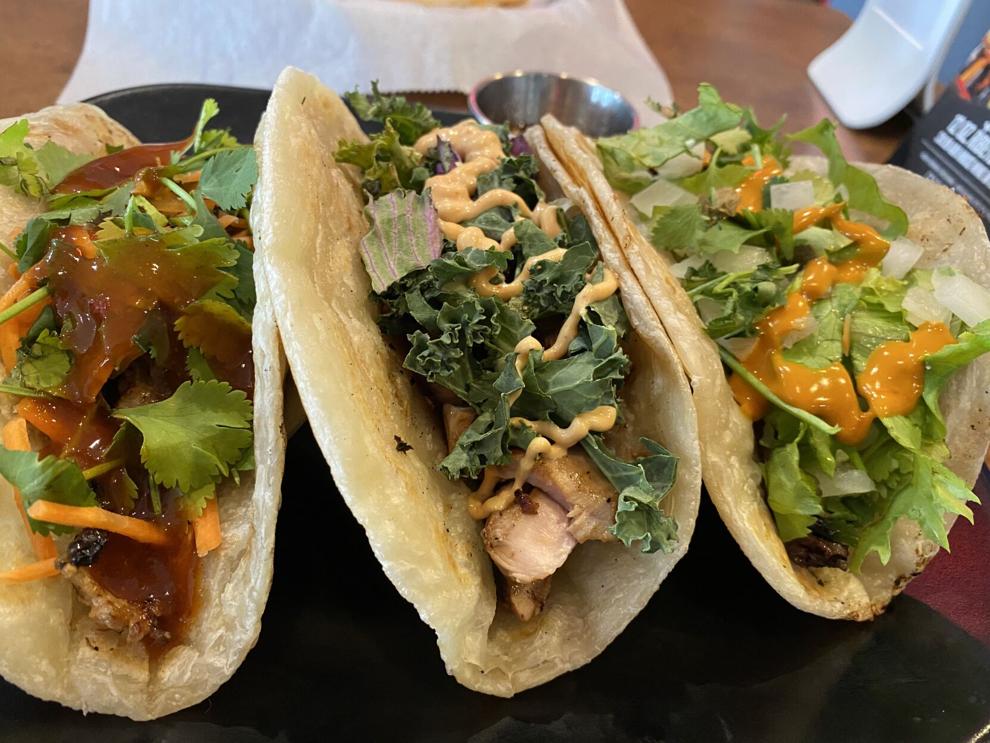 Opening a bar during a global pandemic is a bold bet, but Bar Kada in Missouri City is making the calculation that the best days will be ahead in a post-COVID-19 reality. 
The name comes from the Tagalog word "barkada," a nod to the Filipino word for a group of friends, and the Spanish barcada, which means a boatload. 
Bar Kada is a sports bar with more than 30 television screens, several arcade games and a patio with a life-size chess set. While these activities, aside from watching sports on TV, have been mostly dormant during the pandemic, they show promise as selling points for people to gather en masse in the not-so-distant future. 
All of that stipulated, I was thrilled by what I found out during my visit to Bar Kada. One of the most important lessons I learned was that being adventurous almost always pays off. 
I started things off with Adobo'd Kwek Kwek ($5), hard-boiled quail eggs brined with an adobo soup broth. They are then battered and fried and served on skewers with a dusting of cayenne pepper and a dish of sweet chili dipping sauce. While much smaller than chicken or duck eggs, quail eggs are richer in nutrients and have a thick, creamy yolk.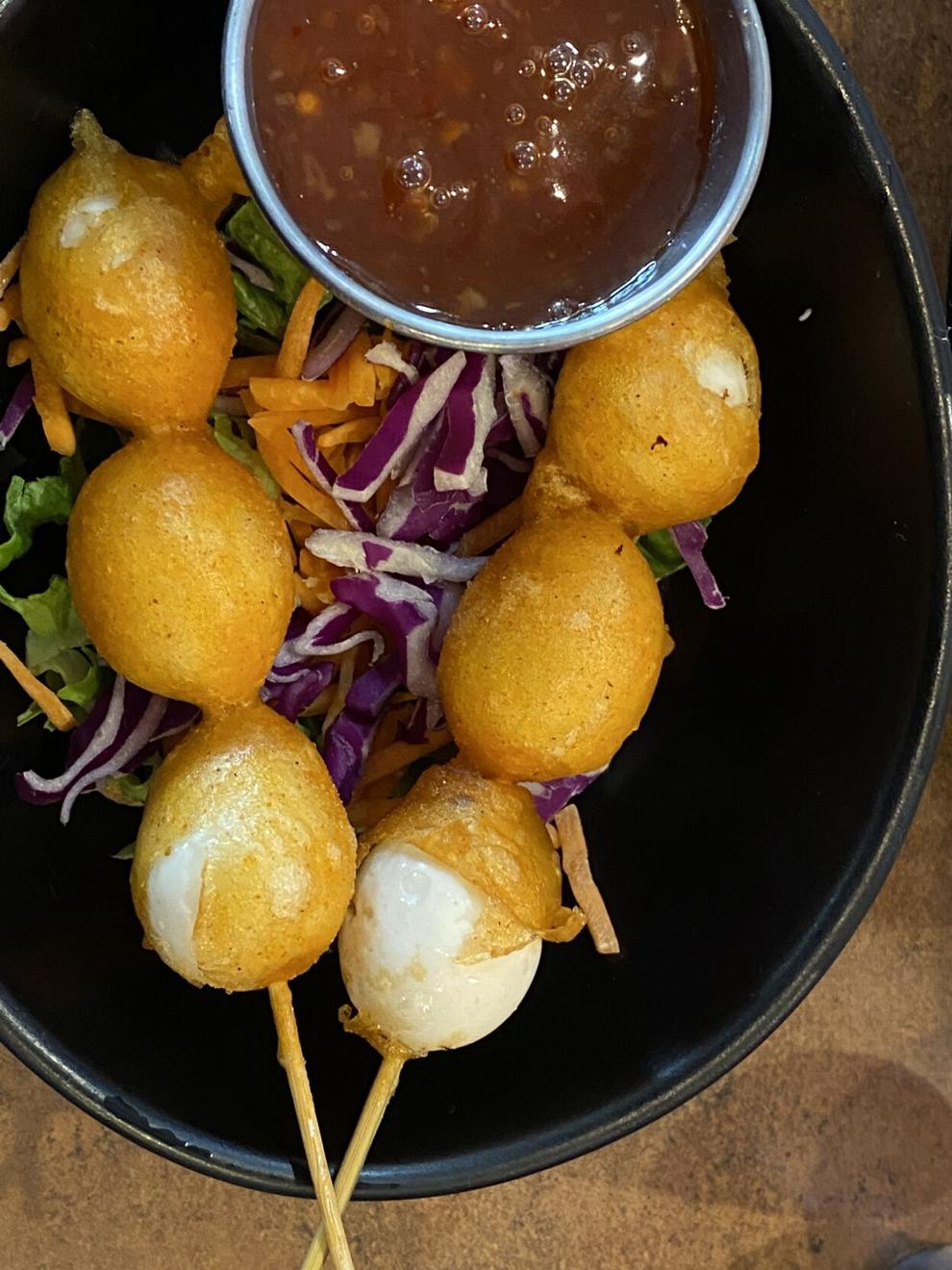 Along with your appetizer, your server will ask if you'd like a basket of crispy shrimp chips sprinkled with Sriracha dust on the house. Refills are $1.50. They are very similar in texture to chicharrones, the chips made from fried and dried pork rinds. 
As I have learned in my various taco treks across Fort Bend County, outstanding tacos can take many forms. Bar Kada's Korean Paratha Tacos ($12 or $10 for the lunch special) are the latest example.  
A buttery paratha roll plays the role of tortilla, and between it was three absolutely delectable choices of meat. The Dak (chicken) Bulgogi is topped with a sweet and tangy Brussels sprout coleslaw and a spicy mayo drizzle. The Beef Bulgogi was adorned with fresh chopped onions and cilantro and a splash of smoky Asian sauce. The Spicy Dweji (pork) Bulgogi is accompanied by sweet pickled cucumbers, carrots, cilantro drizzle and a Sriracha glaze.
If you're planning to partake, I can't recommend the Peach Jelly Sake highly enough. It was my first time ever consuming the Japanese beverage, which is made from fermented rice. This particular version had a layer of jelly atop the liquid itself, which made it a fun and relatively novel experience. It was sweet but not overpowering, and made for a great pairing with everything I ordered.
Bar Kada also sells its Viet Cajun Crawfish for $4.99 per pound, and you can monitor its Facebook page for updates on availability. 
Bar Kada
Address: 9009 Sienna Crossing Dr., Missouri City
Dining Options: Dine-in, curbside pick-up
Hours: 11 a.m.-12 a.m. Sunday-Thursday, 11 a.m.-2 a.m. Friday-Saturday
Entrée prices: $10-$14
Kid-friendly: Yes
Senior discount: No
Alcohol: Yes
Healthy options: Yes
Star of the show: Korean Paratha Tacos