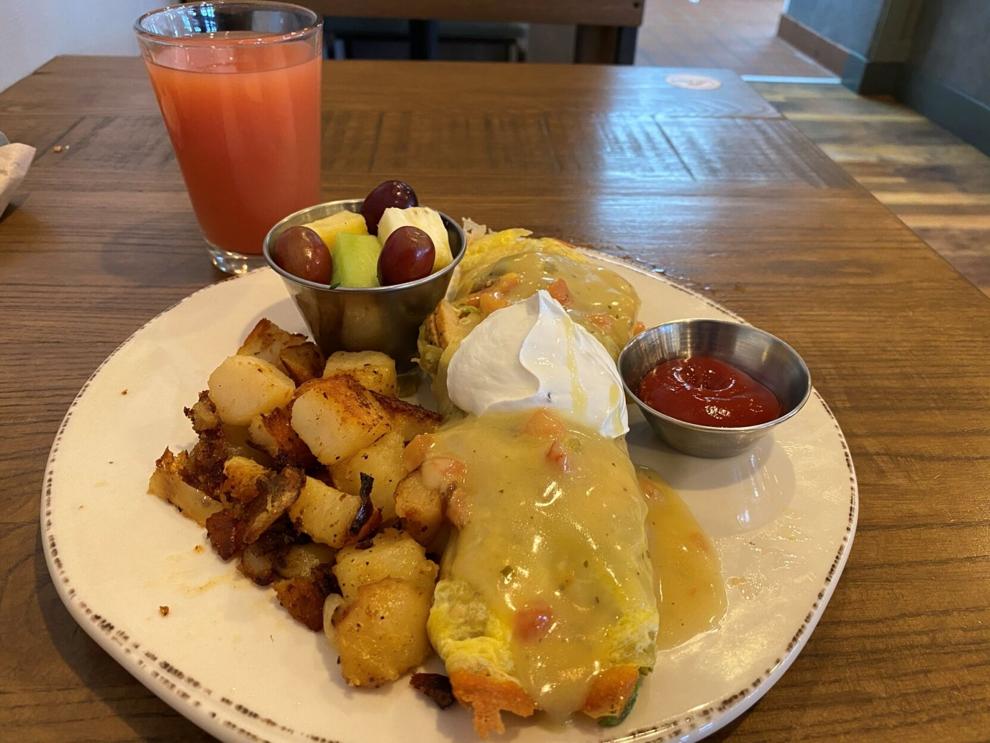 By STEFAN MODRICH 
If you've been looking for an excuse to have a slow morning, First Watch in Sugar Land will be happy to oblige.
The popular breakfast and brunch chain has a plethora of healthy plates and some interesting spins on classic morning staples, and it does so for a reasonable price — all entrees are less than $15.
There are many Tex-Mex items that are a nod to the Greater Houston area's influence in popularizing one of the most iconic subgenres of American cuisine.
One that came highly recommended to me, and that I can also endorse, is the Chickichanga ($11.49), which was inspired by the deep-fried burrito known as the Chimichanga.
Similar to an omelet or frittata, the Chickichanga features eggs that have been lightly whipped. The eggs are topped with sour cream and salsa verde and envelop the chicken breast, chorizo, green chilies, cheddar and Monterey Jack cheese, onions and avocado, all of which has been rolled in a four tortilla.
Fresh fruit (grapes and pineapple slices) and seasoned, diced potatoes are served on the side.
There is an impressive rotation of seasonal juices at First Watch's juice bar, including Morning Meditation ($4.49), a blend of fresh-squeezed oranges, lemons, turmeric, organic ginger, agave nectar and beets, and a Kale Tonic ($4.49) with Fuji apples, cucumber and lemons.
If you'd prefer a standalone juice, you can have a plain glass of orange juice, apple juice or cranberry juice. I elected to go with grapefruit juice.
There's definitely something for just about every diet at First Watch. If you have a gluten allergy or prefer gluten-free foods, the Power Breakfast Quinoa Bowl ($10.39) has Italian sausage, house-roasted Crimini mushrooms and tomatoes, kale, parmesan and extra virgin olive oil,  topped with two basted cage-free eggs.
For a more indulgent breakfast, the Lemon Ricotta Pancakes ($9.99) are among the highlights of this star-studded menu.
The stack of two pancakes made with a multigrain batter is topped with marinated berries, a creamy lemon curd and powdered cinnamon sugar.
If you've been wanting to experience a getaway to Texas' Gulf Coast counterpart but prefer to stay local, the Floridian French Toast ($10.49) also has a bit of French flair to it, with a thick-cut brioche bread base with wheat germ and powdered cinnamon sugar. It's covered with fresh banana, kiwi and seasonal berries.
And if that doesn't make you a morning person, I'm not sure what else will. Thankfully, you don't need to be, because breakfast, lunch and brunch are served from open to close.
First Watch 
Address: 9920 Highway 90-A, Sugar Land
Dining Options: Dine-in, curbside pick-up, delivery via Uber Eats
Hours: 7 a.m.-2:30 p.m. daily
Entrée prices: $7.29 – $13.99
Kid-friendly: Yes
Senior discount: No
Healthy options: Yes
Star of the show: Chickichanga