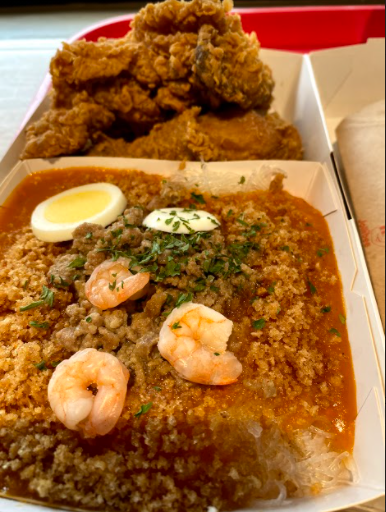 Jollibee has been an object of fascination for me during my trips up and down Highway 6 in my quest to discover the most original and distinct cuisine across Fort Bend County. 
While you can find the Filipino fast-food chain in 10 other states, there are only four in the entire state of Texas and only two others in the Houston area. I was excited to head back to Missouri City to pay my first visit to Jollibee, which opened there in June. You can only have your first Whataburger or In-N-Out meal once, and so I like to mark these occasions with the significance they deserve. 
I found the restaurant nearly empty on arrival, having managed to do so before the winter storms shut down life as we had previously known it. 
It was disappointing to not have a chance to try Halo-halo (which means "mixed" in Filipino). Halo-halo is a traditional dessert composed of crushed ice, evaporated milk or condensed milk, as well as ube (a purple yam), sweetened beans, coconut strips, pinipig rice, fruit slices and flan. It is commonly topped with a scoop of ube ice cream. Ditto for the Ube Pie, which is filled with the same purple yams featured in the Halo-halo. I did, however, enjoy my dessert — more on that later. 
For lunch, I went with the Palabok Fiesta ($6.59), a traditional Filipino noodle dish covered in garlic sauce, crushed pork rinds, shrimp and a boiled egg. The noodles are clear, which is a bit jarring at first. They are also known as cellophane or glass noodles, and referred to as sotanghon in the Philippines. They are often made out of starch derived from potatoes. 
The variety of protein choices was the highlight of the Palabok Fiesta for me. Included with the rice was two chicken wings, and the chicken was so tender it fell off the bone. 
Capping things off was a Peach Mango Pie ($2.74), meshing two of my favorite fruits into a warm, gooey filling and encased in a soft, chewy crust. 
As I've been fortunate to find so many times, I'm glad my curiosity and nose for new discoveries in the realm of Fort Bend County cuisine led me to a place like Jollibee. I hope you'll continue to share your recommendations with me @StefanJModrich on Twitter and via email smodrich@fortbendstar.com. 
Jollibee
Address: 6127 Highway 6, Missouri City
Dining Options: Dine-in, takeout, curbside pickup, delivery via DoorDash and Uber Eats
Hours: 9 a.m.-10 p.m. daily
Entrée prices: $6.59-$13.19
Kid-friendly: Yes
Senior discount: No
Alcohol: No
Healthy options: None 
Star of the show: Palabok Fiesta