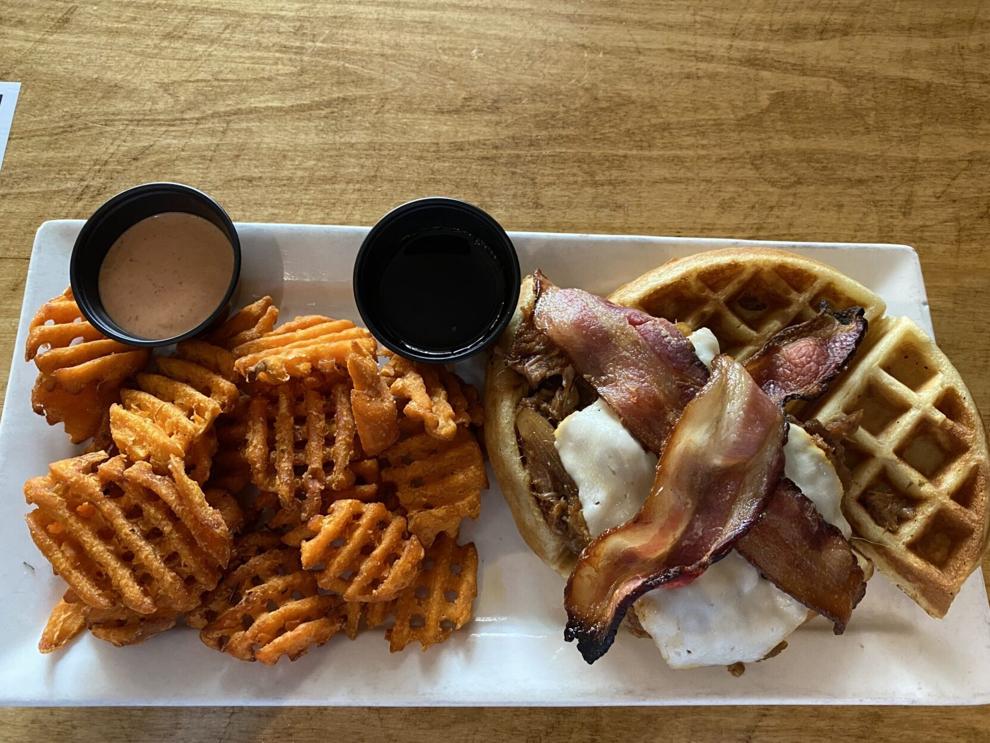 Have Robert White and Victor Litwinenko, the visionaries behind a development anchored by four restaurants in the heart of Sugar Land's Town Square at First Colony Mall, figured out how to bottle lightning?
Maybe not — but with Jupiter Pizza and Waffles, they have managed the balancing act of being simultaneously family-friendly and a hipster's paradise.
The patio is lined with tables featuring the kind of art that once lined old crates of fruit, beer and wine. Inside you'll find a modernist twist on an old saloon-style wooden interior. You might, as I did, meet the gaze of a metallic chicken perched atop a booth on the way to your seat.
Jupiter's menu is a tabloid headline writer's dream, and carries itself with a sense of humor that aspiring stand-up comedians missing out on open mic night are sure to appreciate. There are puns, like "meat-eors" (Italian-style beef and pork meatballs topped with mozzarella cheese and tomato sauce, $10) and "veg-egg-tarian" (an omelette with mozzarella, mushrooms, spinach, and red bell peppers, $13).
As a journalist, I would have been remiss if I didn't try the "pull-itzer." This delightful combination of house-made pulled pork, caramelized onions, applewood-smoked bacon, muenster cheese and barbecue sauce atop a Belgian waffle was a bit of a gamble for someone like me, as much as I enjoy all of those things as standalone breakfast or brunch items. But Jupiter has gone beyond the generic chicken and waffles formula and turned this sweet and savory staple into an art form, and I hope they and others continue to embrace this trend.
Brunch lovers, rejoice. You have a wide variety of sweet waffles to pick from, all $9 each: Brunchy (Nutella spread, sliced bananas, strawberries, whipped cream and powdered sugar) Dulce de Leche (caramel sauce, fresh fruits, nuts, whipped cream and powdered sugar), Oreo Speedwagon (Oreo crumbles, whipped cream, sliced strawberries, vanilla custard and chocolate sauce topped with powdered sugar), Kream Kong (sliced bananas, vanilla custard, pecans, whipped cream, melted chocolate and powdered sugar) and S'mores, Please (melted chocolate, graham crackers, toasted marshmallows and powdered sugar).
Did I mention they also serve pizza at Jupiter? The Supernova (tomato sauce, mozzarella, pepperoni, bacon, pineapple, mushrooms, garlic, jalapenos, Sriracha and ranch sauces, topped with basil) is $16 for a regular-size pizza and $21 for a large.
The Moon-Pie comes with Vietnamese-style barbecue pulled pork, mozzarella cheese, sunny side up egg, Sriracha and Japanese mayo topped with cilantro ($15 regular, $20 large).
The Japaneiros, a nod to Jupiter's neighboring sister sushi restaurant at Town Square, features tomato sauce, mozzarella, red bell peppers, sliced grilled chimichurri chicken, sweet plantains, cilantro and basil ($14 regular, $19 large).
If you're craving coffee, Jupiter offers house-made lattes and cappuccinos, all of which can be made hot or iced.
"Cheap-O Hour" spans from 3-7 p.m. Tuesday-Thursday, during which you can grab a $5 glass of wine or a $3 local draft beer. You can order from a variety of local breweries like Saint Arnold, Lone Pint, Copperhead and Buffalo Bayou. Dogfish Head, Founders and Victory are also available.
Jupiter Pizza and Waffles
Address: 16135 City Walk, Sugar Land
Hours: 11 a.m.-10 p.m. Tuesday-Friday, 10 a.m.-9 p.m. Saturday-Sunday
Entrée prices: $7-$20
Kid-friendly: Yes
Senior discount: No
Healthy options: Vegetarian, gluten-free options available
Star of the show: Pull-itzer