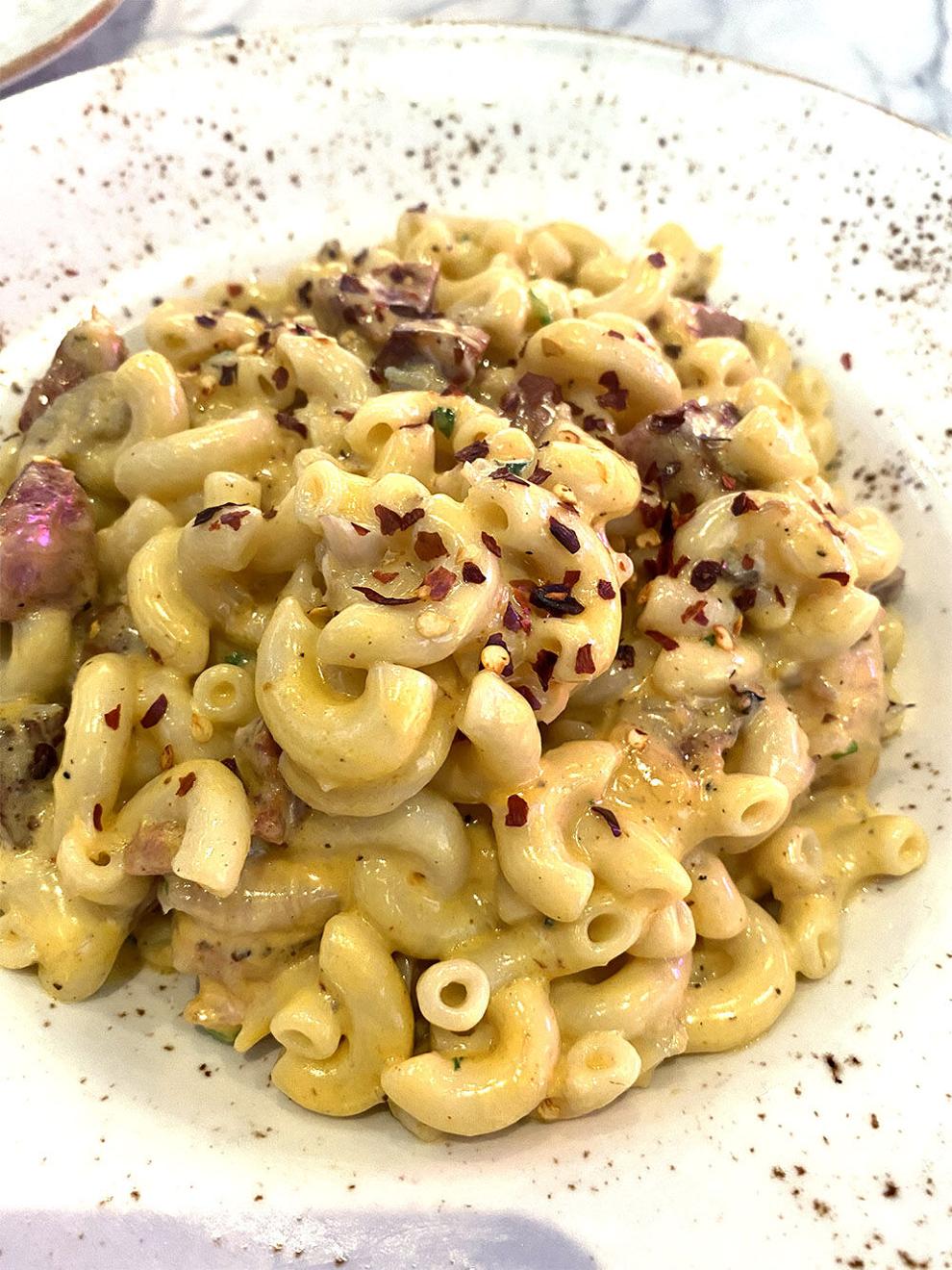 One of the most Instagrammable restaurants in Sugar Land's Town Square is also one of the best modern Southern spots in the area. State Fare Kitchen & Bar made its debut in Fort Bend County in July at 15930 City Walk, joining its sister location in West Houston.
State Fare's bright, clean aesthetic and giant marquee board with sassy quips that offer commentary on current events. There was, "Sure hope the Texas power grid can handle all businesses reopening at once," and, "Never be afraid to cut people off ... ERCOT," following Winter Storm Uri. More universally relatable and slightly dark humor includes, "I'm in a good place right now. Not emotionally, but this bar has good drinks." 
The staff is friendly and attentive, and despite the peak weekday lunch rush, I was seated immediately, perhaps one of the perks of the solo dining I've done as a restaurant critic during the COVID-19 pandemic. I waited no more than 15 minutes for my food, but I enjoyed the ambiance of State Fare, a source of Southern comfort. 
The bright and airy interior is decked with red vinyl furniture and blue pillows, accented with white bricks and subway tile flooring, combining style elements from the Art Deco era as well as that of classic, 1950s-style diners and contemporary warehouse-style venues. 
I didn't take long to figure out what I was craving and set my sights on the Purist Mac 'n Cheese ($13). 
The menu claims the dish uses "double cheese" and toasted breadcrumbs, with the option to add "Gulf Trash" AKA shrimp, andouille sausage and crab for an extra $10. It was also sprinkled with chili pepper flakes. I'm a big fan of seafood with pasta, but I was a tad skeptical and had a brief moment of buyer's remorse when I thought about the pairing of the protein with the mac and cheese. 
Thankfully, my fears did not materialize, and the andouille and the shrimp made for an impressive, flavorful bite with the cheesy noodles. If anything, I felt a bit shortchanged by the amount of crab in the dish, and would have liked to see how more of it would have added to the commingling aromas and tastes of the Purist Mac 'n Cheese. 
All told, State Fare is a breath of fresh air, a cozy space with some clever spins on American and Texan classics.
Have you been to State Fare yet? What did I miss? Keep me posted about your own Fort Bend County dining adventures by emailing me at smodrich@fortbendstar.com or tweeting at me @StefanJModrich.com.
State Fare Kitchen & Bar
Address: 15930 City Walk, Sugar Land
Dining Options: Curbside pick-up, delivery via Doordash, Favor, Grubhub, Postmates, Seamless, UberEats 
Hours: 11 a.m.-9:30 p.m. Monday-Thursday, 11 a.m.-11 p.m. Friday, 10 a.m.-11 p.m. Saturday, 10 a.m.-9 p.m. Sunday
Entrée prices: $13-$26
Kid-friendly: Yes
Senior discount: No
Alcohol: Yes
Healthy options: Yes
Star of the show: Purist Mac 'n Cheese