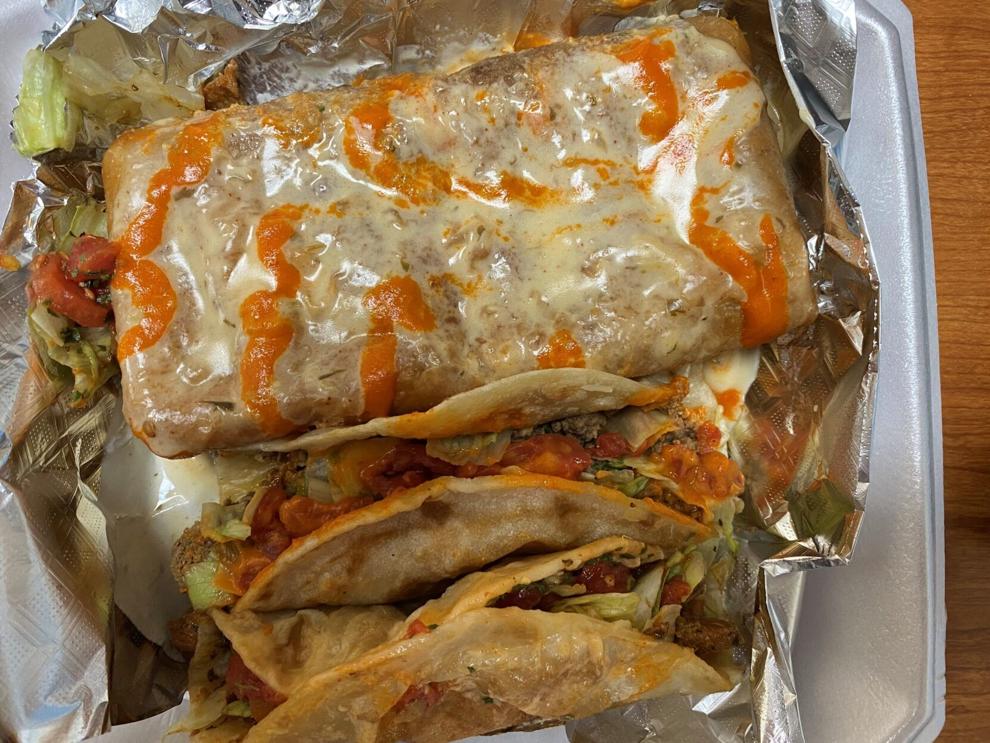 By STEFAN MODRICH
Bold, bright and unapologetic, Trill Taco is one of the latest additions to a bustling Missouri City food scene that pays tribute to some of Houston's greatest musical artists while fusing together a melting pot of flavors not unlike the makeup of the area itself.
Just as its food combines multiple cultures, the name of the restaurant itself, Trill, is also a hybrid, a blend of the words "true" and "real" that originated in Port Arthur and was made popular by Bun B of the rap group UGK (Under Ground Kingz), who rose to prominence amid the hip-hop boom on Houston's South Side in the 1980s.
In fact, Bun B himself gave Trill Taco his seal of approval, stopping by Sept. 5 to hold a merchandise signing for the year-old restaurant.
A working knowledge of Houston music history certainly isn't a requirement to enjoy Trill Taco, but it will enhance your experience if you are a fan of the slower-paced "chopped and screwed" rap that you'll find playing.
As you wait for your order, you might find that the color purple is prominently featured everywhere from the logo to the menu as well as an impressive array of wall art from local artists and mood lighting. And with many smaller restaurants like Trill Taco being forced to get creative to adhere to social distancing guidelines and opting to not offer dine-in service, it's reassuring to know that they still value key aspects of the customer experience. In other words, waiting for your food doesn't have to feel like waiting for a dentist appointment or having an audit done on your taxes.
Everything on the menu is a tribute to someone involved in Houston's rich musical past and present. I ordered The Bun-B ($2.99), which includes seasoned ground beef, a mix of cheeses, lettuce, pico de gallo, and a signature house sauce served on a flour tortilla. I paired it with the Screwed Up Chicken ($3.29), which features grilled curry chicken with onions, shredded lettuce, mixed cheese and pico de gallo, smothered with another one of Trill's homemade sauces.
The Fat Pat ($7.79) is a burrito stuffed with ground beef and mixed cheese draped in queso and trill sauce. Though I tend to prefer an excellent taco over a burrito, there's something indulgent and comforting about a really good burrito, and that's exactly what I consider the Fat Pat to be.
I've gathered a few taco recommendations for first-timers that also top my list for when I make my return visit: The Sweet Jones ($3.50), a taco with crispy fried chicken and honey butter sauce, and Thee Stallion ($3.79), which is highlighted by marinated grilled steak and served with onions, mixed cheese, cilantro, pico de gallo and a signature trill sauce.
There are two very appealing vegan options, both nicknamed after Missouri City's own Travis Scott: the Cactus Jack ($4.29) is grilled jackfruit marinated in jerk sauce, topped with red cabbage, plantain chips and guacamole. The La Flame Nachos ($8.29) also contain grilled jackfruit, honey-flavored barbecue sauce, fresh cilantro, red cabbage, cashew queso and vegan sour cream.
Trill Taco is not authentic Mexican food, and it offers no pretensions about that fact. If you're going in expecting that or traditional Tex-Mex, you may be disappointed. But bring an empty stomach and an open mind, and I'm sure you'll agree that for better or for worse, Trill Taco is as authentically Houstonian as food can get.
Trill Taco
Address: 2887 Dulles Ave., Missouri City
Dining Options: Takeout, curbside pickup, delivery via Grubhub and Uber Eats
Hours: 11:30 a.m.-8 p.m. Monday-Friday, 11:30 a.m.-9 p.m. Saturday
Entrée prices: $2.99-$8.29
Kid-friendly: Yes
Senior discount: No
Healthy options: Cactus Jack
Star of the show: Screwed Up Chicken