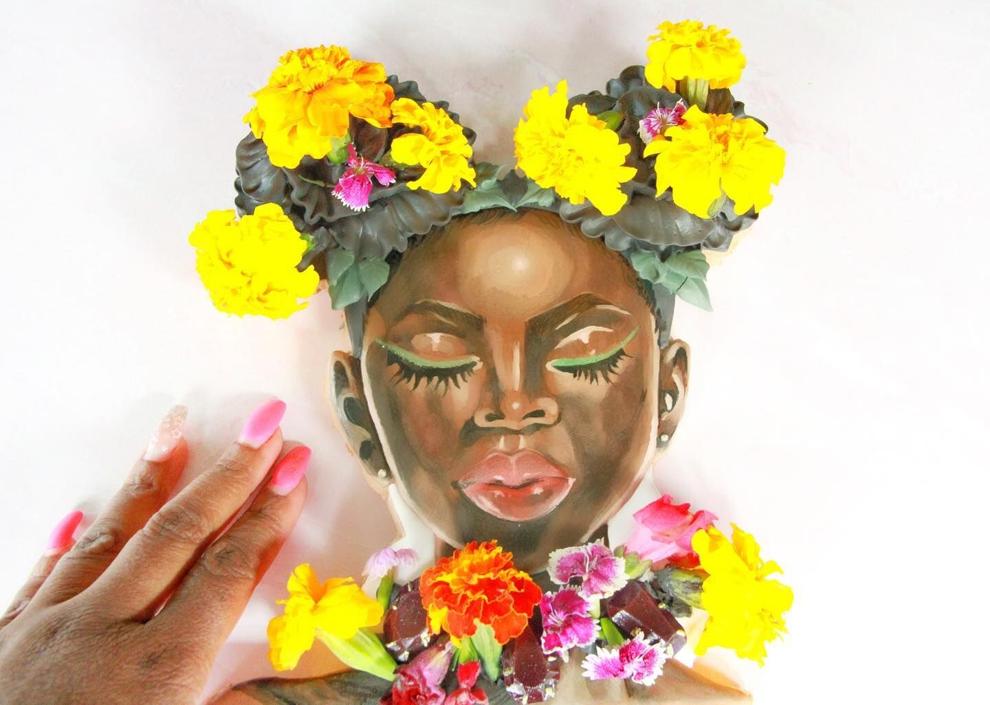 By STEFAN MODRICH 
Richmond's Sonja Norwood began baking Christmas cookies and taking them to her coworkers at Alief Taylor High School two years ago.
Today, she is the owner of Wick'd Confections, her custom bakery which has more than 11,000 Instagram followers and is set to appear on Food Network's "Christmas Cookie Challenge" on Nov. 16.
What sets Norwood apart is her desire to shatter literal and metaphorical cookie cutter stereotypes, creating poignant portraits of African-American women like Megan Thee Stallion and colorful cultural tributes celebrating Dia de los Muertos or paying homage to Houston's sports and music scenes.
"I honestly feel like I just started to find my cookie identity, if that's a thing," Norwood said. "Because I always knew, 'OK, I can paint. I can draw.' I was working with this new medium, but I was doing what everyone was doing. Like right now, everyone's making pumpkins. 'OK, you should be making pumpkin cookies.' And you look at all these cookie eaters on Instagram and they're all buying from the same cookie cutter — there are these trends, and we all just copy them. The cookie world is a whole subculture, and you would never think it would be that serious"
The single mother of two, currently in the midst of her 12th year as a high school science teacher, began her company as Wick'd Confections Candle Company, designing candles that look like cupcakes.
"One day I just saw people baking cookies on Instagram, and I decided I could do that," Norwood said.
She said she saw her daughter's teacher on the "Christmas Cookie Challenge" years ago, and so Norwood set out to apply to be casted on the show.
The interviews with Food Network were conducted via Zoom even before the COVID-19 pandemic, Norwood said.
She flew to New Orleans for the filming of the show, which she said was a different experience because of the pandemic.
"Anytime we weren't on camera, we had masks on," Norwood said. "We stayed away from each other, did all the social distancing. We had 90 minutes to complete the first challenge, and then they eliminated two people, and then they completed the second challenge and picked a winner.
"It was surreal, it was so interesting, when we first got to the lot, it didn't seem like anything special. But we walked in there, and it was like a Christmas wonderland."
While 90 minutes might seem like plenty of time for a host of cookies or baked goods, those who are familiar with the world of specialty baking like Norwood are used to spending hours or even days at a time constructing and carefully designing intricately detailed portraits or other artsy concepts.
"From start to finish, making the dough, making the icing, decorating the cookie, baking the cookie, we had 90 minutes to do it," Norwood said. "It's really a crazy challenge. It makes you try to be efficient. The painting that I (normally) do was not going to happen, because it can take hours to dry. So it makes you think of strategies that are fast but effective."
Norwood insists that while the portrait cookie is her specialty and her preferred craft, she often reminds friends and colleagues she cannot take last-minute requests for such a labor intensive project and will likely do more cookies that are easier to mass-produce in a typical order.
"People all the time will ask me on a Friday, 'Can you make this for me for Saturday?' because they don't understand everything that's involved in it," Norwood said. "I don't have the time, and I would rather turn it down than try to take that order."
She still has to balance being a mother and a biology teacher on top of managing her growing business.
"I can't make cookies all day," Norwood said. "One of my daughters is in Lamar Consolidated ISD and she's doing virtual learning, and the other one is 4, so she does what she wants."
Norwood still bakes her cookies at home, and because she's mostly been fulfilling orders online for people she knows, she's enjoyed the small community that has been supporting her in Richmond.
She also continues to take virtual classes on Facebook or Instagram to learn from other bakers, and said post-pandemic she hopes to offer in-person classes in addition to the virtual classes she's planning to offer.
Norwood encourages aspiring cookie artists or any artisans or craftspeople to research and keep practicing their craft. She said she would advise people entering her field to not be a "jack-of-all trades and master of none."
"I don't like when people don't really try to master those skills," Norwood said. "They just slap it together, and you can tell when it's slapped together. I would just say to study. I still feel like I'm learning. I would like to make sure I have something to teach, something you can take away from it. I feel like I have to master things before I start teaching."