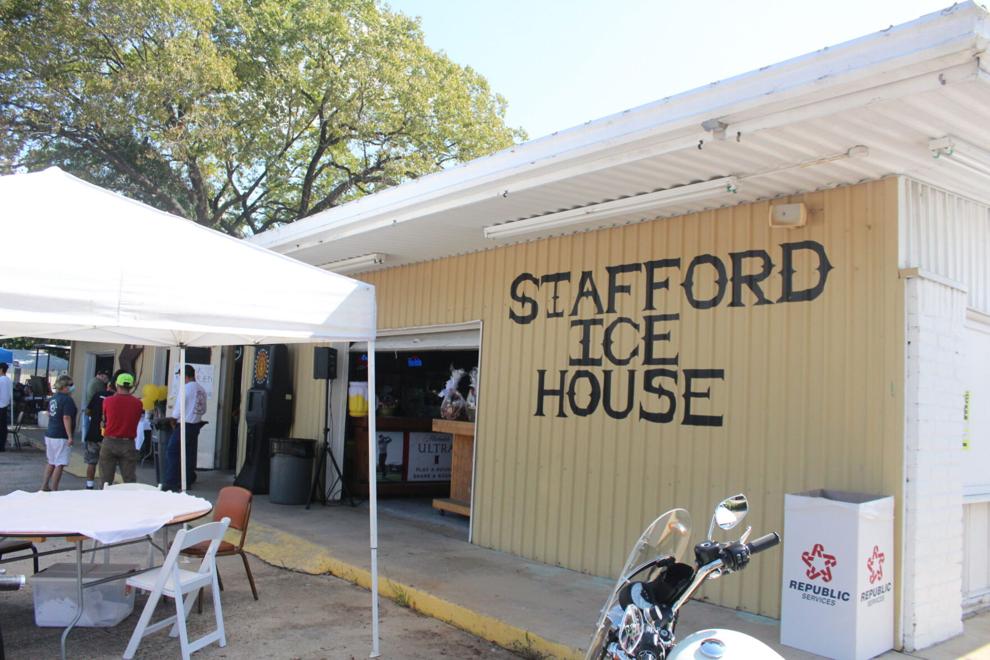 By STEFAN MODRICH
The Stafford Ice House has been around for more than a quarter century.
But in the 26 years the bar has been in operation, it's never been through a stretch quite like the predicament bars across the state find themselves in – unable to operate for the last six months.
To make matters worse, the bar was broken into Sept. 15, when $360 worth of beer and approximately $500 of donated goods were stolen. Owner Karla Webb said she discovered the break-in two days later, which threw a major wrench into a fundraiser that had been in the works for about a month-and-a-half. She said Stafford Ice House has only been broken into three times since opening.
"We had brought some of our raffle items in and different items were brought in during our last meeting," Webb said. "One of my bartenders called me and asked if she could use the bathroom because she was driving by, and all of my bartenders have a key because they open and they close."
The bartender noticed the side door was unlocked when she came in, and that the alleged thief defecated in a trash can. The Stafford Police Department has obtained the security camera footage and is investigating the case. Webb said two people have helped her identify the man who was on tape breaking and entering the bar.
"We've been closed for six months, and then two weeks before our fundraiser, he decides to break in," Webb said.
But the fundraiser went on as planned Saturday, thanks to Webb and the customers and friends and family who streamed in and out of the bar on Friday to donate raffle and auction items and provide food and supplies for the event. Webb's sister-in-law opened the ice house, and when she died, her mother took on the responsibility of running it. Webb took over the ice house when her mother's health declined and she eventually passed away.
"I was a manager for Lowe's," Webb said. "I didn't know anything about the bar industry. But it's in our family. And our customers are our family. So we're going to try to keep it going."
She said there has been an outpouring of support from Stafford residents after Channel 2 KPRC-TV, Houston's NBC affiliate, aired a story following the break-in. As a result, the bar had "an abundance" of stuff to sell, more than what Webb thinks it would have had otherwise. As a precaution, she and some of her nieces slept overnight at the ice house on air mattresses to ensure the safety of the raffle items and silent auction items.
One of the most loyal and dedicated helpers through this difficult time for the business has been Stephanie Bayliss, who has been bartending at the ice house for 25 years.
"You grow up in this town, and it's an icon, it's a staple," Bayliss said. "It's where you go out and you drink your first beer, and you play pool with your dad on Saturday. It's something that we're losing, the feel of an old-school small ice house. It's a second family."
The sense of urgency for bar employees is heightened during a time of economic insecurity, and the ice house is no exception.
"We're already desperate to save our job, the one job that we have," Bayliss said. "This is my home. I've been getting phone calls from people whose parents went here asking, 'Where can we donate?'"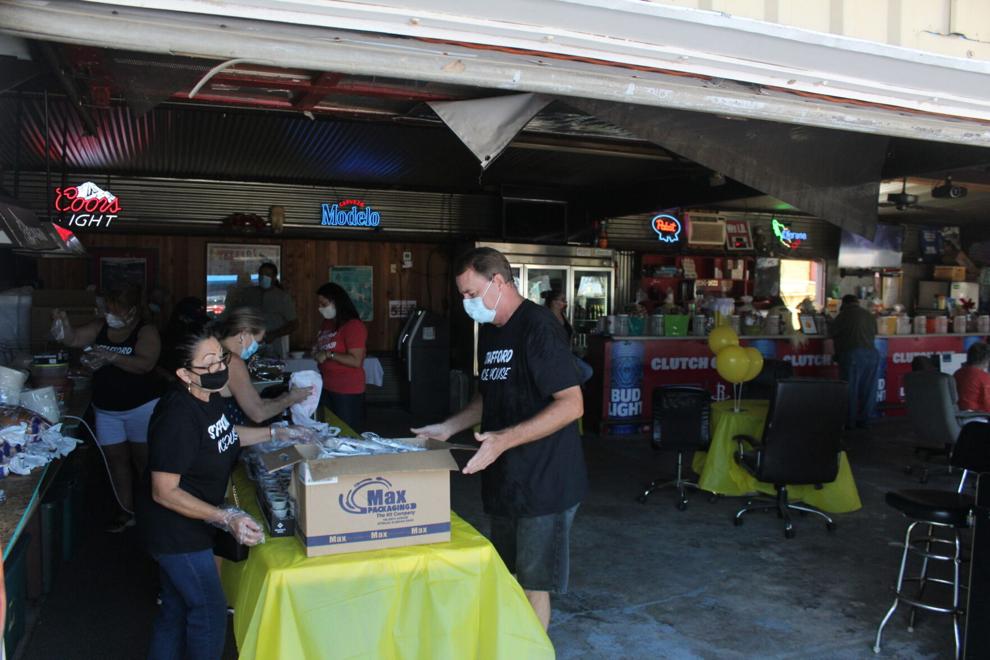 As of  Sept. 28, the bar's CustomInk fundraising page had raised $370. Longtime customer Tim Hoffman, seated at the bar on Friday, beer in hand, said he was prepared to give $400 or $500 to help save the bar.
"These are good folks who didn't deserve what happened to them," Hoffman said. "Whatever they need, whatever I've got, I'll give them."
Gilbert Haferkamp, a retired lineman at Houston Lighting and Power, has been a customer for the better part of a decade. "All of our friends are here," Haferkamp said. "My wife and I like to get out of the house, and that's pretty much all we do when it's open. A lot of real good people come here."
Mark Sell, a plumber, has been in Stafford since 1984. He's been a fixture at the ice house, donating his time and plumbing work, while also being a part of its bartender rotation and moonlighting as a bouncer.
"Our motto is, 'The friendliest bar in town,' and there's no doubt about that," Sell said. "It's Cheers plus in Stafford. Everybody looks out for everybody."
Webb's niece, Candace Reuter Acord, said the next generation of their family is learning from Webb's example to give back to the community. "It's just the family values of keeping something sustainable through hard work," Reuter Acord said. "If you're in trouble, you need to ask for help. But they've never been in this situation. It's unprecedented, in a sense."
Reuter Acord said the robbery caught everyone off guard and was a major blow.
"For someone who's already negative, and having no income for seven months, that's huge," Reuter Acord said. "That's one night's worth of income for this bar. So for the community to come together to show the support of how much they all love it — and her siblings (were) here, her brother and her sister-in-law (were) running the garage sale, her other brothers are cooking, her sister (was) running the tickets, so they've come from all over Texas to show support for their mom who just passed away and their sister who has taken over the bar."
The Texas Alcoholic Beverage Commission (TABC) recently made it easier for bars to reopen as restaurants, allowing them to obtain food and beverage permits and reopen if they serve food from their own kitchens, vendors or food trucks and make no more than 51 percent of their revenue from alcohol.
Webb has asked to go in front of the city council to allow her to plead her case for reopening, though the city said it is bound by TABC regulations and does not have the authority to usurp Gov. Greg Abbott's order that closed bars across the state.
"They will be able to see that we can do it without spreading the virus," Webb said. "Being safe. We're a very small bar, friends come here and meet. That's what we're about."
In a letter she penned to Stafford residents and the Greater Houston area, Webb outlined the frustration and difficulty of many small business owners and entrepreneurs throughout the state and appealed to neighbors and friends to give what they can to help sustain a place that has been a pillar of the community for some.
"As we've been there for so many great times, we need help to remain a staple in the Stafford community," Webb wrote. "Bills and employees must be paid their due, and while we've managed to stay afloat this long, we cannot maintain our momentum much longer without assistance from our local friends. Please consider giving us support. Every little bit helps us keep from closing our doors for good."
Reuter Acord said she believes the ice house can be a model across the industry for how a bar should reopen if they are given the opportunity.
"We're trying to salvage something that needs to be salvaged," Reuter Acord said. "This bar survives off of regulars that come in and they don't want that to go. So that alone should say something about the people that own it and run it and the family that operates it."