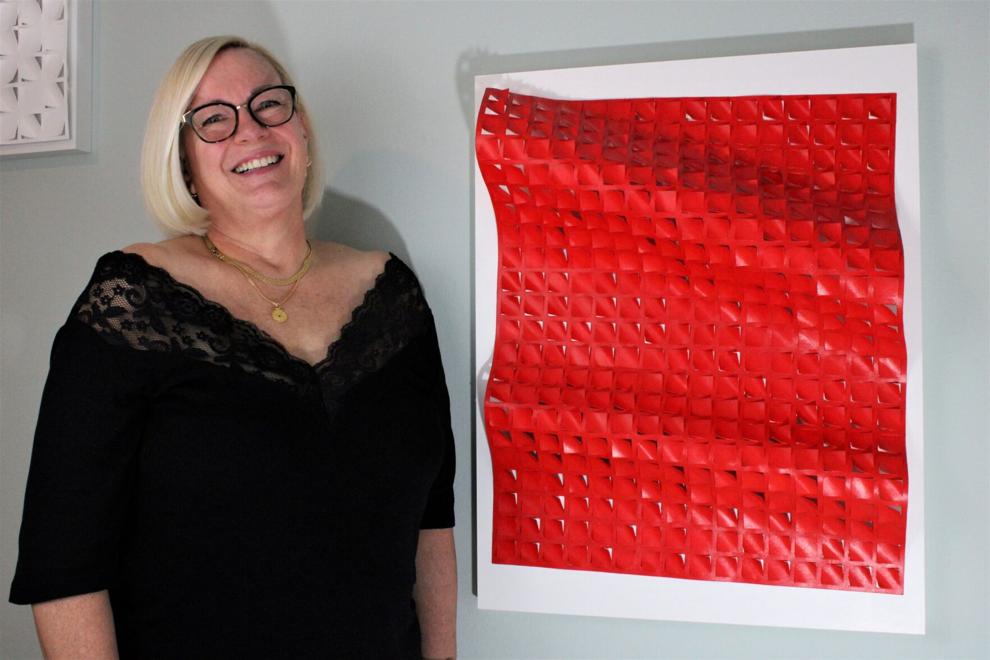 By STEFAN MODRICH 
Tracey Meyer loves shapes — not only as an artist, but because she considers herself a historian.
"I don't know why that is (that I love shapes)," Meyer said. "They just resonate with me very strongly. And of course, staring out my window, everything is a shape. The leaves are a particular shape, the flowers are a particular shape, and I draw that inspiration from nature."
That resonance fueled her latest exhibition, "What Shapes Us," a series of sculptures to be displayed Nov. 7-Dec. 3 at the Archway Gallery in Houston. Meyer will be at the gallery on Saturday afternoons and is also available to provide private tours and small group visits.
The exhibit, billed as a "sculptural exploration of the complexity of life," is Meyer's third solo showcase and first at the Archway Gallery.
"One of the distinctive things about the gallery is that it is so international," Meyer said. "There's me, an Australian, there's a lovely French lady, there's someone from Pakistan, there's a Taiwanese woman, there are many people from South America, we've got a Colombian and a Venezuelan. So I love that about the gallery, that it is a sort of a melting pot of different cultures, which they perhaps represent in their art, but it's just nice to have that experience."
Between growing up in Australia and moving to London as a young girl, and traveling frequently in her adult life due to her husband's work, with brief stays in Singapore and Thailand, Meyer has had the opportunity to bring a global perspective to her art.
She graduated in 2012 from the Glassell School of Art in Houston, where she studied studio art and concentrated on painting and sculpting. She also earned a graduate degree in education from the University of Melbourne in Australia, prior to that obtaining her bachelor's degree as a double major in history and German.
She was a teacher in Melbourne and said her family moved there in 2003, giving her children an opportunity to experience life in her home country.
A persistent theme in Meyer's work, particularly in this exhibition, is multiples of shapes.
Nowhere is this more noticeable than in the exhibition's signature piece, "What Shapes Us 12."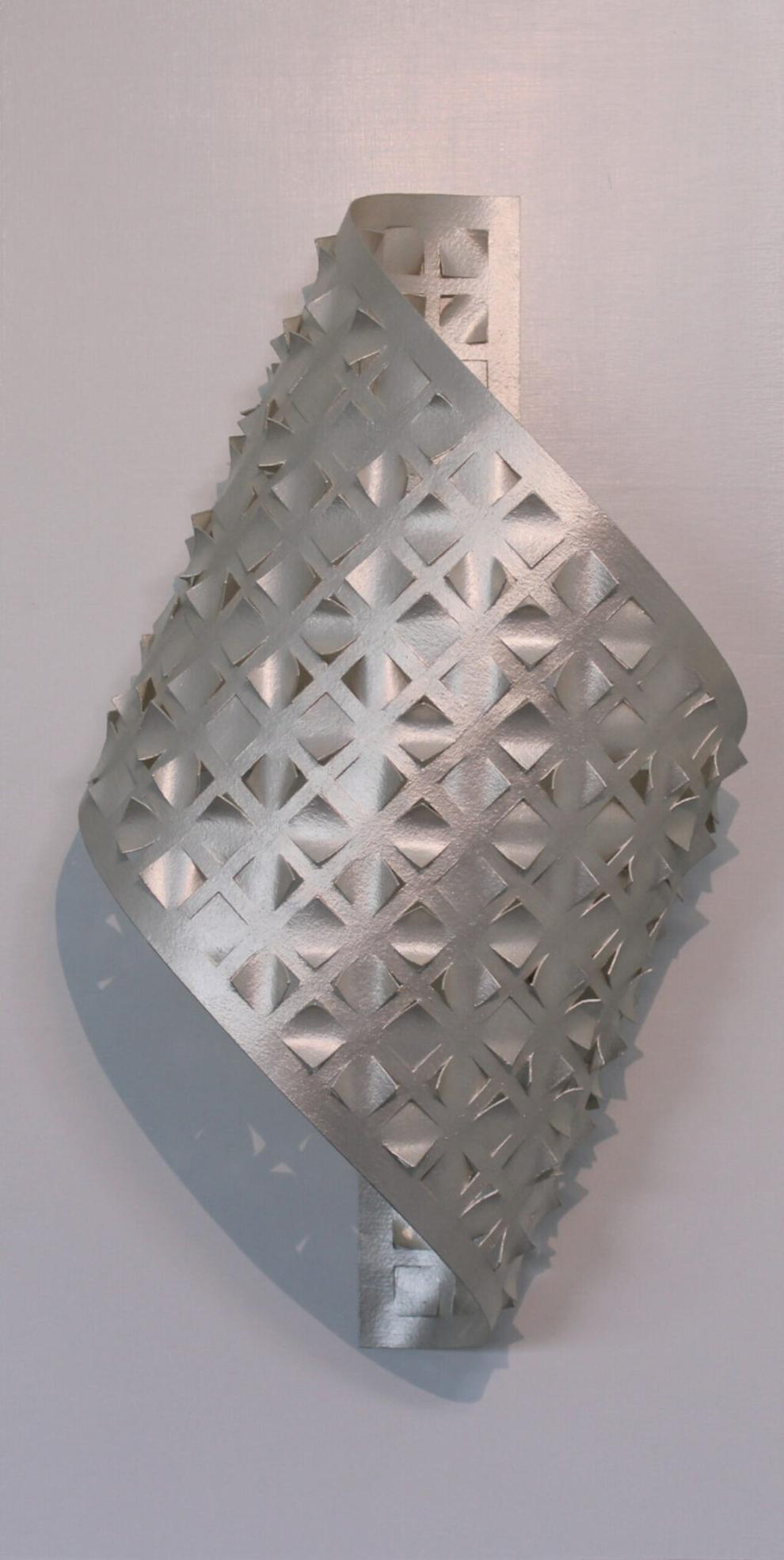 Meyer used rag paper, wood and clay to create the sculptures, each of which represent the life of an imagined individual.
She works frequently with squares, rectangles and triangles, and formed shapes out of the rag paper or clay.
As they do in her other works in this collection, the squares in "What Shapes Us 12" represent experiences.
"(It's) a very big revolution," Meyer said. "To me (it) represents a complicated life that has had a huge event that seems to have brought it back to the beginning, in a way. It's had a very pivotal life, with lots and lots and lots of experiences that this imaginary life has had."
The use of iridescent paint, Meyer said, means that the character who would inhabit such an imaginary life was out in the public eye.
"It is a very shiny color," Meyer said. "It's a life that's been noticed."
Conversely, "What Shapes Us 11" is painted black and red, and is a "less complicated life."
"This is represented, to me, by the squares being fewer and larger," Meyer said. "It does have two waves in it, so obviously there has been a few momentous things that have occurred in this imagined life."
She acknowledged the color red could be interpreted differently by different people.
"Perhaps it is a secret life that this imagined person has had," Meyer said.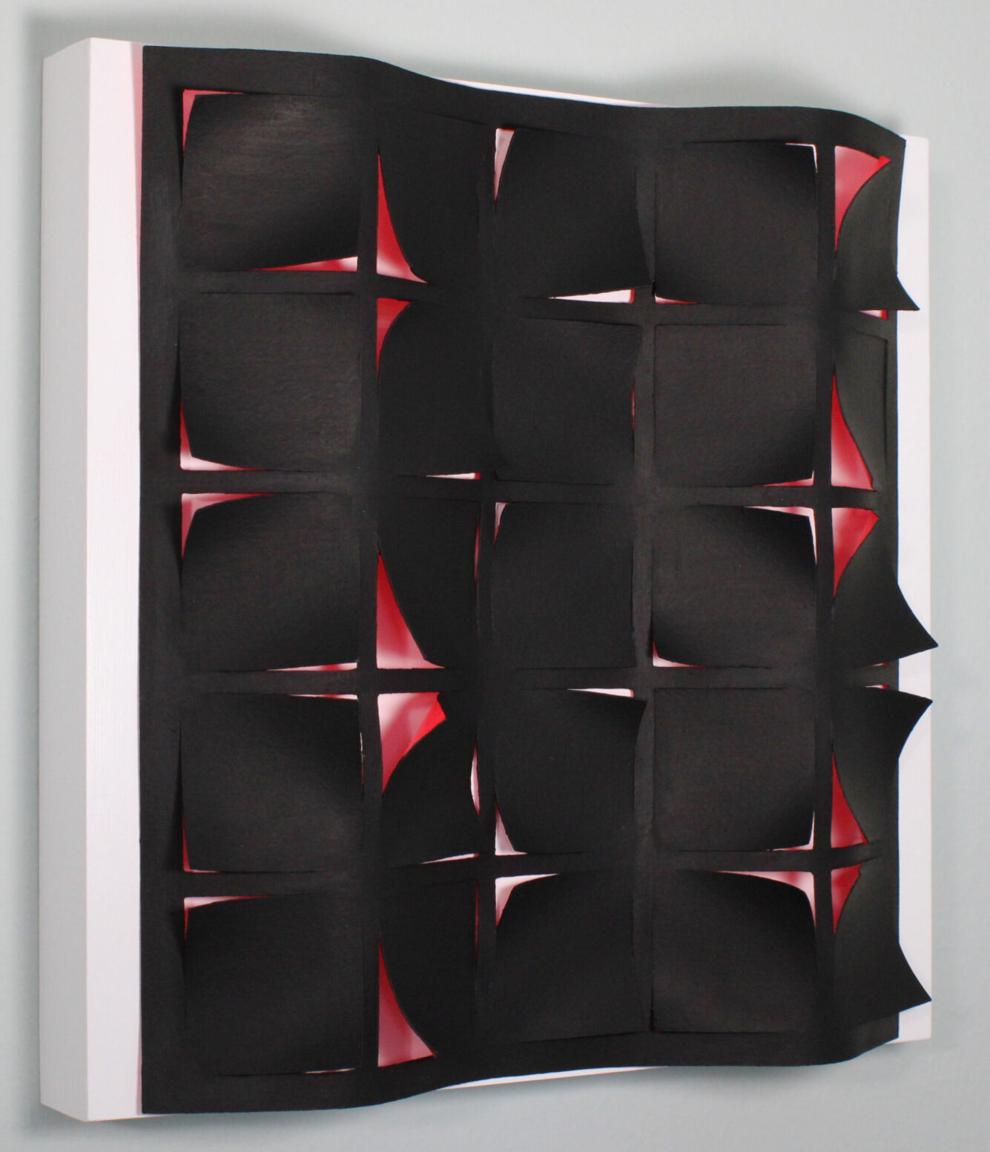 Subtle cuts or bends in the sculptures are used to convey momentous or calamitous events, a decision, a response, or a choice in a person's story.
As for "What Shapes Us 8," perhaps the most distinct piece in the series with a bright green color and apertures bent at very steep angles, Meyer said she feels the personality of this sculpture is one that has met its challengers and obstacles head-on.
"It really has a lot of verve," Meyer said. "It's had a lot of hills to climb, it's been very active and very busy. And a very enthusiastic life."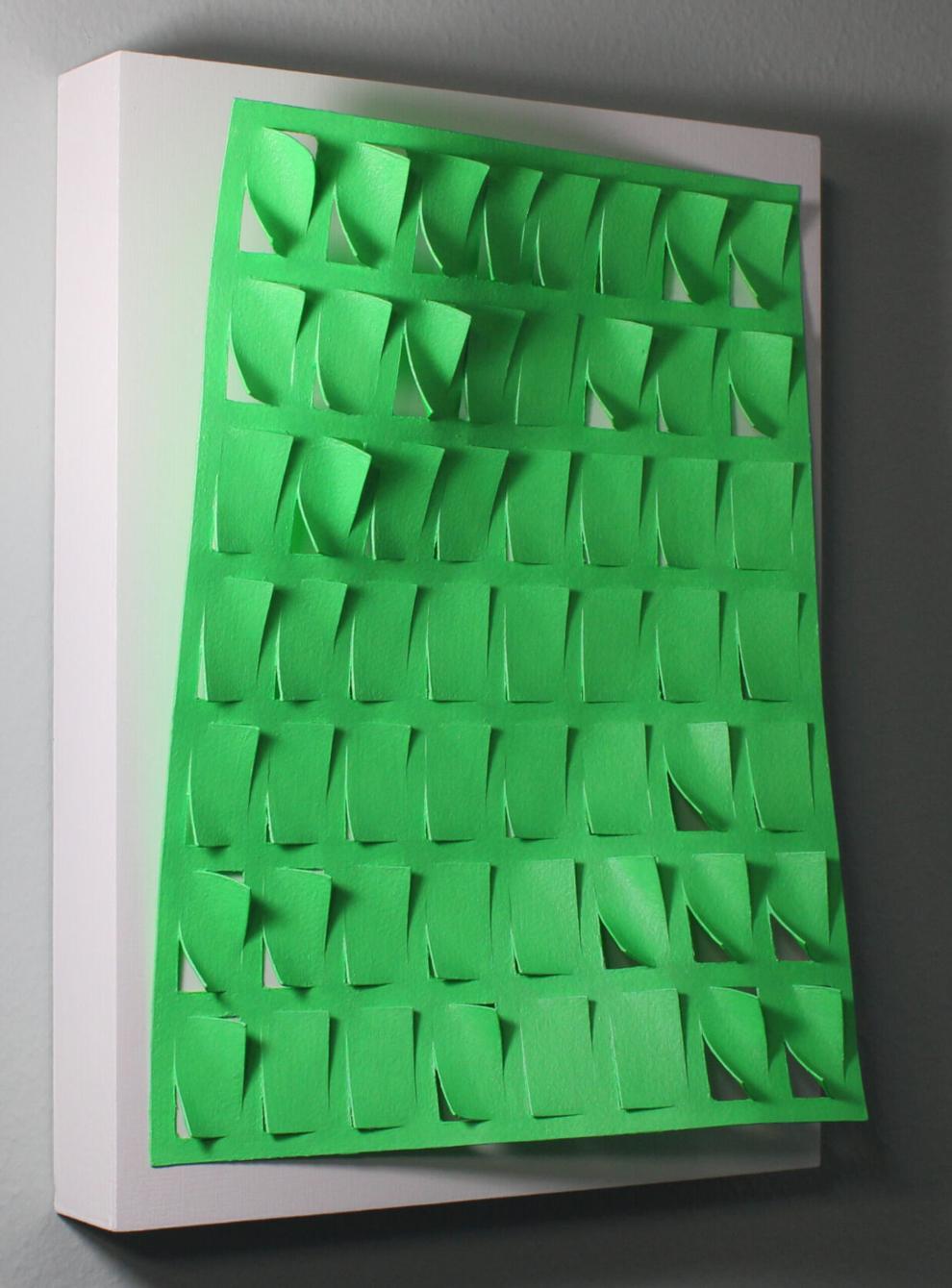 Why are all of the pieces based on an "imagined" life? While none of the sculptures are meant to depict or resemble any specific people, they are undoubtedly influenced by the people in Meyer's life and her collective experience.
"I'm not saying that I didn't think of people that I know (when crafting the sculptures)," Meyer said. "But I don't think that any piece represents a particular person. When one is making art, one sort of gets into this contemplative zone, so I think I was reaching out to all of the experiences I've had to get my inspiration."
Meyer said her art can serve as a reminder that a person's story is often non-linear and it is the complexities and imperfections of human existence that make life interesting and worthwhile.
"Life is an accumulation of experiences and decisions," Meyer said. "So nobody is the same in terms of how they can respond to things. Yes, there are certain rules, 'If this happens to you, then your response should be this.' But you don't know how their experience has been before, and how well they're able to shake that off or embrace these things. Why can't they embrace something good the way you embrace something good?
"People are complex and interesting and varied and thank goodness we all are, because that's what makes life so interesting."