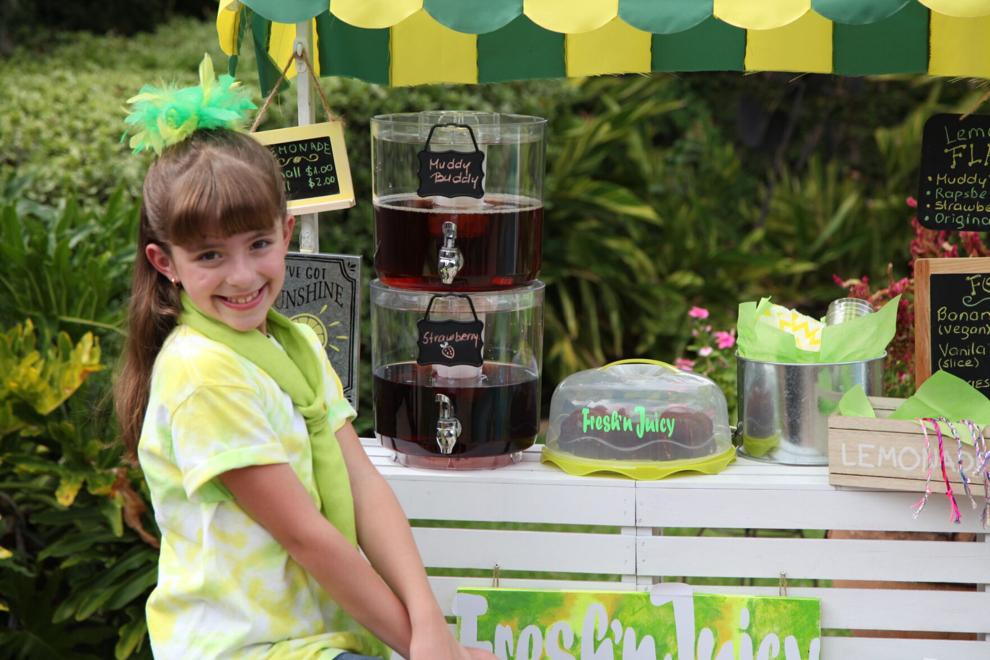 By STEFAN MODRICH 
Sabrina Roesler has had to grow up quicker than most 9-year-olds.
When she was a toddler, Roesler began to sell imaginary lemonade with her toy playset at home. The fourth grader from Sugar Land has since, through the help of the Lemonade Day program, already realized several of her business dreams, becoming a bona fide entrepreneur with an altruistic heart.
"I really liked playing store," she said. "My mom and dad really wanted me to have a toy to play with. And that toy became my stand for selling lemonade."
After the death of her father due to brain cancer, Roesler strengthened her resolve to pursue her ambitious career goals and is always looking for ways to give back to her community.
She hopes she can play a part in funding the research and prevention of the disease that killed her father. She donates a percentage of Fresh'n Juicy's earnings to the Dr. Marnie Rose Foundation, a local brain cancer organization, and its primary fundraiser, The Run for the Rose.
Roesler said she received a donation from a woman whose husband was in the fourth stage of brain cancer and posted on social media to direct her followers to support Fresh'n Juicy.
"We know how it feels to (have a loved one) be in the last stage of brain cancer, so that touched our hearts," she said. "Even though only one person is battling it, it feels like you're battling it too (as a family)."
On Oct. 9, Roesler was named the Lemonade Day Houston Youth Entrepreneur of the Year for her work with her business, Fresh'n Juicy.
"I was like, 'No way, this is amazing,'" she said. "And my mom was very proud of me, too, and it was just a great feeling knowing all that we did to win the award."
Lemonade Day, a nonprofit designed to teach children about financial literacy and entrepreneurship, was founded in Houston in 2007. The free program has expanded to 84 communities in the U.S., Canada, Bermuda and South Africa and has assisted more than 1 million kids in the process of launching their own lemonade business.
Gaye Jackson, the city director for Lemonade Day Houston, said the organization chose Roesler for her innovative approach to completing the program's business lessons while attending school remotely due to the COVID-19 pandemic.
"She's a remarkable girl," Jackson said. "We're thrilled that she's our entrepreneur of the year."
Jackson said the conditions of the pandemic forced many families to spend more time together at home, which was one silver lining for Lemonade Day participants — it created educational opportunities for any family members who are interested, not merely for their children.
"Very few people know how to do a business plan," Jackson said. "We teach our kids to make a budget and do a business plan, and those are things that translate to their parents, to their family life, or anything else."
Roesler had originally started her business as a way to help save up for a new bicycle, one without training wheels.
On Saturday, she received a bicycle at an event in Katy as a prize from Lemonade Day Houston. She also was entered into the Lemonade Day National Youth Entrepreneur of the Year Contest.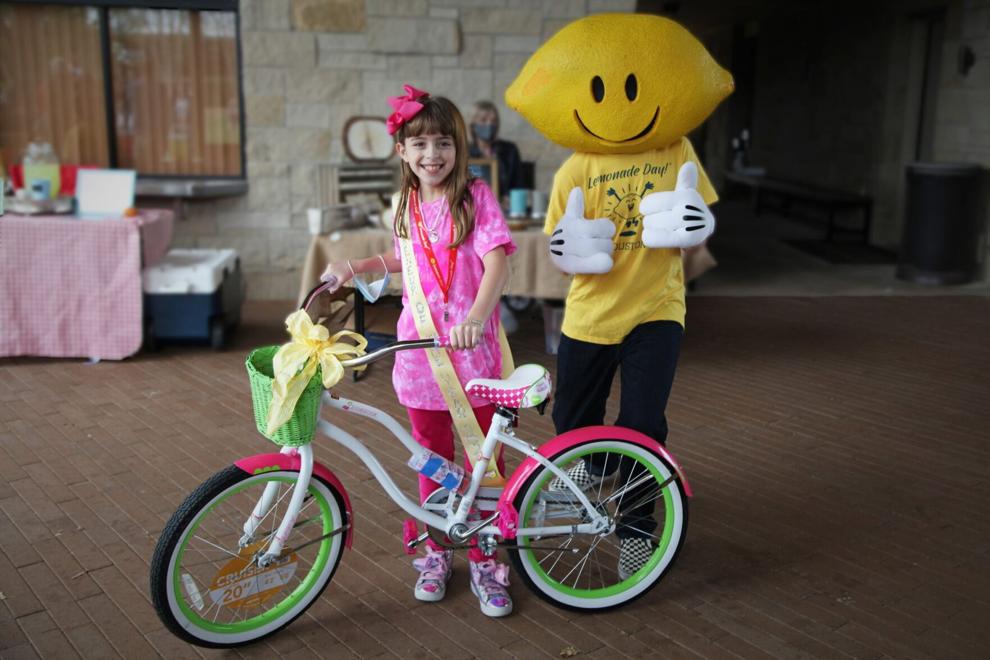 Her mother, Jenny Roesler, entered her into the program two years ago, and with her support, Sabrina participated in their first event, the "Build-A-Stand" workshop.
Sabrina has also participated in the 2019 Best Tasting Lemonade Contest at Harold's Restaurant, Bar & Rooftop Terrace in the Houston Heights, and the inaugural Lemonade Day Houston Kids Pitch event at The Ion, an innovation and startup hub in Midtown where she won third place.
She also attended Lemonade Day Weekend in May 2019 at Sugar Land Town Square, and she has been at several pop-up shops this year, including Lemonade Day My Way this year outside the Kendra Scott store at First Colony Mall.
And her business model is one that is likely to appeal to many health-conscious parents like Jenny, positioning Fresh'n Juicy as a healthy alternative to soda and sugary drinks for kids.
"It was my idea to make it healthier," Sabrina said. "We did that, because I'm one of the rare kids who has never had a soda in their life."
Sabrina's signature flavor is the "Muddy Buddy" lemonade, made with raw brown sugar. She also offers strawberry, raspberry and original, which is sweetened with agave nectar.
Sabrina discovered the raw brown sugar was a local favorite in her mother and grandmother's hometown of Bogotá, Colombia. Her grandma now lives at home with Sabrina and Jenny, and her traditional recipes helped Fresh'n Juicy to stand out from the other lemonade stand entrants.
"We really wanted to add that Latin flavor," Jenny said. "We know that a lot of people like it with spices and stuff, and I actually am in the process of developing, for marketing purposes, some recipes, where you can actually use lemonade the way we actually make it and maybe mixing it with spices or things that make it interesting, or you can warm it up, and it's good for winter. It's lemonade that will serve a bunch of different purposes."
Sabrina's Lemonade Day mentor, Dommonic Nelson, whom she met during a Shark Tank-style pitch event, started a business that retrofits lockers into food pickup stations for customers and delivery services as well as smart lockers for pharmacies, print shops and co-working spaces. His restaurant-specific concept is called the Yummy Box.
"He helped me with the lemonade stand, he taught me everything I needed to know about advertising and things like that," Sabrina said. "He still helps me a lot right now, even through Zoom, or other things."
In the future, she said she would like to package and distribute her drinks and expand her business to include selling baked goods, T-shirts and friendship bracelets, all while advocating a healthy lifestyle.
"She always has big goals, she always has big dreams," Jackson said. "And she goes after them. I love that. She wants to give back."
Prior to the COVID-19 pandemic, Sabrina visited cancer patients and used her artistic skills to bring them joy. More recently, she gifted drawings and cards with notes of encouragement to Louisiana residents who were affected by Hurricane Laura.
Sabrina has also supported Sole Loved, a local charity that collects donated shoes for children in need.
She's also continuing to schedule pop-up events. Her next public appearance is slated for 2-6 p.m. Nov. 14 at Gringo's Mexican Kitchen in Rosenberg.
The timing of Sabrina's award couldn't be better for Jackson. Lemonade Day Houston is making a big push to recruit in Fort Bend-area schools, and has secured partnerships with Kendra Scott, the Sugar Land Skeeters and Closing Strong LLC., a Richmond-based business consulting firm.
'We have great participation, and that's where we want to grow," Jackson said. "Our next big push is going to be the Fort Bend area. Hopefully other kids will want to do our program also."