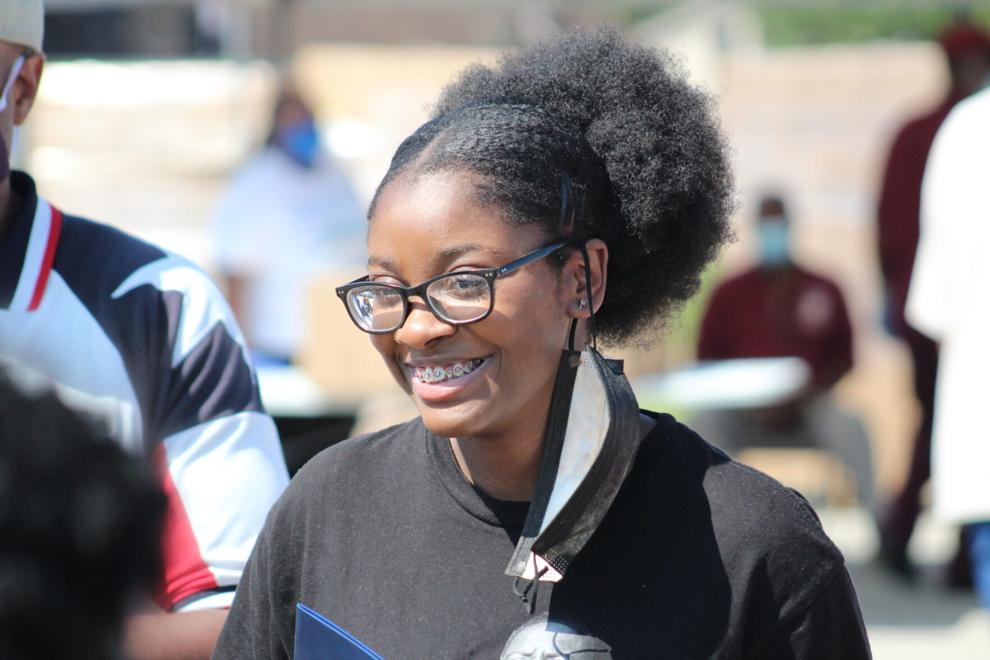 By STEFAN MODRICH
The Greater Houston area has produced several notable performing artists and entertainers, from Beyoncé to Elkins High School alumnus Travis Scott.
Missouri City's Leigha Gabrielle Morris is striving not only to grow in the early stages of her career as an R&B recording artist – she's giving back to her hometown.
The 16-year-old Elkins student, while surrounded by family and friends, received a Congressional Award from U.S. Rep. Al Green on Saturday during a food and personal protective equipment drive at Abiding Faith Baptist Church. The award, given to Morris because of her community service during the COVID-19 pandemic, was presented on Green's behalf by State Rep. Ron Reynolds of District 27.
The event was co-hosted by Reynolds, the American Caribbean Chamber of Commerce and the Houston Food Bank.
"We're so proud to see our students stepping up like that," Reynolds said. "That's quite impressive. She's really a rising star."
The budding recording artist, who performs as Leigha Gabrielle, has been singing since she was 2 years old. Over the summer, she was signed to a Houston-based record label, Ryda Entertainment.
Her music can be streamed on Spotify and YouTube, and other major music platforms. In July she released her debut EP "Breathe," which includes the title track and "Showed Him."
"It felt as if this was kind of chosen for me at a young age," Morris said. "I just kept singing and singing and finally I was able to have the opportunity to be in the studio and to have my career started."
Her mother and manager, Denise Morris, said her daughter began collecting masks following a socially-distanced Sweet 16 birthday parade in June. She also raised $5,500 that have gone toward providing PPE and groceries to those in need.
"(Leigha) wanted to just collect the stuff," Denise said. "She wanted to start off with masks. So the first thing we did was collect 5,000 masks, and people still kept sending her money. So I was like, 'We might as well go find something else (to give away).' "
Leigha credited her family for teaching her to serve others.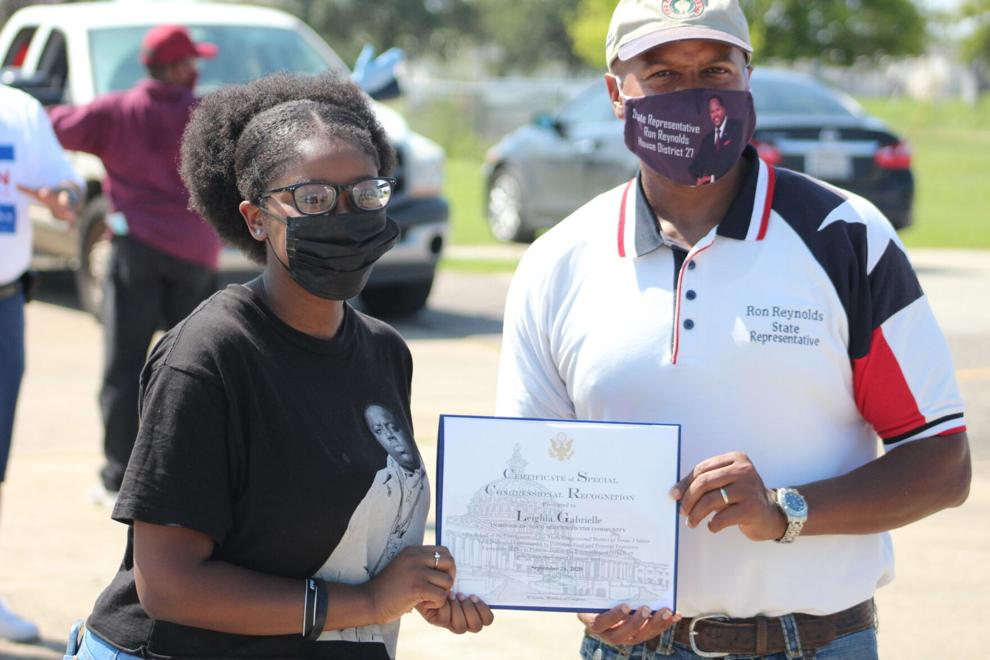 "Honestly, I just know that my community is in need," she said. "That's it. I don't know, maybe that's just how I'm made. I've been loving to help people since I was young.
"I just felt like if I am in a position where I can collect money and donate and be able to get supplies to my community, I wanted to do it."
Leigha cited Fantasia Barrino, a Grammy-winning R&B artist and actress who rose to prominence following her American Idol victory in 2004, as her biggest musical influence.
"Her voice blesses me every time I hear it," Leigha said. "After everything that she's been through, she still was strong enough to continue with her career, and I just love her."
Leigha is scheduled to perform at a voter registration drive Oct. 3 at Home Goods Studio 6 at 6726 Hwy. 6 in Missouri City.
She is also active on Instagram, where since late June she has streamed a live show on Sunday nights called "Speak and Tell," which originated from her desire to have honest conversations with other teenagers about mental health. Her weekly shows have featured her musical collaborators and delved into a wide range of topics, from her favorite artists of the 1990s to relationships and dealing with some of the social anxieties of high school.
In a June 25 announcement video, Leigha explained the genesis of the live shows and her goal to use her platform to affect change and "speak for voices that aren't being heard."
"It's not something that should continue to be ignored," Leigha said. "Our problems are important, and they do take a huge toll on us. The mental health of teenagers isn't where it needs to be because these problems aren't being talked about, they're being pushed to the side. And it's not fair. I want to use my voice for more than singing or making music."