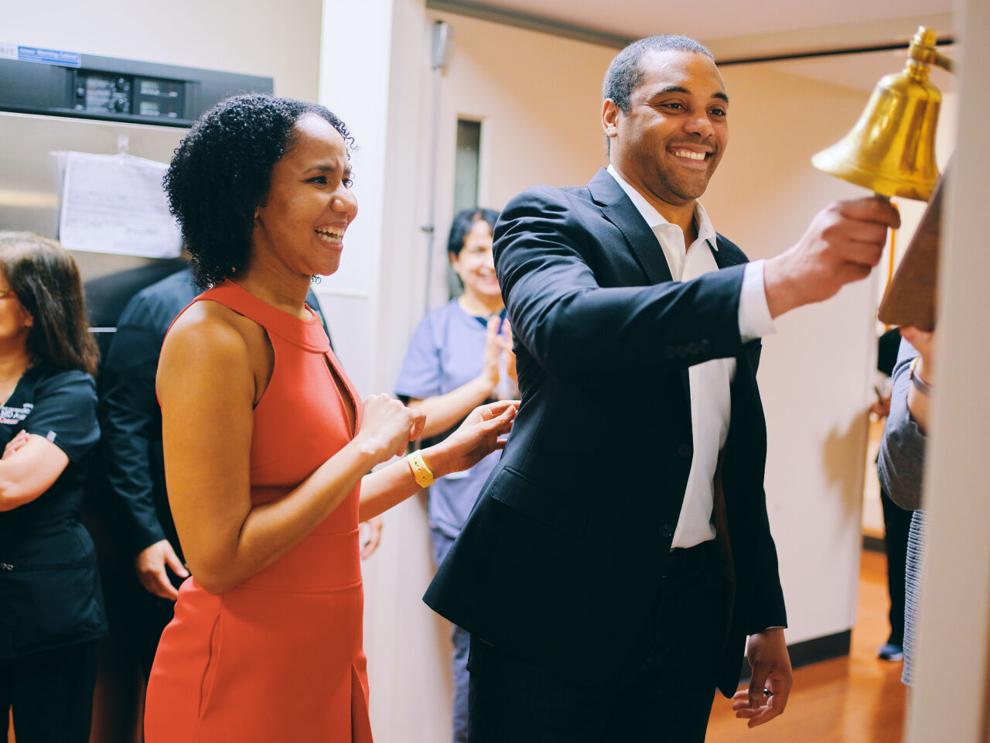 By STEFAN MODRICH
Two years ago, life as Chris Preston knew it began to change.
He first began to notice the abnormal lump on his neck in September 2018. Initially, he surmised it was a result of sleeping in an awkward position. But as it continued to linger, so did his concern.
And then, in July 2019, the diagnosis for the Missouri City councilman arrived after a biopsy and a visit to an ear, nose and throat specialist (ENT): He had Stage 2 Hodgkin's Lymphoma, a form of blood cancer, at age 32.
"I'm a young guy, right? I'm a young male, and I have always engaged in a healthy lifestyle, I exercise a lot, I'm very active," Preston said. "And so the last thing that came to mind was, you know, something like cancer. It was not even a thought."
It was after the biopsy when the notion that the disease could be "life-altering" and when Preston began to prepare to hear "some pretty intense news from the doctors."
Cancer.net projects that about 8,480 people will be diagnosed with the disease by the end of 2020.
Preston's cancer entered remission on Nov. 8, 2019, as he rang the ceremonial bell with his wife at his side to symbolize the completion of the most daunting chapter of his life. As he nears the anniversary of the completion of 11 months of grueling chemotherapy, Preston said he wanted to use his platform as a public servant to encourage others to get regular health screenings and to maintain an active and healthy lifestyle.
First elected in 2014, Preston is running for a fourth two-year term on the Missouri City council. He's facing challengers Lynn Clouser and James Mable in an election scheduled for Nov. 3.
"Dealing with this cancer for me was a challenge," Preston said. "But through the support of God, my loving wife, family, friends and this community at large, the Missouri City community, it really helped me cope with what I was dealing with. (There were) definitely some rough days during the journey, but it was helpful to have the love and support of the community throughout that journey."
While September and Blood Cancer Awareness Month is winding down, Preston said consulting a doctor and recognizing the signs of blood cancer early on is crucial.
"I'm extremely thankful to still be here with you all, with this community," Preston said. "I am very determined to use this platform to shed light on these issues. Because it affects a lot of people."
Preston underwent treatment at the M.D. Anderson Cancer Center at the Texas Medical Center in Houston, where he said many of the nurses and doctors he met were Missouri City residents.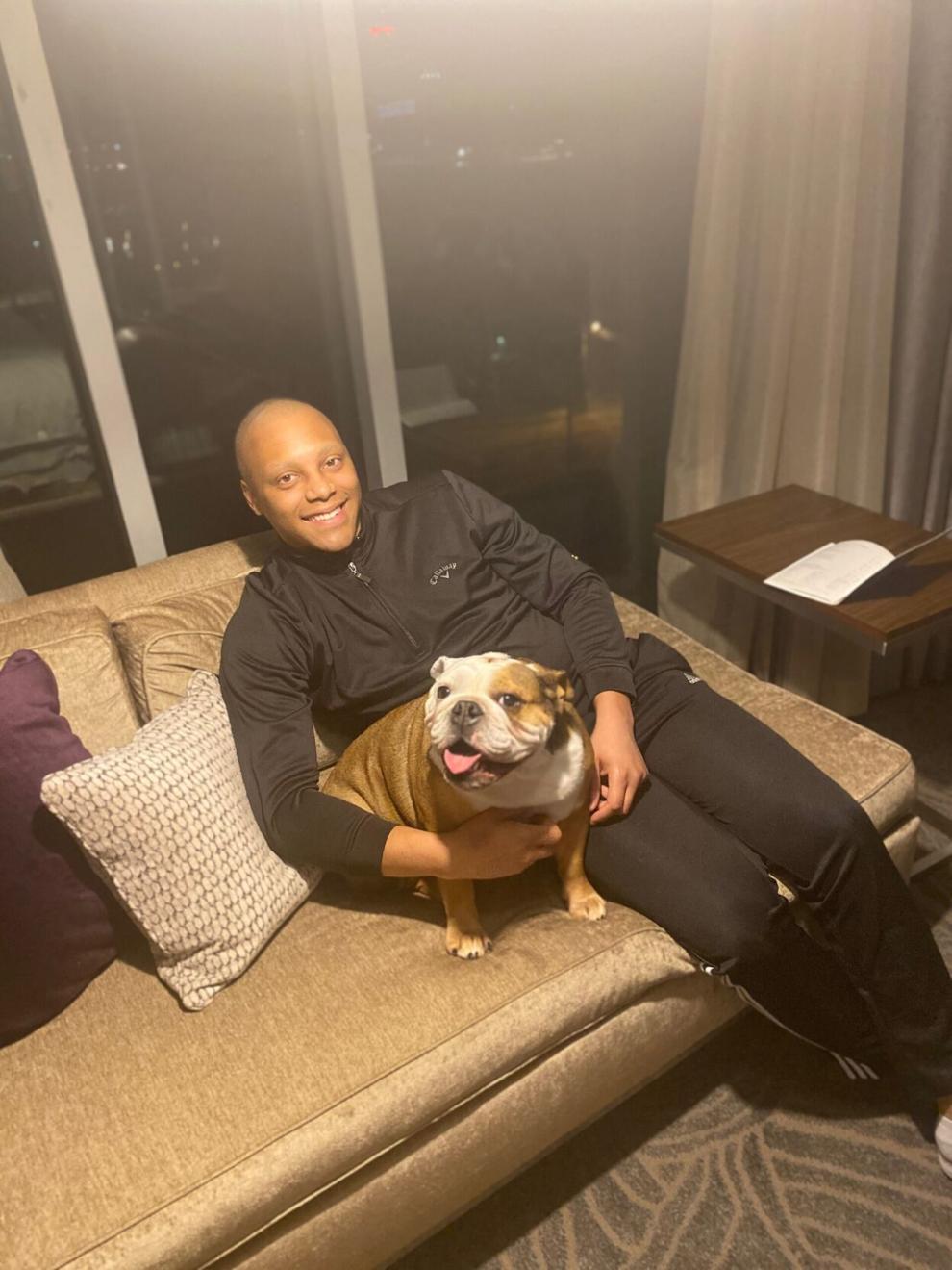 "It really just highlighted a sense of community and how everything is connected," Preston. "And how we're all in this together. Quality of life, environmental quality — all of those things tie in together for our health, the longevity of our lives and how we live our lives."
Chemotherapy was emotionally and physically taxing on Preston, but nonetheless, he continued to serve in his role on the council as At-Large Position 2 and was a constant presence at City Hall in 2019.
"I am thankful for the opportunity to serve, because it was during those moments that really reminded me what I enjoy and what I am passionate about," Preston said. "I found myself attending all of my council meetings, engaging, and it was really beneficial to me because it allowed me to have a sense of normalcy."
Preston suffered from fatigue and nausea after long days of chemotherapy, but he was determined not to allow his condition slow him down. But his hair loss and changes in his physical appearance raised some eyebrows among some of his constituents.
At one point during the course of his treatment cycle, a senior citizen at a local event asked him a pointed question.
"She walked up to me and said, 'Chris, now you know I notice everything about you. What happened to your eyebrows?' " Preston recalled. "And we shared a laugh, and that was her way of knowing that I was dealing with some health issues."
The lengthy treatments gave Preston a greater sense of appreciation for first-responders and those studying in or working within the medical field.
"They are on the front lines, and they really are the lifeblood of our community," Preston said. "I appreciate them so much."
Preston's diagnosis, after the initial shock, brought him clarity and a renewed sense of purpose.
He had personal and professional aspirations — marriage, having children, and continuing to improve the community he served.
"I just felt like it was time to let myself go into the hands of the medical professionals, the doctors, whom I trust," Preston said. "And work towards eradicating the cancer that was in my body."
Coping with cancer
To escape the monotony and the grind of time spent in the hospital, Preston sought fresh air at Missouri City's Edible Arbor Trail, which he frequented with his wife Alexandria and their bulldog.
He had an extensive reading list, including the Bible and the Book of Job, "Master of the Senate: The Years of Lyndon Johnson" by Robert Caro, "Becoming" by Michelle Obama as well as Ted Gup's "The Book of Honor" about CIA officers who died anonymously in the line of duty. He also became immersed in NPR's "Texas Standard" news program.
Preston also participated in the DEA and FBI citizen academies, which were additional outlets for him to learn and to meet new people as he continued his fight against cancer.
"I'm very into knowing how things work and their roles in the larger scheme of things," Preston said. "It was also very informative and educational for me just learning more about (the DEA). … It was a great experience."
Preston said the recent death of actor Chadwick Boseman, widely celebrated for playing Brooklyn Dodgers second baseman Jackie Robinson in "42" and T'Challa in the Marvel blockbuster "Black Panther" was a wake-up call. But, Preston added, it was also notable that Boseman had not made his diagnosis public, and had worked on four films after he had been diagnosed with colon cancer.
"I wanted to stay in stride and stay in service," Preston said. "And not let (the cancer) become a distraction. When you're dealing with something like that, you know physically and mentally how tough it is. You just want to stay focused because you don't know what the future holds for you. You don't know what the future will bring for you, and you just want to give all you can while you can to whatever it is that you care about."
If Boseman was an inspiration for Preston, so too was the late Ruth Bader Ginsburg, the former Supreme Court justice who died of pancreatic cancer on Sept. 18. Both Boseman and Ginsburg exhibited a passion for their careers, Preston said, that was evident in the results of their work.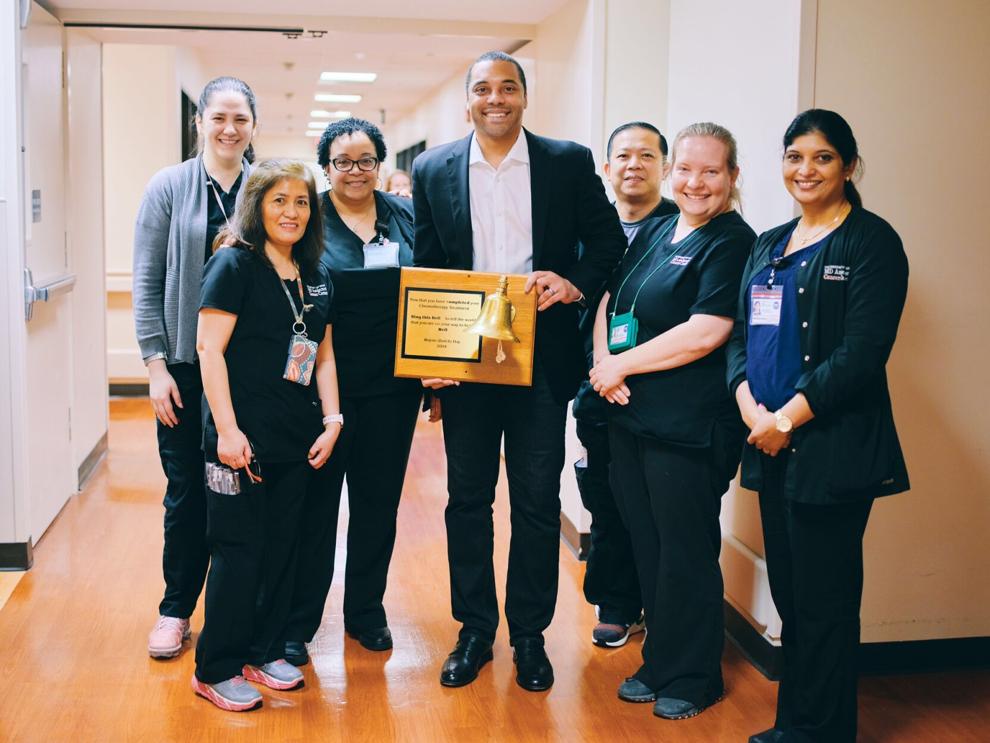 At M.D. Anderson, Preston met with people from all over the U.S. and the world who were undergoing treatment for lymphoma and many other forms of cancer. In addition, his father died after battling leukemia, and so Preston feels an obligation to be a sounding board for people who may not know where to turn after receiving their diagnosis.
"People just want to continue doing the things that they enjoy," Preston said. "When you're going through treatment you have enough to deal with physically, so anything you can do to take your mind off of that, bring peace and happiness and joy to you, you want to do that, and for me it was serving and working towards solutions for this community and growing closer to this community, and trying to put (the cancer) behind me."
Whether it was befriending Donna Parker, a Quail Valley resident in the hospital who worked as a phlebotomist, or a serendipitous encounter with a chaplain who prayed with Preston and his wife as they were contemplating whether or not to go through with another lumbar puncture procedure, the councilman said he's grateful for the moments that helped remind him of the importance of compassion and shared experience.
"Those experiences are real, they're helpful, and sometimes you will be the one on the giving end, and sometimes you will be the one on the receiving end," Preston said.
Preston said everyone can play a role in spreading awareness about blood cancer and living a healthier lifestyle.
One way he's giving back is by participating in the Great Cycle Challenge. His goal is to ride 500 miles and raise $1,000 for the Children's Cancer Research Fund.
"Tomorrow is not promised," Preston said. "So it is important for all of us to do what we can not only for the betterment of ourselves and for our loved ones and the community that we share."