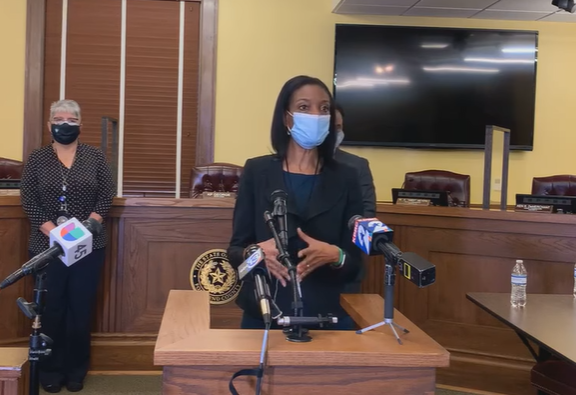 Fort Bend County Health and Human Services (FBCHHS) received 5,850 doses of the Pfizer COVID-19 vaccine Thursday afternoon, according to a tweet from County Judge KP George.
The county had administered 1,198 vaccines as of Thursday, according to the county's data hub. There are 10,000 active COVID-19 cases, George said, and there have been 32,220 recoveries and 414 deaths as a result of the virus, according to the county's data hub. 
George said the 5,000 people pre-registered for the vaccine will be contacted by phone to schedule their appointments. The county judge's tweet said the county's pre-registration website would reopen at 2 p.m. Thursday, but as of 5 p.m. Thursday the site had reached its pre-registration capacity. 
During a news conference Thursday morning, Dr. Jacqueline Minter, the county's Health and Human Services director, said she understood the situation was one of "frustration" for those who feel they are in the dark about the timeline for receiving their vaccines. 
"There's frustration because it's a pandemic," Minter said. "We've been kind of on edge for the past 12 months. One of the things that frustrates the public the most is the inability of the supply to meet the demand." 
The county's health department building at 4520 Reading Rd. in Rosenberg has been designated one of the state's vaccination hubs.
Republican State Rep. Jacey Jetton of House District 26, which includes New Territory, Pecan Grove and most of Richmond and Sugar Land, said his staff has gotten feedback from seniors in the district about the county's HHS website and the Texas Department of State Health Services (TDSHS) website being difficult to navigate.
"It didn't take long for us to discover that there were some issues with providers or suppliers — those administering the vaccines — and having accurate information showing up on the TDSHS websites," Jetton said during a phone interview Tuesday. "(We've been) making sure that they were getting the vaccines that they needed based on the demand that they were seeing. We've been on the phone with TDSHS several times over the last several weeks ensuring that they understand what's going on here locally and really advocating to get more vaccines into Fort Bend County because we have a large population." 
According to an email from Tori Macfarlan, Jetton's chief of staff, those who are age 75 and older who have been Houston Methodist Hospital patients within the past two years will be scheduled for a vaccine. Those who are not Houston Methodist patients will be added to a waitlist in the event that any appointments open up. 
TDSHS has entered the fourth week of its vaccine distribution, which saw 3,000 Pfizer vaccine doses allocated across 25 different Fort Bend County locations, including hospitals, pharmacies and clinics. 
The county's Clinical Health Services Department at 4520 Reading Rd. received 100 vaccine doses.
"We are working hard behind the scenes," George said. "Things are moving. Please be patient." 
Other facilities in the county that received 100 doses each in the latest round of allocations included two units of the Texas Department of Criminal Justice, including a prison farm and a psychiatric facility at the Beauford H. Jester Prison in Richmond and the Fort Bend County Clinical Health Services North Annex at 22333 Grand Corner Dr. in Katy.
COVID-19 Vaccine Contact Information
Houston Methodist vaccine hotline: (346) 356-3113
City of Houston Health Department: (832) 393-4220
Fort Bend County vaccine hotline: (832) 471-1373
Aging and Disability Resource Center: (855) 937-2372