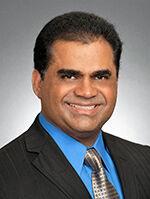 Fort Bend County Health and Human Services (FBCHHS) received 8,000 COVID-19 vaccine doses Feb. 9, Fort Bend County Judge KP George announced in a Facebook Live video.
George said the county administered 7,000 vaccines per day last week. The county has doled out 26,852 vaccine doses as of Feb. 9, according to the county's COVID-19 data hub.
In Fort Bend County, 40,182 people have recovered and 458 have died from the virus which causes COVID-19. The county has conducted 126,708 tests. 
According to the Texas Department of State Health Services (TDSHS) Week 9 vaccine allocation plan, FBCHHS was slated to receive 6,825 doses of the Pfizer vaccine. 
Additionally, 100 Moderna vaccine doses were allocated to each of the following three other county locations: Fort Bend County Clinical Health Services at 307 Texas Pkwy in Missouri City, Fort Bend Family Health Center Access Health at 400 Austin St. in Richmond and the Texas Department of Criminal Justice Vance Prison at 2 Jester Rd. in Richmond. 
During Week 8 of the DSHS allocation plan, Houston Methodist Sugar Land and Memorial Hermann Sugar Land each received 10,725 Moderna doses. FBCHHS received 9,750 Pfizer doses. 
As of 6 p.m. Feb. 9, the county's preregistration for the vaccine was closed. George said 13,000 people registered in three hours upon last week's reopening of the vaccine preregistration website. 
Residents can call the county's vaccine hotline at 832-471-1373 for more information or call (281) 238-2363 to register for a COVID-19 test. 
Appointments can be made online here and you can email testresults@myaccesshealth.org for results if your test was conducted by FBCHHS.