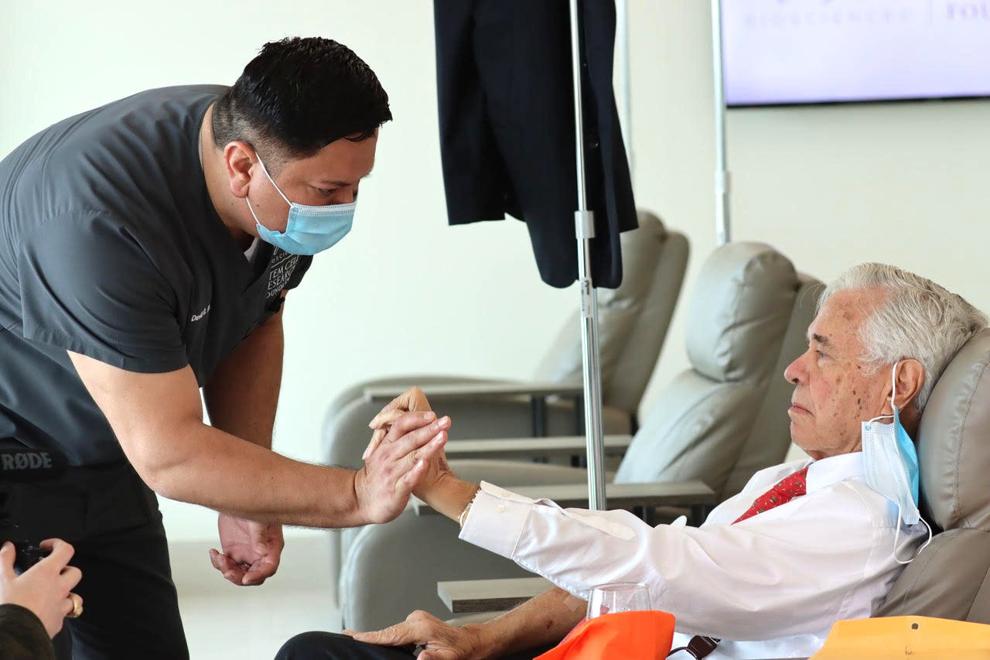 A new form of stem cell research from a local nonprofit hopes to produce positive results for people suffering from Parkinson's disease. 
The Hope Biosciences Stem Cell Research Foundation (HBSCRF) in Sugar Land announced April 28 it had received authorization from the Food and Drug Administration (FDA) for a Phase II clinical trial to assess the efficacy and safety of multiple intravenous (IV) infusions of stem cells in patients with Parkinson's. 
The trial is the first to administer pure mesenchymal stem cells (MSCs), Hope Biosciences CEO Donna Chang said. MSCs are adult stem cells harvested from fat and provided to Parkinson's patients repeatedly in large quantities because Parkinson's is a degenerative disease. 
"It's the first time where multiple doses are used to treat this disease," Chang said. "Any place you go will tell you all about the potential of stem cells. The problem is without the right quantity of cells and without repeating treatment, you'll never get the results you need."
During the clinical trial, 24 patients will be randomized to receive six IV infusions of 200 million stem cells each, or about 1.2 billion cells total. The trial will conclude a year from the date that all participants have been enrolled in the trial. 
"If you're degenerating, you need to regenerate in the same way you degenerated," Chang said. "You need to constantly treat the disease until you get ahead of it." 
Parkinson's disease is a brain disorder "that leads to shaking, stiffness, and difficulty with walking, balance, and coordination," according to the National Institutes of Health. 
HBSCRF is the nonprofit arm of Hope Biosciences, a biopharmaceutical company, and HBSCRF uses the drugs Hope Biosciences makes to conduct clinical trials.
Thus far, HBSCRF has obtained FDA authorization for 17 clinical studies across 10 disease areas. These clinical trial authorizations include COVID-19 prevention and treatment, Alzheimer's disease, and traumatic brain injuries. 
A Phase II clinical trial is specifically intended to prove the efficacy of the drug, Chang said. The goal of the trial is to produce results that will be successful enough to form a trend among their larger patient population. FDA-approved trials typically go through four phases, and getting a pharmaceutical product to market can take 10-12 years after undergoing scrupulous testing, Chang said. 
Participants in the Parkinson's trial must be between 18-75 years of age, and must have been diagnosed with mild-to-moderate Parkinson's at least six months prior to the start of the trial.
Chang said HBSCRF uses a computer-generated randomizer to decide which patients will get the placebo and which ones will get the treatment.
Patients must also have their own stem cells banked prior to entering the trial to be eligible. HBSCRF's banking process involves extracting MSCs from a small fat sample and growing them into a cell bank. 
There is no cost for the IV medication, Chang said, but there is a charge for banking one's stem cells, where patients can choose from four payment plans. The plans range from a $10,000 one-time payment to a $7,000 upfront payment and $100 annually in maintenance fees, $5,000 upfront and $300 per year in maintenance fees, or $3,000 upfront and $500 per year in maintenance fees.
Hope Biosciences launched in March 2020, and HBSCRF administered nearly 100 billion cells for free to its patients during its first year of operation.
"People are now traveling from all over the U.S. (to participate in clinical trials)," Chang said. "For the Parkinson's study, I think we've had more people calling in from out-of-state than in-state. It's exciting that we're here in Sugar Land, of all places. I consider it cutting-edge medicine." 
According to Jan Shultis, a spokesperson for Hope Biosciences, the organization is currently recruiting patients for its Parkinson's trial and area residents are eligible to apply for prescreening.
She said the FDA's Institutional Review Board (IRB) dictates when Hope Biosciences can begin enrolling participants and officially start the clinical trial, but a start date has not been determined as of Tuesday.
Those interested in learning more about Hope Biosciences can visit hopebio.org or call (346) 900-0340 for additional clinical trial information.