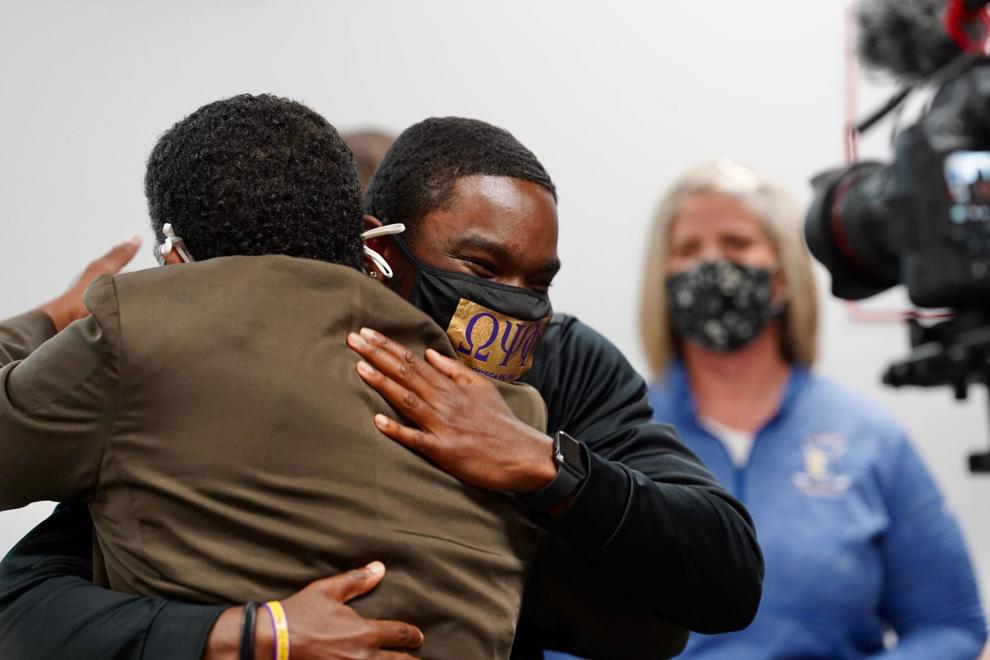 Sherman Batiste wears many hats at Elkins High School. On Monday, he added another feather in his cap. 
Now in his fourth year working at the school, Batiste was named Fort Bend ISD's Secondary Teacher of the Year. 
"I'm not your average teacher," Batiste said. "If you picture the quintessential teacher in your mind, a picture of me may not pop up. However, I'm a representation of telling kids, "Yeah, teachers wear suits and ties, but they also wear jeans and Jordans.' And they still do the same thing effectively. It's just about being good enough at your craft and everything will take care of itself." 
The New Orleans native was forced to flee to Texas after Hurricane Katrina in 2005, landing at Marshall High School, where he played football. He went on to attend Texas A&M Kingsville, where he played football and ran for the Javelinas' track squad. 
Batiste said he is a proud FBISD product and believes he exemplifies the best of the district's potential to shape young men and women into role models. 
"What could have been counted as the worst moment of my life, as far as losing my home and everything that I knew, it ended up being one of the best opportunities for me because had I not ended up at Fort Bend ISD, I don't know what my life would be," Batiste said. 
The opportunity to teach and coach wide receivers for the Knights' football team under his mentor and former Marshall coach, Dennis Brantley, and his best friend, Dean Brantley, the quarterback Batiste played alongside with the Buffalos, was a dream come true for the young college graduate. 
"(Dennis Brantley) believed in me as a kid," Batiste said. "I didn't believe I could (succeed) until somebody told me that I would, and that somebody was him." 
Batiste said he wants to pass the baton to the next generation out of the gratitude he has for the mentors and leaders of his upbringing. 
"Oftentimes we put pressure on our kids to be somewhat perfect, or to fit a certain (expectation)," Batiste said. "And you forget that they're kids and sometimes they won't get it right." 
Batiste became the first FBISD employee to teach a personal finance class with the district, and he also teaches world history and physical education as well as courses within FBISD's Advancement Via Individual Determination (AVID) college readiness program. 
"If you have a teacher who was a straight-A student or an honor roll student, they might not be able to see the potential in a kid that may be labeled as troubled or may not be a straight-A student, they may be a C student," Batiste said. "I can see it because I was once that kid. You'll walk past 400 people in the hallways and there are some people out there who literally don't feel seen." 
He has taught students in every secondary grade level at Elkins, and feels he is helping prepare them for success in the next phase of their lives. At age 30, he linked his youth and relatability to his ability to connect with his students.
"It's one thing to teach these kids math and science and history," Batiste said. "When you look at financial literacy, you can make as much money as you want to in your life, but if you don't know how to manage that money, it's all for naught." 
He also has become an important facilitator of the social development of students who are learning to adapt to new and changing environments before and during the COVID-19 pandemic, just as he had to do to transition from Louisiana to Texas. 
"I'm the teacher that's going to make them come out of their shell comfortably," Batiste said. "I'm going to make them show their personality more and ultimately make them smile, because I want you to leave my classroom more well-rounded and better than when you came. You won't be perfect when you leave my room, but you'll be better than when you came, and that's my motivation." 
Batiste said he hopes to be a role model for Black students and inspire people of all backgrounds to become teachers to increase representation among the many different ethnic groups that call Fort Bend County home. 
"It doesn't have to always be about athletics or just academics," Batiste said. "We can be well-rounded at everything and successful at everything. And hopefully everybody who crosses Fort Bend ISD can have an experience with every color, every race, and every sex of teacher that there is."