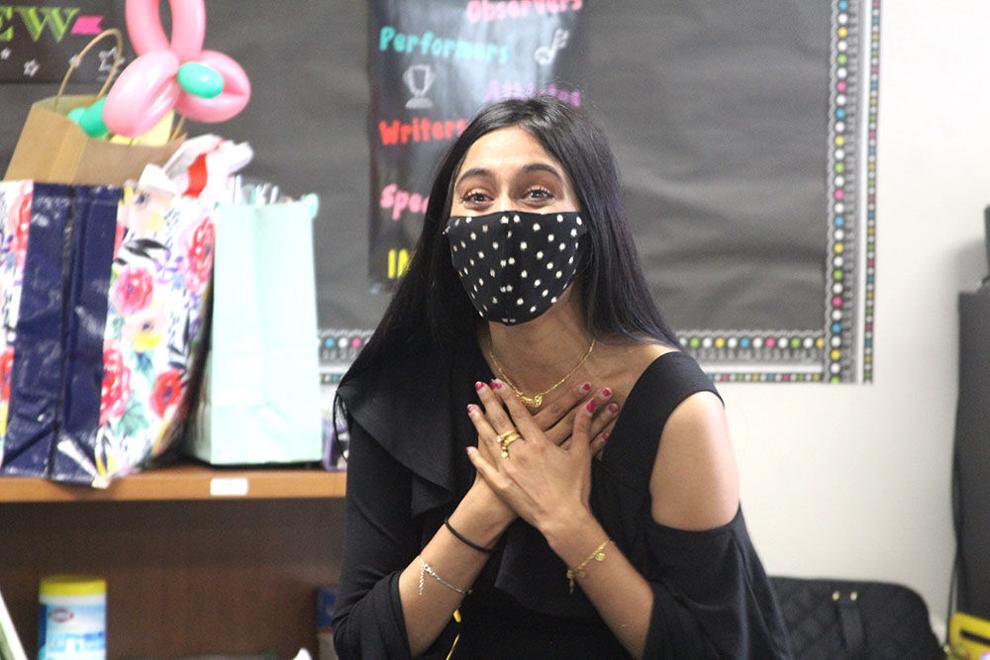 When Sienna Crossing Elementary principal Rachel Rosier emailed Sarah Sutar to wear a nice dress last Friday, Sutar believed it to just be in preparation for yearbook photos or a video recognizing teachers for various accomplishments during the year.
The real occasion, however, brought out an uncontrollable flood of emotions.
"All of a sudden there were announcements, and they were preparing to say something, but it still didn't click to me. When the door popped open, I was in shock," said Sutar, who teaches fifth grade math and science at Sienna Crossing in Missouri City. "I was shaking inside – I just felt so thankful in that second. I just had a million emotions and feelings that came out as happy tears."
The reason for her happiness was that education nonprofit organization Texas Teachers of Tomorrow (TTT) presented Sutar with a $5,000 check on May 7 as the organization's 2021 Teacher of the Year. Since 2016, Texas Teachers of Tomorrow has given the award to an educator nominated by a district official or school administrator.
For the 2020-2021 school year, Sutar was chosen out of more than 500 statewide nominations as a finalist before online voting determined the winner. The nominations were from more than 7,000 first-year teachers who are part of the TTT network around the state.
"We are so proud of Sarah and the work she does with her students," Texas Teachers of Tomorrow Chief Development Officer Dave Saba said. "We work every day to ensure every child has a great teacher and Sarah is truly a great teacher.  It takes great support to create great teachers and we know that the Fort Bend ISD team provides amazing support so that all new teachers can succeed."
Each year, teachers are nominated by colleagues and principals for the title. Sienna Crossing principal Rachel Rosier said that despite being a first-year teacher during the COVID-19 pandemic, Sutar immediately connected to her fifth grade students and was an easy choice to nominate.
"(Sarah's) compassion and kind heart have allowed students to see that academics are very important, but so is kindness, learning how to persevere, and being okay with doing things differently if it doesn't work the first time," she said. "This year for educators and students has been quite the roller coaster, but together we have benefitted in truly realizing that we must work together to be successful.  That is a lifelong lesson Sarah has modeled for her students the entire year."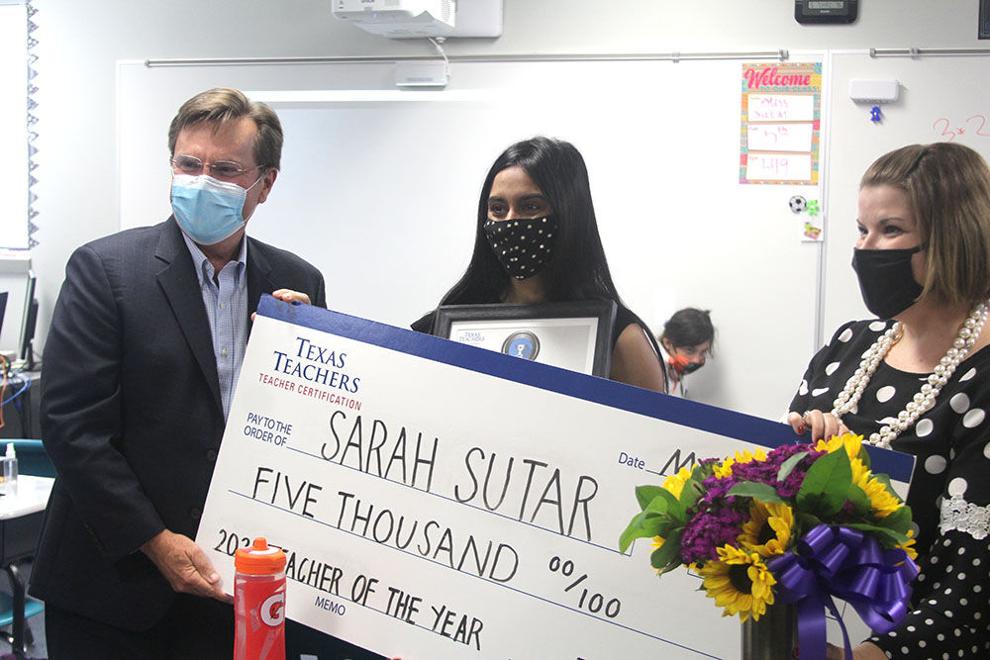 Changing course
The award was the latest in a winding journey for the 25-year-old Sutar, who did not originally set out to become an educator after graduating from FBISD's Austin High School in 2013. When beginning her undergraduate work at the University of Houston-Downtown, she was a business major.
Near the end of her undergrad in 2018, however, she felt pulled a different direction – one that her mother and grandmother had gone before her.
"I told her I wanted to go into education. I was around a lot of youngsters in my family all the time – I'm the one they call for babysitting, help and all of that," she said. "Being around kids has just always been in me – I love being around them and just teaching."
She was further driven after taking part in Houston's Housing, Entrepreneurship And Readiness Training (H.E.A.R.T.) Program, which works with college students and adults with intellectual or developmental disabilities.
"Just seeing those moments of "oh my gosh, I understand," I told myself that this was my path," she said. "Just knowing I was helping other individuals grow means so much to me. That whole experience made me realize I wanted to do something bigger and impact a lot more kids."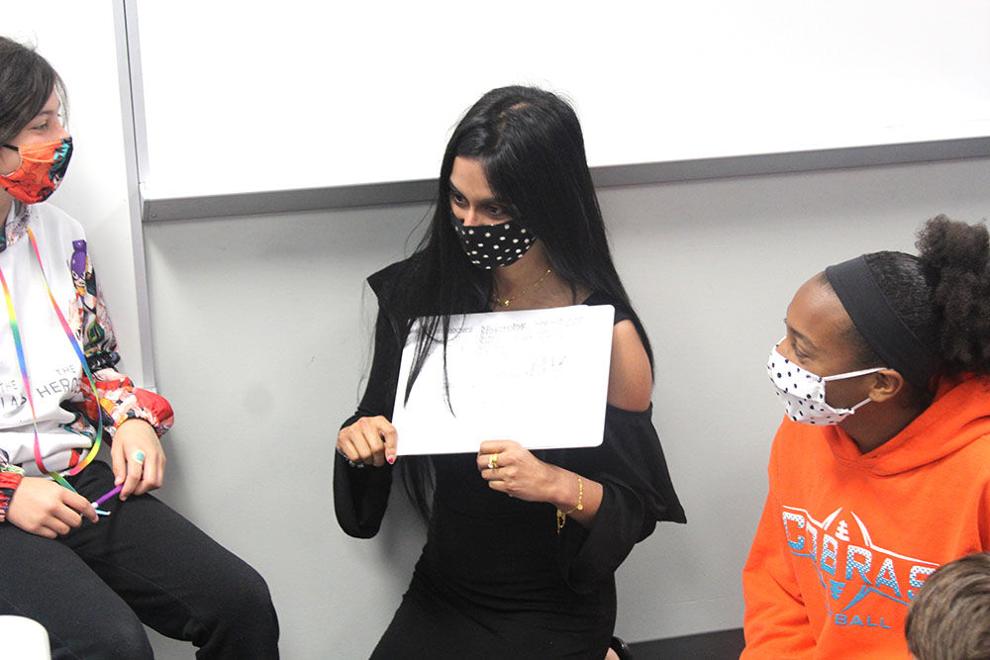 Conquering obstacles
Sutar later received her Masters of Education from UH's main campus in 2020, and enrolled in TTT later that year. She was hired at Sienna Crossing in August 2020 as part of a Texas COVID-19 waiver that allowed school districts to employ Alternative Certification Program (ACP) candidates who had not completed their tests.
So in addition to battling standard challenges that come with being a first-year teacher, such as acclimating to school surroundings and connecting with students, Sutar also had to study for and pass three exams to be "standard certified" per Texas Teachers of Tomorrow's guidelines – all while dealing with the challenges of the pandemic. She is working on completing a fourth and final certification test this summer.
"It was a hard year, but it was also an experience filled with a lot of blessings. I feel like I have so much support, that it turned into a blessing and made me realize that if I can conquer this, I can conquer anything," she said. "It was a tough year, but it really opened my eyes to things I thought I couldn't do but I was able to."
But the best part of the job, Sutar said, goes beyond the award. She still lives close to FBISD's Walker Station Elementary – which she attended as a child – and said she consistently recalls times from her youth in efforts to connect with her students more easily at Sienna Crossing.
It was the main reason she wanted to return to FBISD, and will continue to teach there as long as they will have her.
"I wanted to give back to the community that raised me. It felt good teaching in a district where I had them teaching me. I got to be part of a cycle – one that started with me as a little kid in FBISD and seeing the student perspective, then got the chance to become a teacher and gain that perspective," she said. "…I feel like being a young teacher, I can still have those flashbacks and share them with my kids so they can see that relationship. Feeling that connection and that cycle is great – now I get to see that side and relate to them better."