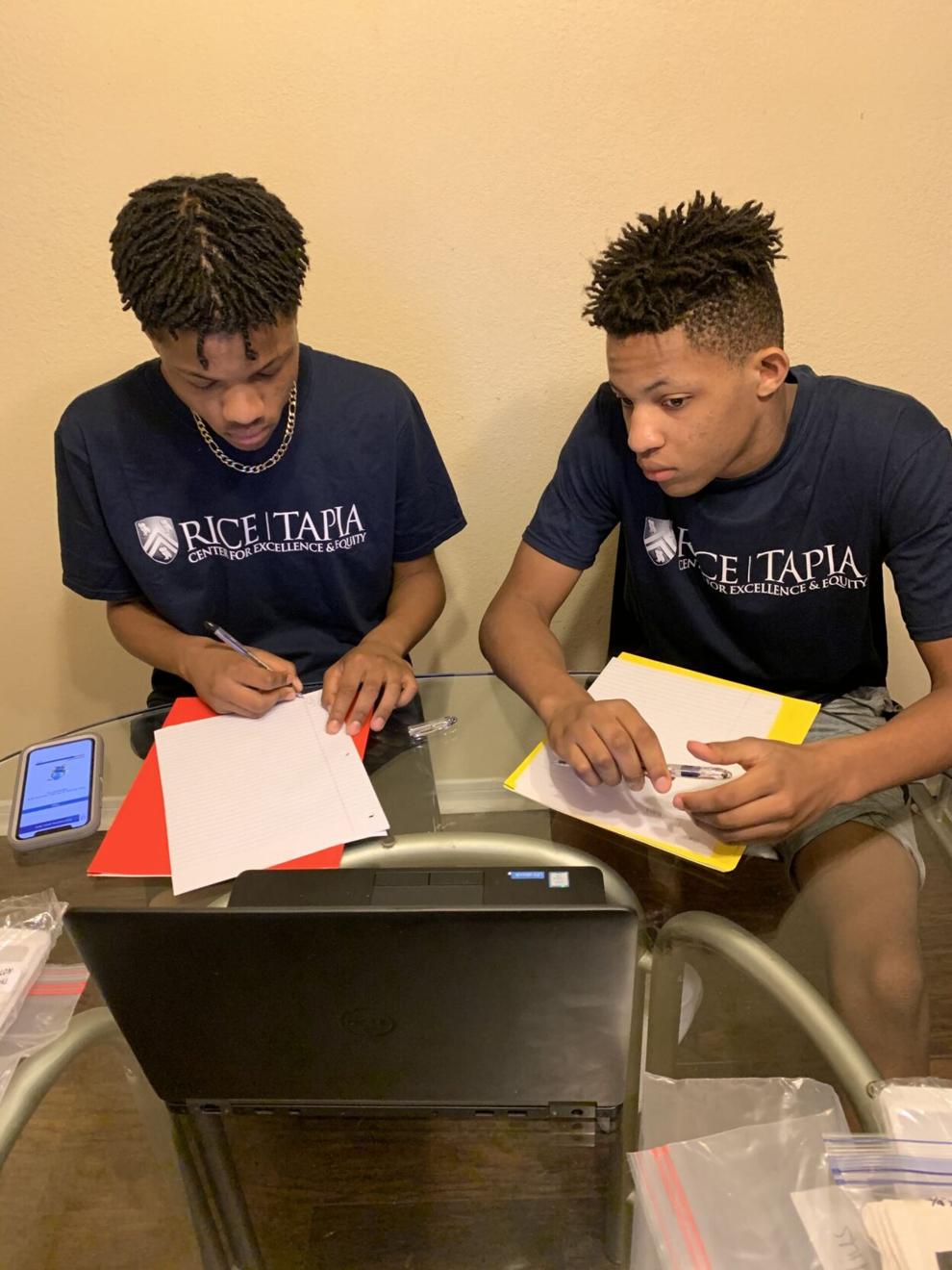 By STEFAN MODRICH
Advocates of STEM (Science, Technology, Engineering, and Mathematics) have long felt that the practical skills fostered by the interdisciplinary approach will help prepare students for higher education and careers in a highly volatile and malleable economy.
The Tapia Center at Rice University, named for Dr. Richard A. Tapia, a mathematician and professor, has been focused on providing opportunities for underrepresented minorities to excel in STEM fields.
This year 200 students, including 11 Fort Bend ISD students, two Stafford MSD students and one Lamar Consolidated ISD student, participated in the virtual camp. A donation from ExxonMobil was used to fund the FBISD students' tuition, and the remainder of the fees were paid either through grants or funds from participating school districts or out-of-pocket by the parents or families of the students.
Jaylen Kennedy, a junior, and his brother Julius Kennedy, a sophomore, both attended the camp and are students at Stafford High School.
"I'd never done virtual learning before," Jaylen said. "So (after the camp) it was easy for me going into this (school) year, while other people were kind of struggling. I was already used to working online and talking to people online, and I wasn't really used to that before (the camp)."
The five-day camp spanned two hours per day and was segmented into groups of eight students and two instructors in Zoom breakout rooms. In lieu of staying on-campus in Rice University dormitories, as they would have prior to the COVID-19 pandemic, students interacted online with current Rice students and alumni and also received a virtual tour of a university laboratory.
Dr. Paul Hand, director of curriculum for the Tapia Camp, said several K-12 educators from around the state have attended professional development workshops designed to help them engage and challenge their students to continue learning in hands-on and interactive ways.
"Even though the students didn't have to be there, they continued showing up," Hand said. "About 90 percent of the students that entered the program stayed throughout the whole week. We trained our instructors in good pedagogy, but also how to bring good pedagogy online and that was definitely a significant challenge over the summer."
Hand said there is no substitute for the in-person experience of being on campus, which can factor heavily in a student's decision whether or not to attend a college. In some cases, the camp is the first time that a student will set foot on a college campus.
One of Jaylen's key takeaways from the camp was learning how to be resourceful and creative. With a basic set of supplies, like some copper banding strips, tinfoil, screws and bandages, they made a heatsink, which is often found in personal computers. Heatsinks work to regulate the temperature of the devices by dissipating heat into a liquid form and cooling it.
"You can make something out of nothing," Jaylen said.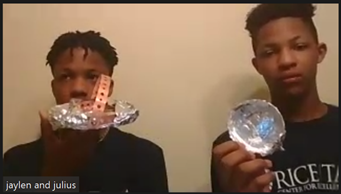 The Kennedy boys were pleased with their instructor and how she encouraged their intellectual curiosity.
"She was patient with us, and she liked when we asked questions," Jaylen said.
Even if students aren't necessarily planning to be STEM majors, Hand said the program is beneficial in providing a foundation of communication, critical thinking and using logic and empiricism to solve problems.
"Going into this, I didn't know what I was going to do," Julius said. "For my life, I wanted to do athletics, and if that didn't work out, I was going to be a chef. So this was really something new for me.
"I can use some of the stuff we learned in the camp in school. Because of the pandemic, we're having to learn from home. So it was kind of like practice for me, talking to people online, talking to the teachers."
Jaylen said he wants to be a concept artist, to make art or animations for video games.
"Here it's kind of hard with the technology that I have, so I learned to work with what I've got," Jaylen said. "It all started when I got my first game system, an XBox. Ever since then, I always knew what I wanted to do. I already knew what I wanted to do when I got my first video game. I've been doing stuff on YouTube, and also learning how to draw more. Watching people animate things — that's what I want to do."
Julius is a football player for the Spartans, but decided due to the coronavirus he would take the season off and pursue basketball instead.
After taking a culinary class, he decided he wanted to explore the possibility of becoming a chef. He likes to make breakfast, and said his favorite dish at the moment is scrambled eggs.
The Kennedy brothers both said they'd recommend the camp to other high school students.
Rice will continue to offer STEM programs throughout the school year and next summer, Hand said.
The camp has included students from all over the United States and Texas, as well as from countries such as Colombia, China, Japan, Abu Dhabi and the United Kingdom.
"We really try to reach out to many, many underserved people in the state of Texas," Hand said. "We really want to make sure they can go into STEM fields and have as few barriers as possible along the way."
Jaylen emphasized the importance of concentration on the task at hand in virtual learning.
"It's pretty easy, you've just got to focus," Jaylen said. "You'll have a good time. At first, I thought it was going to be boring. But the more we got into it, the better it got, and the more fun I started to have. I would just tell them to be patient."
Julius said he was enriched by the Tapia Camp's curriculum.
"I think that they should do it, because the information that they're going to be given is very useful," Julius said. "The experience was amazing."