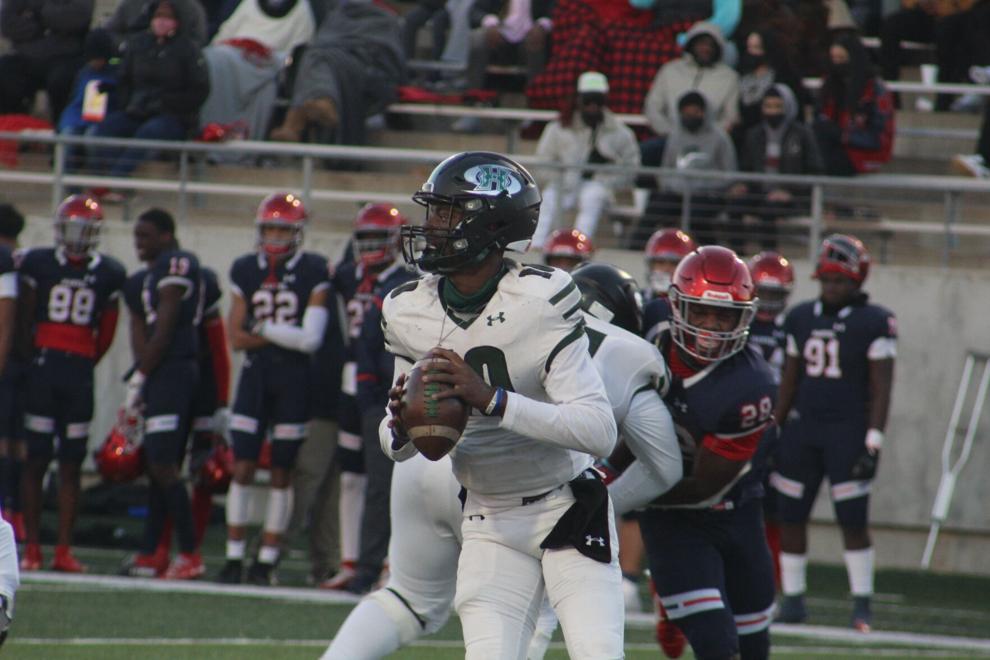 It was a banner year for several of the area's high school football teams that made deep playoff runs, and many players for those teams were recently named to all-district squads for their contributions.
District 20-6A champion Ridge Point had 26 selections, highlighted by J.R. Richardson as most valuable player, Frank Osagiede as the top defensive player and Keith Jackson as offensive MVP. Second-place Travis had 16 total selections, with  safety Cameron Oliver – who also played receiver and returned kicks for the Tigers – being named the district's all-purpose player of the year.
Marshall, the District 11-5A champion and a state quarterfinalist, had 22 selections, including leading receiver Chris Marshall, tailback Rundrick Dudley and defensive backs Christian Jackson and Adari Haulcey.
In District 10-5A, Hightower had 17 selections, led by first-team offensive selections Jakolby Longino, Charles Shelling, Darian Jones and Caleb Douglass.
All-District 20-6A
Austin
Hunter Blanchette (2nd team offense, 2nd team defense)
Keelian Bryant (2nd team offense)
Marlon Chavez (2nd team offense)
Justin Dillard (2nd team defense)
Shahzada Durrani (1st team offense)
Jamal Franklin (1st team defense)
Cameron Hanley (2nd team offense)
Ivan Juarez (1st team offense, 2nd team defense)
Chase Myers (1st team defense)
Kyler Ross (1st team offense)
Joshua Tarver (1st team offense)
Moses Uzodinma (2nd team defense)
Luke Weaver (2nd team offense, 2nd team defense)
A.J. Zilich (2nd team defense)
Bush
Brandon Chambers (1st Team defense)
Preston Davis (1st Team defense)
Christopher Frazier (2nd Team defense)
Dantonio Hackworth (1st Team defense)
Javoryon Howard (2nd Team offense)
Nathaniel Ibarra (2nd Team offense)
Kosy Okoroafor (1st Team defense)
Paul Omodia (2nd Team defense)
Clements
Michael Adigwe (2nd Team offense)
Chase Bell (2nd Team offense)
Marcus Darnell (2nd Team offense)
Lex Demeris (2nd team offense)
A.J. Henry (2nd Team Defense)
Dimas Kusuma (1st Team offense)
Lyle Link (1st Team specialist)
Matt McGinnis (2nd Team defense)
J.R. Mirelles (1st Team offense, Best Newcomer)
Brian Nzewi (2nd Team offense)
Dulles
Ryan Alaniz (2nd Team defense)
Jaylen Brown (1st Team defense)
Alec Baldwin (2nd Team defense)
Myles Chapman (1st Team offense)
Anthony Garza (1st Team offense)
Devin Graham (1st Team offense)
Jeremiah Harrell (1st Team defense)
Palmer Hodges (2nd Team offense)
R.J. Martin (2nd Team offense)
Stephen Melton (1st Team offense)
Cameron Miller (1st Team defense)
Robert Raval (2nd Team defense)
Austin Sanchez (2nd Team defense)
Mason Sawyer (2nd Team offense)
Chris Smith (1st Team defense)
Louis Smith III (1st Team defense)
Jaxon Tilley (2nd Team defense)
Marc Tisdel (2nd Team offense)
Rashaad Young (2nd Team defense)
Dakota Wilcox (1st Team offense)
Jayden Williams (1st Team defense)
Elkins
Taurean Crawford (1st Team defense)
Kole Davis (2nd team defense)
Jackson Fields (2nd team offense)
Christopher Harding (1st Team defense)
Armando Morales (2nd team offense)
Lucian Paul (1st Team defense)
Christian Peluse (1st Team defense)
Jordan Robertson (2nd team offense)
Malik Rugley (2nd team defense)
Nick Sanders (2nd team offense)
De'Cameron Sims (2nd team offense)
Savion Sims (1st Team defense)
Daron Smith (2nd team defense)
Blake Thompson (1st Team defense)
Nicholas Tristan (2nd team offense)
Javien Young (1st Team defense)
Ridge Point
Walker Aycock (2nd Team defense)
Patrick Brinkley (2nd Team defense)
Micah Cesar (1st Team offense)
Joseph Cesar (1st Team defense)
Clayton Cherry (2nd Team defense)
A.J. Colbert (1st Team defense)
Taylor Davis (1st Team defense)
Nathan DeJesus (1st Team offense)
Bert Emanuel, Jr. (1st Team offense)
Jimmy Guy (2nd Team defense)
Calvin Harvey (1st Team defense)
Keith Jackson (1st Team offense, offensive MVP)
Ezell Jolley (2nd Team offense)
Dike Kalu (1st Team defense)
Austin LaFevers (1st Team offense)
Parker Menefee (1st Team offense)
Davis Mohn (1st Team specialist)
Jonathan Nwobodo (2nd Team defense)
Frank Osagiede (1st Team defense, 20-6A defensive MVP
Dalton Plitt (2nd Team defense)
Cameron Plummer (1st Team defense)
John Paul Richardson (1st Team offense, 20-6A MVP)
Caleb Rodkey (1st Team offense)
Karsten Stow (1st Team offense)
Marvin Session (2nd Team offense)
Zach Yovan (2nd Team defense)
Travis
Iman Ajisefeni (1st Team defense)
Ayo Akinrinmade (1st Team defense)
Luke Alvarez (2nd Team offense)
Blake Brown (1st Team Offense)
Joe Cadette (1st Team defense)
Marcus Chretien (1st Team offense)
Brandon Dixon (1st Team defense)
Dylan Kinney (2nd Team offense)
Sam Kinnick (1st Team specialist)
Jace Marsters (1st Team defense)
Cameron Moore (1st Team defense)
Mason Muchaw (2nd Team defense)
Anthony Njoku (1st Team offense)
Jeremiah Powell (1st Team offense)
Sergio Rubio (1st Team specialist)
Ryder Wall (1st Team offense)
District 11-5A
Marshall
Jared Baylor (1st team offense)
Daryius Brown (1st team defense)
Anthony Chatman (2nd team offense)
Jacob Chester (1st team defense)
Rundrick Dudley (1st team offense)
Rodrigo Escamilla (2nd specialist)
Roland Harvey (2nd team offense)
Adari Haulcey (1st team defense)
Christian Jackson (1st team defense)
Robert Lopez (1st team specialist)
Chris Marshall (1st team offense)
Javion Matthews (1st team offense)
Aaron McGowen (2nd team offense)
Kenny Seymour (1st team defense)
Chris Stephens (1st team defense)
Kameron Square (1st team offense)
Josh Ulmer (1st team offense)
Lamont Vaz (1st team offense
Camden Williams (2nd team offense)
Christian Williams (1st team offense)
Darius Williams (1st team offense)
Willowridge
Javion Chatman (2nd team offense)
Kolby Cohen (2nd team offense)
Javon Cuney (2nd team offense, 2nd team defense)
Dajuan Earthly (2nd team defense)
Josh Edwards (2nd team defense)
Donovan Flanagan (2nd team defense)
Rogelio Gonzales (1st team specialist)
Je'veon Johnson (2nd team defense)
Raymon Olvera (2nd team defense)
Anthony Stevens (1st team defense)
Jeremiah Strickland (1st team offense, 2nd team defense)
Andre Williams (1st team defense)
District 10-5A
Hightower
Donovan Allen (2nd Team offense)
Cameron Bradford (2nd Team defense)
Jaylon Davis (2nd Team offense)
Caleb Douglass (1st Team offense)
Keith Fountain (1st Team defense)
Lord Jeremiah Horton (1st Team defense)
Darian Jones (1st Team offense)
Kadarian Johnson (1st team defense)
Jakolby Longino (1st Team offense)
Latrell Neville (1st team specialist, 2nd team offense)
Julian Payne (1st Team defense)
Charles Shelling (1st Team offense)
Kalon Smith (1st Team defense)
Ronald Smith (2nd team offense)
Jaden Steele (1st team offense)
Jeremy Strawder (2nd team defense)
Armando Ventura (2nd team specialist)
Kempner
McKenzie Miller (2nd team specialist)
Robert Olanlyan (1st team defense)
Chad Okpara (2nd team defense)
Zak Yassine (2nd team defense)
Umar Yaro (1st team defense)
District 12-4A
Stafford
Brayden Batiste (2nd Team offense)
Jordan Barrett (2nd Team offense)
Isaiah Bogerty (1st Team defense)
Edgar Bonilla (2nd Team specialist)
Zach Bryant (2nd Team defense)
Christian Fregia (2nd Team offense)
Andrew Huff (2nd Team defense)
Jaydon Johnson (2nd Team defense, 1st Team offense)
Terrence Lewis (2nd Team offense)
Nya Mack (1st Team offense)
Quardale Patt (1st Team defense, 1st Team offense)
Nick Rideau (2nd Team defense)
Kaleb Roberts (1st Team defense)
Leonard Scott (2nd team offense)
Kenny Steward (1st Team defense)
Nehemiah Tarble (1st Team defense)
Churchill Williams (1st Team defense)