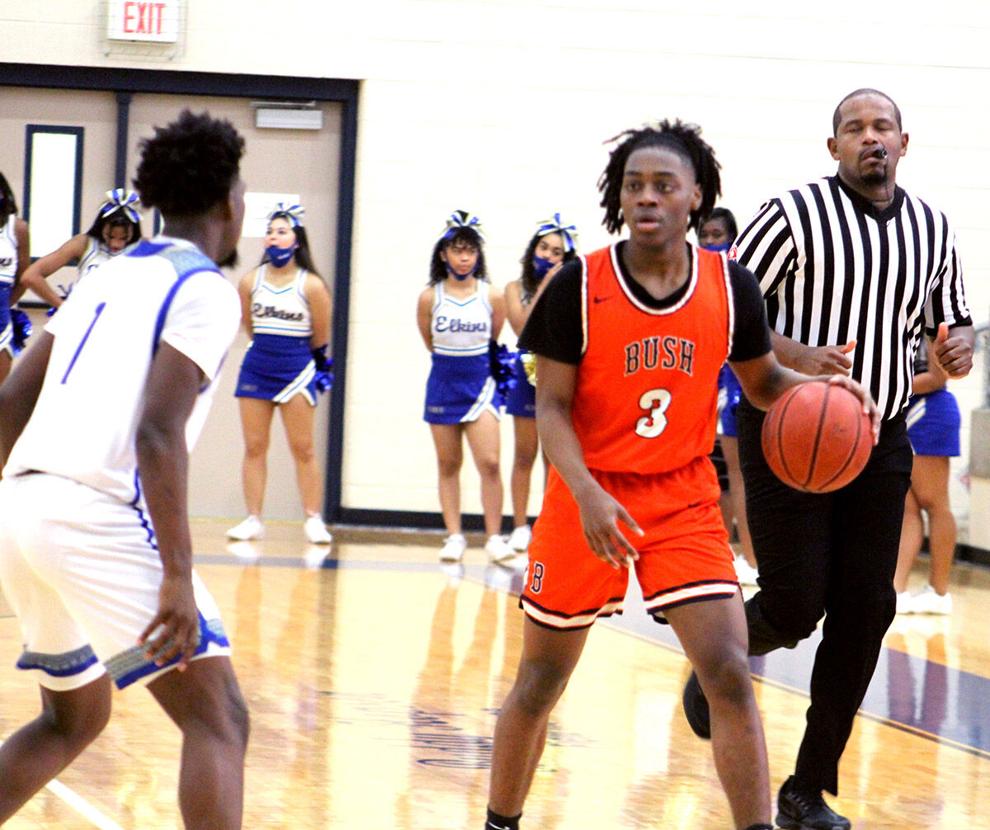 It was a clean sweep for District 20-6A in the boys basketball playoffs last weekend, when two of the area's teams took the first step in potentially returning to their respective classifications' state tournaments.
There were a number of standout performances in as six of the area's seven boys teams won to keep their seasons alive. Among the winners were Hightower and Stafford, which reached the UIL state tournament a year ago.
Kolby Granger tied a season high with 21 points in Ridge Point's Class 6A bi-district win over Katy Tompkins. He was one of three players in double digits for the Panthers (12-5), who advanced to face District 18-6A champion Bellaire (19-2) in the area round. Reggie Prudhomme had 14 points, while Matthew Lewis added 11.
Joshua Fanuiel and Chris Johnson both had 18 points for the Elkins Knights as they took down Katy Mayde Creek on Saturday. Elkins improved to 16-1 and will next face Houston Memorial (18-8) on Wednesday.
The Bush Broncos vanquished District 19-6A champion Katy Taylor on Saturday to stay alive. Zion Bourgeois paced the Broncos with 21 points, while Tyler Smith had 19 of his own. Bush (12-9) was scheduled to face Houston Heights (15-4) at 7 p.m. Tuesday at Hopson Field House.
Travis (17-4) defeated Katy Seven Lakes and will take on District 17-6A champion Cypress Creek (20-3) on Wednesday at the Merrell Center in Katy.
Hightower breezed into the area round, beating Houston Waltrip in a Class 5A matchup. Six Hurricanes scored in double digits, led by Calen Douglas' 15 points. Bryce Griggs (14 points, seven rebounds, seven assists) and Jacory Chatman (14 points, six rebounds) also had strong games, while Tyrone Baker had 13 points, seven rebounds and three blocks.
The Hurricanes await the winner of Texas City and Crosby, which were scheduled to play Monday night.
In its first playoff game since 2017, Marshall fell 73-71 in overtime on a buzzer-beating jumper by Northside. The Buffalos finished their season at 10-10.
In Class 4A, Stafford defeated Port Lavaca Calhoun on Friday to win its seventh straight game. Quavious Lilly paced the Spartans (17-4) with 14 points, while Xavier Iyalla had 13 and Z'Corrian Hayes chipped in 10. The Spartans will play Cuero in the area round.
Girls
Ridge Point couldn't outlast Houston Heights on Saturday afternoon, dropping a 61-58 decision to finish its season at 13-8. Aleighyah Fontenot had 25 points, five rebounds and five assists in the loss for the Lady Panthers, while Dala Allen had a double-double with 15 points and 10 rebounds.
After losing in the second round each of the last three seasons, Dulles beat Jersey Village 75-68 to advance to a third-round matchup against Katy Tompkins on Wednesday.
Last Week's Playoff Scores
Boys
Feb. 19
Stafford 56, Calhoun 39
Feb. 20
Hightower 100, Waltrip 43
Elkins 66, Mayde Creek 37
Travis 76, Seven Lakes 46
Ridge Point 71, Tompkins 58
Bush 83, Taylor 71
Northside 73, Marshall 71 (OT)
Girls
Feb. 20
Dulles 75, Jersey Village 68
Heights 61, Ridge Point 58
Boys Playoff Schedule
Class 6A Area Playoffs
Tuesday
Bush vs. Houston Heights, 7 p.m., Hopson Field House
Wednesday
Travis vs. Cypress Creek, 5 p.m., Merrell Center
Ridge Point vs. Bellaire, 5 p.m., Delmar Fieldhouse
Elkins vs. Houston Memorial, 5 p.m., Don Coleman Coliseum
Girls Playoff Schedule
Region III- 6A Quarterfinal
Wednesday
Dulles vs. Katy Tompkins, 7 p.m., Merrell Center