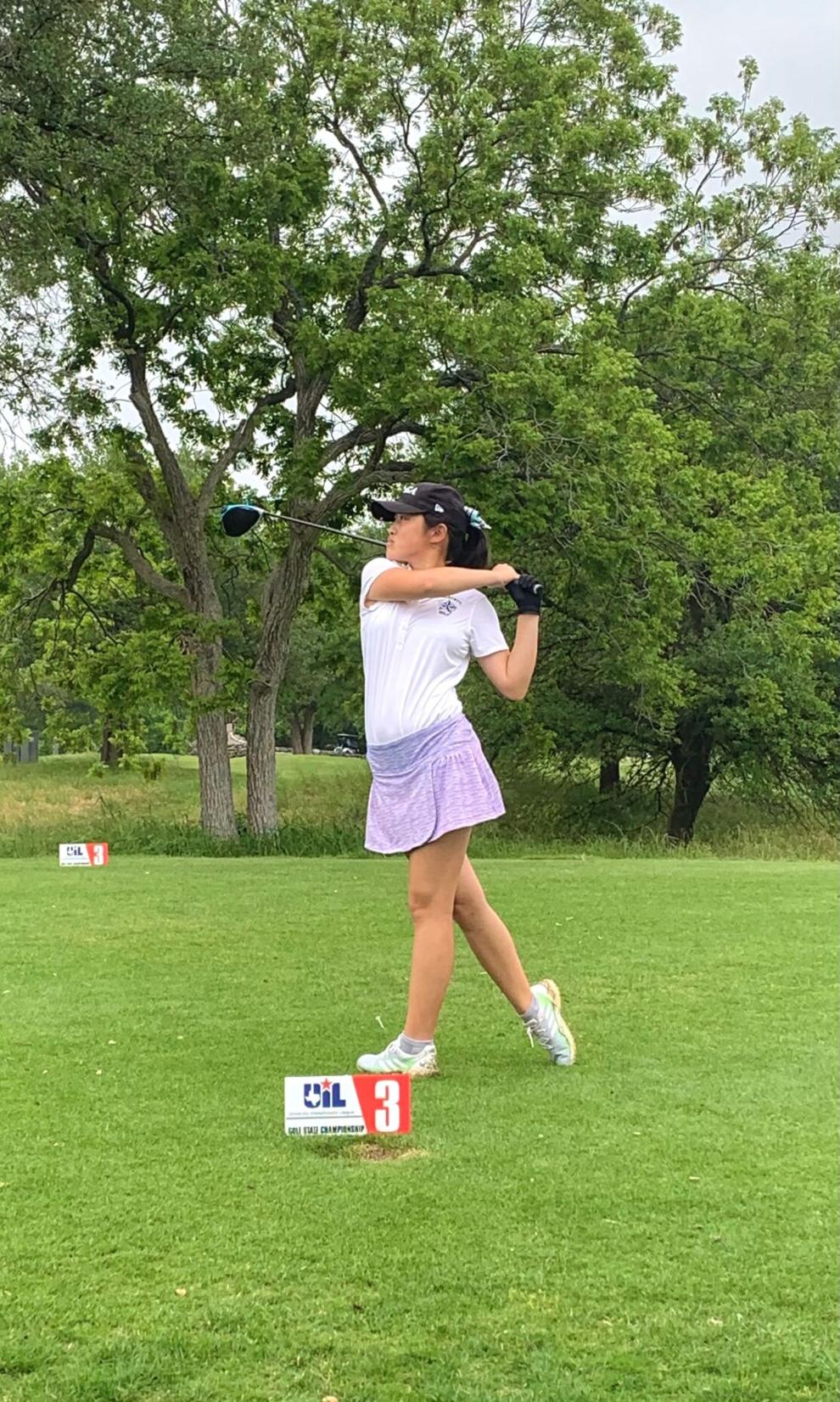 Natalie Cao has been playing golf since she was 5 years old.
She started to get good much more recently.
"The foundation for me really kind of began once I got to high school," she said. "Once I got there, it begins with having kids my age to play with and making friends through the sport."
Fast forward a few years, and the Clements High School senior will forever be in the record books as one of the 2021 season's best high school golfers in Texas. Cao tied for eighth place in the Class 6A girls state tournament that was held May 10-11 at the Legacy Hills Golf Club in Georgetown.
After shooting an opening-round 78, she shot a 70 on Day 2 – the day's second-best score – to finish with a 148.
"Coming into this year's state tournament, I was thinking I could be better and wanted to see how much progress I had made from two years ago," said Cao, who was competing in her second individual state tournament after finishing 42nd in 2019. "This was also my last high school competitive golf tournament ever, and I really wanted to end on a good note as a senior."
After picking up the sport at a young age from watching her father play, Cao said her love for the game only grew. Once she got to Clements as a freshman, it took off.
"When I reached high school and started practicing with teammates more, that's when my scores began to get lower. That's what really kept me going," she said. "… As I approach a course, I'll just say, 'Let's see how low we can go and see how much potential I can get from it.' And if it doesn't go well, then there's always the next day to improve on it."
That mindset appears to have paid dividends as Cao had the best performance of her career on the state's biggest stage. And to her head coach, the success was no surprise.
"She has a great attitude, is a fierce competitor and has great values," Jason Jezek said. "She's been like a daughter for four years, and if everyone had the attitude toward life like she does, the world would be a perfect place."
And while her high school career has come to a close, Cao's journey is not done. She is set to play at the University of Pennsylvania beginning next fall, continuing a path she said has been made possible largely by her comrades in arms at Clements.
"My favorite part of it has been just playing with friends – it makes everything more fun," she said. "You're playing a game and doing it with your friends, and that's always just made me really happy."