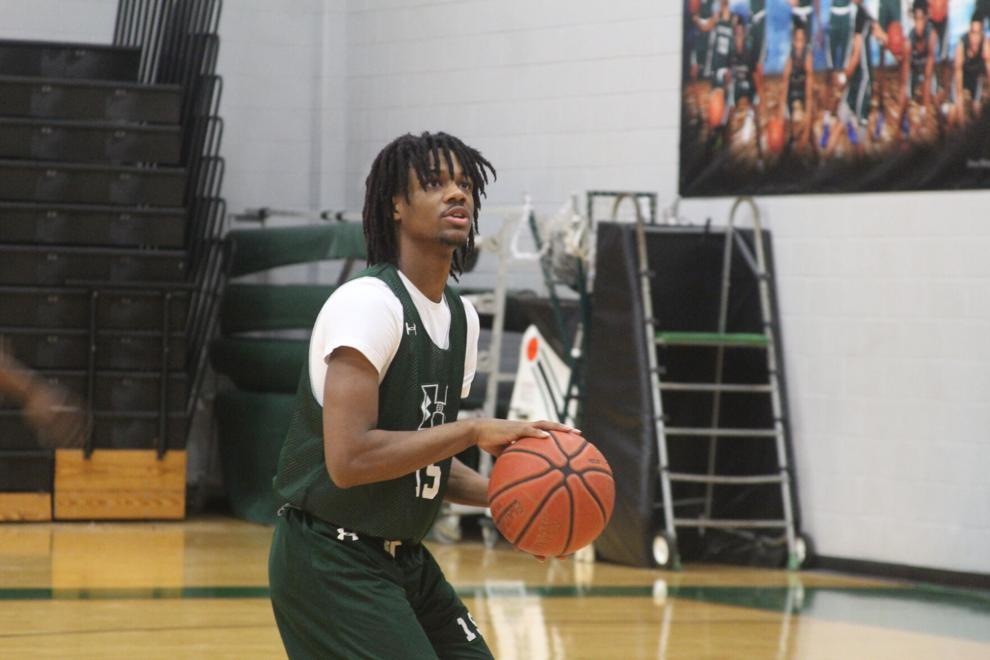 The Hightower Hurricanes have unfinished business.
"There's been the motivation since the summer, just to come back (and finish it)," senior guard Aaron Bland said. "We know what we could've done last year – but didn't have the chance to – and what we can do this year."
What the Hurricanes (15-2) hope to do this year is win a boys basketball state championship in Class 5A, after clinching their first outright district championship since the 2008-09 season. Hightower reached the UIL state tournament in San Antonio last season – but did not even get a chance to play in its scheduled state semifinal after the tournament was scrapped due to the onset of the COVID-19 pandemic.
"At first I really thought it was a joke or something when (head coach Stephen Woods) called us into his room," Bland said, noting the call came just hours before the scheduled tipoff against top-ranked Lancaster. "Then I saw the emotion on his face, on the assistant coaches' and players' faces, and I knew it probably wasn't going to happen. That was a really sad feeling."
Hightower is no stranger to playoff success, having now made the playoffs in five of Woods' six seasons and making three regional tournament appearances. But entering the 2020-21 season, some may have doubted whether the Hurricanes could reach the level of last year's team.
Woods and his staff had to acclimate a bevy of new faces after the graduation of seven seniors from last year's team, which had ushered in three straight playoff berths and one of the most successful runs in the school's 22-year history.
"We had to start building…that unity to play together so we could start peaking in February or March," he said. "So far, we've done that."
So far, the plan has worked to near perfection as the Hurricanes are in search of their first undefeated district campaign in more than a decade in this week's regular-season finale against Angleton. But though he has preached the "unfinished business" mantra after reaching the school's first state tournament since 2011 last season, Woods knows there is a fine line between it being motivation or an anvil that could hold the team back.
"Last year was last year," Woods said. "We can't go back and make that year up."
New faces, similar results
Helping the Hurricanes keep winning has been a host of fresh faces taking on expanded roles. After playing in just 20 of Hightower's 38 games last season, Bland has started all 17 contests this season.
"We've asked a lot more of him this year – and he's really stepped up to that challenge," Woods said.
Also energizing the program have been newcomers such as Westbury Christian transfer Aaron Williams and senior Tyrone Baker, a 6-foot-10 forward and University of Georgia commit who moved to Texas from Florida after averaging nearly 21 points and 10 rebounds for Riverdale High School last season.
The offense is still triggered by junior guard Bryce Griggs (23.9 points per game), but Woods also called Griggs' fellow guard Zack Guidry an unsung hero and the "glue" of the team despite being in his first varsity season.
"We wanted to have the returners use that experience we went through last year to help the new guys get through those playoffs this year," Woods said. "We believed we had the talent to win district outright, though we knew that (Richmond) Foster was going to be a good challenge for us. But we stayed focused and stayed with the process, stayed hungry and humble."
Last season's experience has certainly resonated with those such as Bland and junior guard Jacory Chatman.
"We completely remember that we couldn't play last year, and we're trying to get back there again," Chatman said. "It would mean a lot to the city and everyone, because we haven't had a state championship come here."
The key to finishing business on the court would appear to be the Hurricanes' defense, which has come into its own down the stretch of the regular season. Though much of the attention remains on its high-powered offense – which leads District 24-5A at nearly 84 points per game – Hightower has stifled its opponents with increased frequency as the season has gone on.
In eight games since the calendar flipped to 2021, the Hurricanes are allowing 55.2 points per game.
"We just need to play defense like we have been," said Baker, the team's leading rebounder and shot blocker. "It's been really good, so once we get that perfected we can make a deep run."
Woods said his team is meshing at just the right time. Hightower has won 14 consecutive games since a Dec. 1 loss to Shadow Creek and has its eyes set on completing an objective it was not allowed the chance to last season.
"We have a family atmosphere over here, and they all believe that they're a part of that," Woods said. "That's why we've been successful."