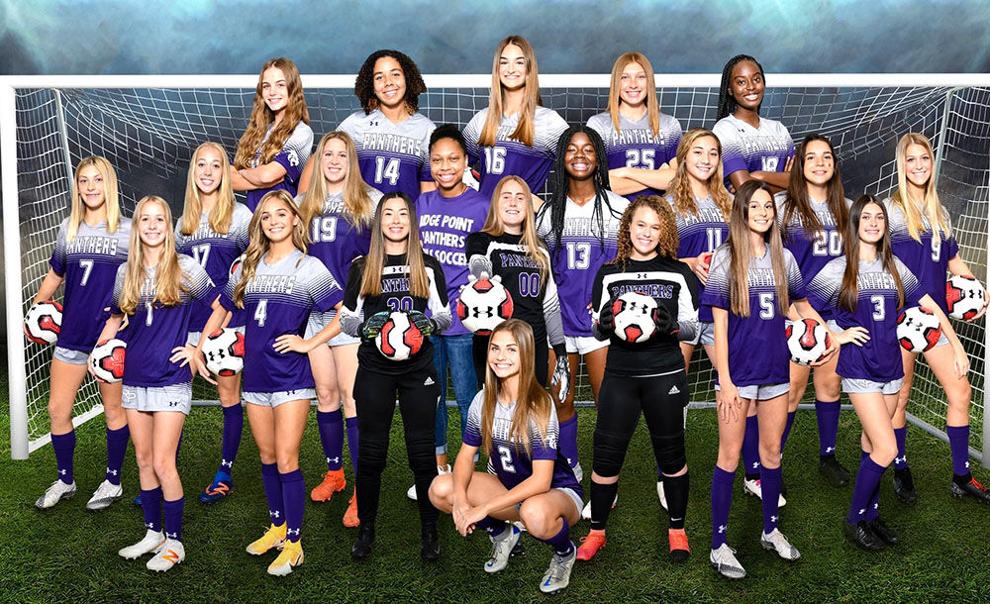 Evelyn Torres has spent a decade molding the Ridge Point High School girls soccer team into a perennial playoff contender in the Houston region, earning a playoff berth every season she's been at the helm.
One thing that has always eluded her squads, however, is an appearance in the UIL state tournament. And after COVID-19 deprived the Lady Panthers of a shot at making that leap last season, this season has been all about unfinished business.
"We felt like we were shortchanged last year because of COVID-19. We just never got to return (to the field)," Torres said Monday. "We've called it the 'unfinished' season this year, and we're focused on finishing it."
The Lady Panthers (21-1) opened the Class 6A playoffs March 25 with a 3-0 win against Katy Cinco Ranch. They were scheduled to square off against the Cy-Fair Bobcats in the second round at 6 p.m. Tuesday.
The ultimate goal for the Lady Panthers is a state championship, and heading into Tuesday's playoff, they needed six more wins to attain it. Four wins would provide a state-tournament berth for Ridge Point, which is fourth in the nation in the latest USA Today/United Soccer Coaches rankings for girls teams that are in season.
"They've continued the fight and continued the tradition of picking up where we left off," Torres said. "It's encouraging as a coach that they're motivated to work whether we'd been able to achieve them or were shortchanged."
Under Torres' guidance, the Lady Panthers have made it at least to the area round in each of their previous eight postseasons. They have made to at least the regional quarterfinals on six occasions and were in the Region III-5A final in 2015.
Ridge Point has been the class of its district in nearly every season under Torres, winning the last three District 20-6A championships and taking six district titles in the last seven seasons across all classifications. The Lady Panthers have not lost a district tilt since Feb. 12, 2018 – giving them a 33-match district winning streak.
But they're hungry for more.
"We all want the same thing and we've all put our mind to it," senior forward Cameryn Parsons said.
It hasn't been all smooth sailing this season, however. After an 8-0 win over Austin on Feb. 19 to improve to 15-0, the Lady Panthers were quarantined for two weeks under COVID-19 protocols. Torres said there were also some individual players who missed time during the season as a result of the coronavirus.
But it hasn't seemed to faze them. Ridge Point had won six of seven games since its brief hiatus entering Tuesday, outscoring opponents 36-2 in the process and pitching six shutouts.
"It really shows our bond as a team to stay together and how much we care," senior Reagan Main said.
Those such as Main, Chayse Corfman, goalkeeper C.J. Hellinger and leading scorer Haven Terry are part of a 12-member senior class on this year's squad, which Torres said she has leaned on heavily to utilize their experience and pass it on to the underclassmen.
"Up until (last) Thursday's match, many of our freshman and sophomore class had not been in any sort of playoff situation," she said. "So we're looking heavy to our senior class, and I definitely relied on them a lot for their leadership."
She also called senior Kailey Barger the "team mom" of the group.
"(Kailey) always brings the spirit," she said.
Players said those bonds have paid off and are a huge part in the team's success on the field. Seniors such as Main and Corfman are four-year players for Torres, and many of them have played together both at Ridge Point and youth leagues.
Main said her younger sister Zoey – a sophomore and the Lady Panthers' second-leading scorer during the regular season – has been around the team for years and also plays club soccer with several of her Ridge Point teammates.
"There's so many connections that we're all bonded in so many different ways – so we're able to have fun with each other in the locker room and on the bus," Main said. "Then when we get on the field, there's this joint focus that we have (because of it)."
Mix that combination together, and so far it's been the recipe for a nearly perfect season. Ridge Point's only loss this year was a 2-1 defeat against Kingwood in a pre-playoff practice game on March 23.
"Something I harp on my girls about all the time is not making excuses. We have to take a hold of the cards that we're dealt and deal with those challenges as they come along," Torres said. "It's about not making excuses for what we've had to take on this year."
As the Lady Panthers trudge on in hopes of winning that first state title, it's full speed ahead. And they certainly are not lacking in self-confidence.
"I think we're all pretty aware that we're a good team and that we can (make it to state)," Parsons said. "It's definitely possible for us."