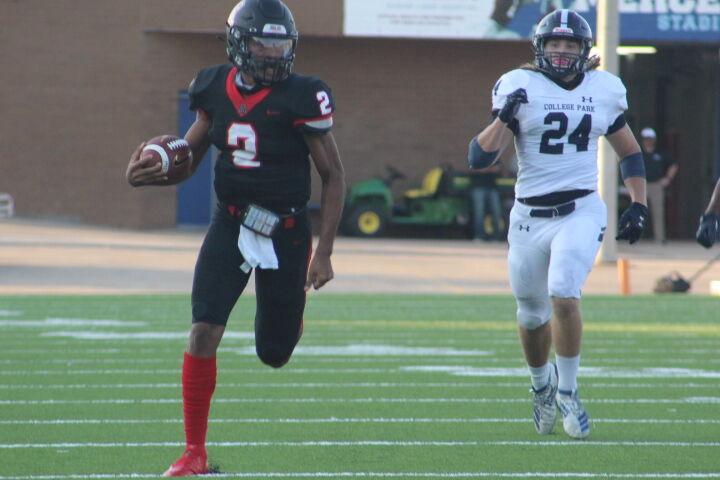 By Landan Kuhlmann
The Hightower Hurricanes had shown flashes of offensive firepower in the football season's early weeks, averaging 30 points per game in their first three contests.
But head coach Joseph Sam and his offense found a different gear last weekend, and needed every bit of it to come out on top.
Hightower used 570 yards of total offense and a 27-point second quarter to outslug the Angleton Wildcats 65-45 last Friday night, evening both its overall and District 10-5A record.
Leading the charge for the Hurricanes (2-2, 1-1 district) was their backfield duo of Jakolby Longino and Charles Shelling. Longino, who is committed to the University of Texas-El Paso, threw for 319 yards and a career-high six touchdowns. The senior quarterback added 70 yards and two touchdowns rushing.
Fellow senior Shelling posted his third 100-yard rushing performance of the season, going for 139 yards and a score. Kaleb Johnson, Kelton Ross and Latrell Neville each caught two touchdown passes.
In other area Class 5A action, Marshall and Willowridge remained Fort Bend ISD's sole unbeaten teams with wins over Sharpstown and Houston Austin, respectively. The Buffalos (5-0, 4-0) again relied on the running game, with seven of their eight offensive touchdowns coming on the ground. Runderick Dudley accounted for three of them, while Ja'koby Banks added his first two rushing scores of the season.
Roland Harvey also threw his seventh touchdown pass of the season, while the Marshall defense forced two turnovers and pitched its fifth consecutive shutout.
Ridge Point (2-2,2-0) won its second straight District 20-6A contest with a 28-7 victory over Elkins as Bert Emanuel threw for 179 yards and a touchdown. Meanwhile, Travis (3-1) won its third consecutive game with a 32-9 victory over Dulles. Anthony Njoku threw for two touchdowns as the Tigers improved to 2-0 in district play.
The Bush Broncos finally got the winless monkey off their backs last week with a 35-7 win over the Austin Bulldogs.
In the area's Class 4A action, Stafford (3-6, 2-2) won its second consecutive game with a 31-0 win over Brazosport. Brayden Batiste threw two touchdown passes, while Jamaal Wiley ran for two scores.
A rundown of last week's scores and this week's games involving area teams is below.
Last Week's Scores
Willowridge 36, Houston Austin 28
Marshall 62, Sharpstown 0
Stafford 31, Brazosport 0
Travis 32, Dulles 9
Ridge Point 28, Elkins 7
Bush 35, Austin 7
Hightower 65, Angleton 45
George Ranch 31, Clements 3
Foster 41, Kempner 0
This Week's Games
Thursday
Travis vs. Bush, 6 p.m. (Mercer Stadium)
Hightower vs. Manvel, 7 p.m. (Hall Stadium)
Kempner at Rosenberg Terry, 7 p.m. (Traylor Stadium)
Friday
Stafford vs. Bay City, 7 p.m.
Marshall vs. Houston Austin, 7 p.m. (Hall Stadium)
Ridge Point vs. George Ranch, 7 p.m. (Mercer Stadium)
Saturday
Austin vs. Dulles, 1 p.m. (Mercer Stadium)
Elkins vs. Clements, 1 p.m. (Hall Stadium)