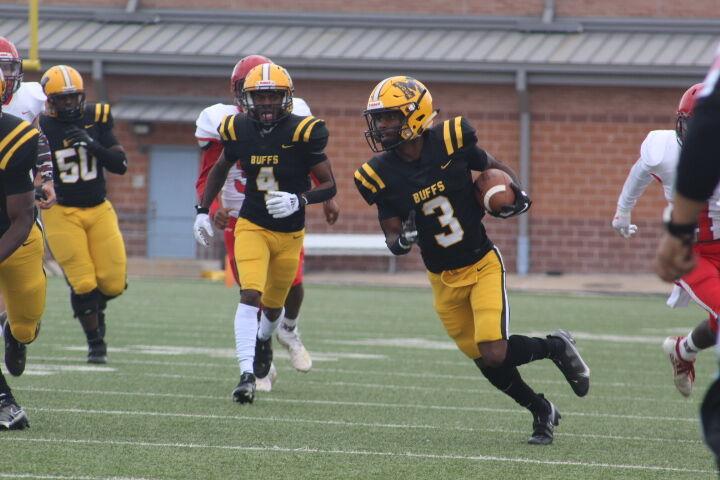 By Landan Kuhlmann
Entering last week's football game against the Willowridge Eagles, there may have been some questions as to whether someone could challenge the Marshall Buffalos' recent supremacy in District 11-5A.
The Buffalos silenced those questions with a resounding no.
Marshall raced out to an early 21-point lead and never looked back in a 56-0 win last Thursday over Willowridge, taking over sole possession of first place.
Four different players scored rushing touchdowns for the Buffalos (7-0, 6-0 district), and both quarterbacks shined for Marshall. Roland Harvey accounted for 211 total yards and three touchdowns, while Ja'Koby Banks totaled 116 yards and two scores in relief. Chris Marshall led all receivers with 141 yards and two touchdowns as Marshall rolled out 451 total yards.
On defense, the Buffalos pitched their sixth shutout of the season. Laurence Tillman had a first-quarter fumble return for a touchdown to help the effort.
Stafford rolls in bi-district playoff win
Back in the playoffs for the second consecutive season, the Stafford Spartans scored early and often as they ran over North Forest 63-6 last Saturday night.
It was the first playoff win for Stafford (5-6) since 2016. The Spartans will play Tyler Chapel Hill (7-4) in the area round this Saturday.
Quarterback Kaleb Roberts was Stafford's star against North Forest. He totaled four touchdowns (two passing, two rushing) as the Spartans took a 21-0 lead after the first quarter and never relinquished it.
Tailback Jamaal Wiley had his second consecutive multi-score rushing night and added a touchdown catch. Receiver Jordon Barrett caught his seventh touchdown of the season and has scored in four consecutive games.
Other notable action
In the area's other Class 5A action, Hightower took down Rosenberg Terry 63-34 last Friday night to clinch a District 10-5A zone playoff spot. The Hurricanes (3-3, 2-2) scored the first 28 points of the game and never let the Rangers back in it.
Quarterback Ja'Kolby Longino had one of his best games of the season, throwing for 315 yards and four touchdowns. It was the second 300-yard game of the season for Longino, who did much of his damage early as the Hurricanes led 50-14 at halftime.
His favorite targets were Latrell Neville and Kaleb Johnson, who combined to catch 14 passes for 175 yards. Neville caught three of Longino's four touchdown passes, and Brendan Eaglin ran for 86 yards.
Elsewhere in District 20-6A, the Dulles Vikings emerged with a 27-6 win over the Austin Bulldogs last Thursday night at Mercer Stadium. The Vikings (2-4, 2-1) used a balanced offensive effort and stout defense to move into second place in the district and clinch a zone playoff spot.
Junior running back Devin Graham ran for 111 yards and two scores. It was his fourth game with at least 100 yards, and his first multi-score contest. Ryan Alaniz caught four passes for 82 yards and his first touchdown of the season.
Jerimiah Harrell also had three sacks for the Vikings, who didn't allow the Bulldogs to find the scoreboard after the first quarter.
A rundown of last week's scores and this week's games involving area teams is below.
Last Week's Scores
Stafford 63, North Forest 6
Marshall 56, Willowridge 0
Hightower 63, Rosenberg Terry 34
Dulles 27, Austin 6
Kempner 20, Clements 14
George Ranch 37, Elkins 24
This Week's Games
Thursday
Austin vs. Clements, 6 p.m. (Mercer Stadium)
Willowridge at Sterling, 7 p.m. (Barnett Stadium)
Friday
Ridge Point vs. Travis, 7 p.m. (Hall Stadium)
Saturday
Hightower vs. Kempner, 1 p.m. (Hall Stadium)
Dulles vs. Elkins, 6 p.m. (Mercer Stadium)
Bush at George Ranch, 6 pm. (Traylor Stadium)
Class 4A playoff: Stafford at Tyler Chapel Hill, 6 p.m. (Randall Reed Stadium)