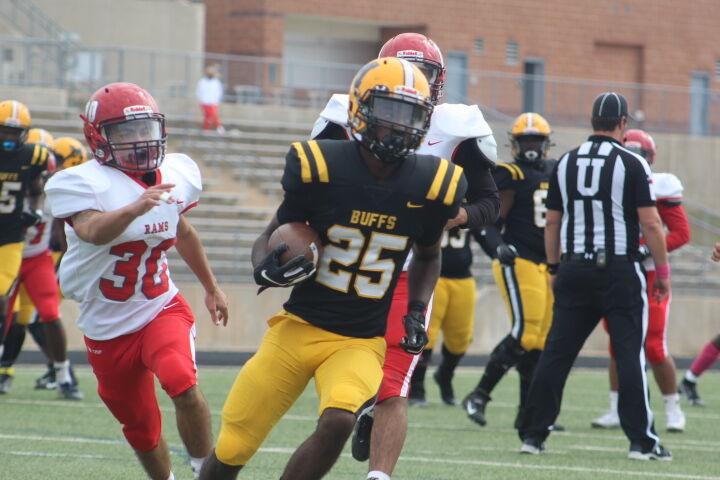 By Landan Kuhlmann
On one side, the Marshall Buffalos have become perennial playoff and state championship contenders under head coach James Williams, often using regular seasons to simply bide their time until the postseason.
Across town, first-year head coach Ramon Chinyoung and the Willowridge Eagles are in largely unfamiliar early-season territory.
How the two have gotten there, however, doesn't really matter. Fort Bend ISD's sole remaining unbeaten teams have been the class of the district so far and continued to roll last week, with both pitching shutouts to move to 4-0 on the season. Willowridge rode a hot defense and some timely scoring to victory, while the Buffalos ran roughshod early and often against Waltrip.
The two teams also sit alone atop District 11-5A at 3-0, with a head-to-head matchup looming Nov. 12 as a potential district-championship decider.
The Eagles used two touchdowns from quarterback Rufus Scott – one rushing, one passing – to lead the offense in scoring at least 20 points for the third straight week, defeating Sharpstown 24-0 last Saturday. It was the fourth consecutive multi-score game for Scott, who has now accounted for 10 total touchdowns through the season's first month.
Jamarcus Buckner added his first rushing touchdown of the season for Willowridge, which is 4-0 for the first time in more than a decade. Defensively, Willowridge shut out its second straight opponent. Je'Von Johnson and Dajuan Earthly each had interceptions as the Eagles forced four Sharpstown turnovers.
The Eagles boast the second-best scoring defense in 11-5A, giving up 18 points in four contests so far this season.
The only defense allowing few points than the Eagles? Their FBISD rival Marshall, which has yet to allow a point through four games. It was more of the same last Saturday as the Buffalos beat Waltrip 68-0 at Hall Stadium.
Marshall stifled the Rams on defense, forcing four first-half turnovers. Defensive back Christian Jackson, who has college scholarship offers from Kansas and Pittsburgh, had two interceptions and a fumble to lead the way.
Receiver Ja'vion Matthews took an end around 51 yards for a score on Marshall's opening drive as the Buffaloes' offense was off and running. Terrence Fontenot also ran for two touchdowns, while Aaron McGowen, Jy'Adrian Wortham and Runderick Dudley each had one as Marshall's rushing attack paved the way.
Matthews also caught two touchdown passes, while Chris Marshall had one. Quarterbacks Roland Harvey and Ja'Koby Banks threw total three touchdown passes as the Buffalos had their highest-scoring game of the season.
Elsewhere in FBISD, a pair of area schools got the winless monkey off their backs as Ridge Point beat Clements and Dulles took down Bush.
Ridge Point (1-2) averaged better than nine wins a season under former head coach Brett Sniffin, who is now at Belton, and made the playoffs in each of his eight seasons. But the Panthers had found tough sledding in the season's early going until last Thursday's 56-14 victory over Clements at Hall Stadium.
Senior quarterback Bert Emanuel Jr. threw for 164 yards and four touchdowns (both career highs), while six different rushers totaled 202 yards. Senior receiver and Oklahoma State commitment John Paul Richardson hauled in four passes for 95 yards and three scoring tosses.
A relentless Ridge Point defense forced seven Clements turnovers, including a fourth quarter pick six by linebacker Taylor Davis, while Marvin Sessions added a 92-yard kickoff return for a touchdown.
In Dulles' 28-6 win over Bush, the defense led the way for the Vikings (1-3) with four sacks while forcing three turnovers in their best defensive performance of the season, holding the Broncos scoreless in the second half to pull away.
On offense, Mark Tisdell threw a season-high two touchdown passes, while Devin Graham ran for 79 yards and a score.
A rundown of last week's scores and this week's games involving area teams is below.
Last Week's Scores
Marshall 68, Waltrip 0
Foster 35, Hightower 34
Dulles 28, Bush 6
Ridge Point 56, Clements 14
Willowridge 24, Sharpstown 0
Travis 35, Austin 7
Stafford 27, West Columbia 17
This Week's Games
Thursday
Bush vs. Austin, 6 p.m. (Mercer Stadium)
Clements at George Ranch, 7 p.m. (Traylor Stadium)
Friday
Dulles vs. Travis, 7 p.m. (Mercer Stadium)
Willowridge vs. Houston Austin, 7 p.m. (Hall Stadium)
Hightower at Angleton, 7 p.m. (Angleton High School)
Kempner at Foster, 7 p.m. (Traylor Stadium)
Stafford at Brazosport, 7 p.m.
Saturday
Elkins vs. Ridge Point, 1 p.m. (Mercer Stadium)
Marshall at Sharpstown, 2 p.m. (Barnett Stadium)