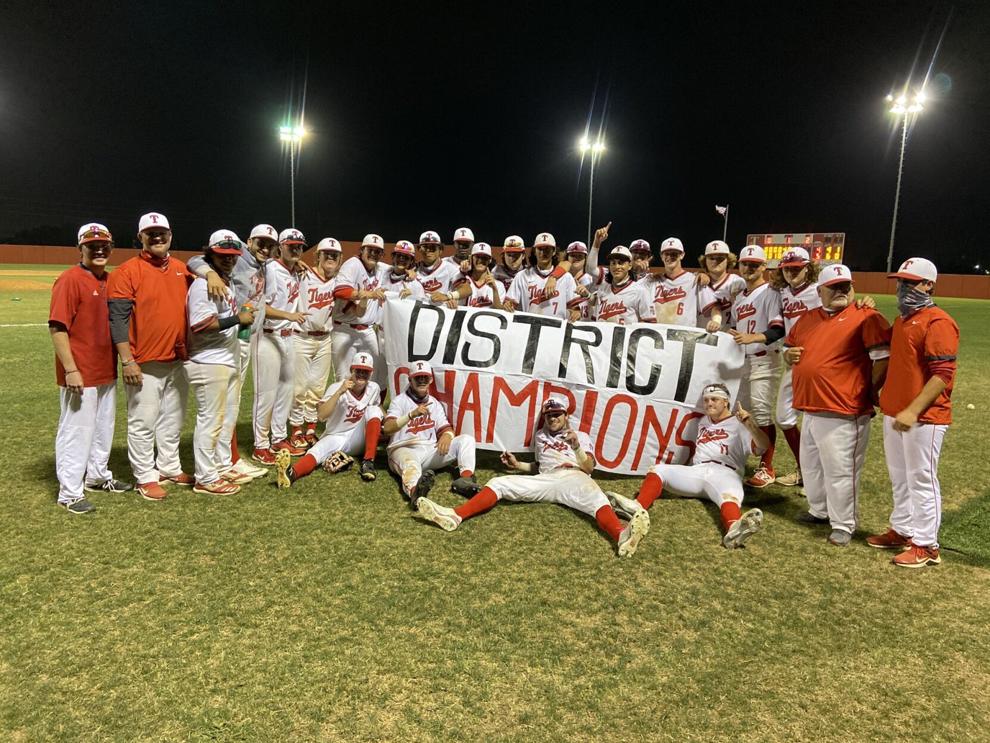 The Travis Tigers have already tied their mark for the most wins since 2017, but they have their eye on a greater prize – a state championship – after a stellar regular season.
And a big weekend from two of their stars helped ensure that dream will stay alive for at least one more week, as they were one of just two high school baseball teams to stave off the end of their season.
After taking down Katy Taylor by a score of 8-2 on May 7, the Tigers completed a bi-district sweep of the Mustangs with a 5-3 win on May 8 to advance to the Class 6A area round for the fifth consecutive season.
Nick Massarini drove in two runs in Game 1 on May 7, while Mason Muchaw had a homer and two RBIs of his own. Max Villareal also pounded out two hits and two RBIs, and Michael Gallegos had a two-hit night. Massarini and Villareal each had two hits in Game 2, as did Micah Dean, Zach Nelson and Lathan Buzard to lead a 13-hit attack.
Travis (25-4-1) will take on Jersey Village (17-15-1) in the area round beginning Friday as they look to make their first regional quarterfinal appearance since 2017.
Elsewhere in Class 6A action, Elkins had its season come to an end after being swept by Katy Tompkins by scores of 14-3 on May 7 and 12-2 on May 8, ending the season with a 15-12-1 record.
The Clements Rangers were also swept, losing to the Katy Tigers 5-2 on May 7 and 13-1 on May 8. Clements finished the 2021 campaign with a 14-18 record.
Ridge Point was unable to hold a 6-4 lead against Katy Cinco Ranch in the seventh inning on May, dropping a 7-6 decision to end their season at 20-9.
In Class 5A, the Kempner Cougars swept through their bi-district series with wins of 3-1 on May 7 and 16-2 on May 8 against Houston Northside. The Cougars (20-11) will take on Port Neches-Groves (18-14-1) beginning Friday in their first area round playoff appearance since 2016.
Ridge Point, Travis softball sweep through area playoffs
The Ridge Point Lady Panthers and Travis Lady Tigers both had strong regular seasons, and have not let up as postseason play begins. After both being down in their initial bi-district series, both have now won four straight as the good times continue to roll.
Travis once again made it through on the strength of a powerful offense, sweeping Cy-Fair by scores of 8-7 in Game 1 and 11-6 in Game 2. Ariel Kowalewski was again the catalyst in Game 1's comeback win, smashing a two-run double in the sixth inning to erase a 3-1 deficit. Then in Game 2, Kowalewski had her third homer of the postseason while Rachel Ybarra had her second of the playoffs to pace the Lady Tigers. Kennedy Clark also threw out a runner attempting to steal to seal the Game 2 victory.
It is the first regional appearance since 2017 for Travis (16-3), who will take on defending Class 6A champion Katy (18-2-2) in the next round.
Ridge Point continued to show that no lead is safe against them this season, with two comeback wins to advance.
In Game 1, the Lady Panthers used a seven-run sixth inning to quickly turn a 4-3 deficit into a 10-4 lead that they would not relinquish, capped by Reagan Green's two-out, full-count grand slam. Then in Game 2, Ridge Point overcame a 3-0 deficit late to tie the game, then scratched out enough offense for a 6-3 win in nine innings to advance to the regional quarterfinals.
It was the third comeback win of the postseason for the Lady Panthers (24-9), who advanced to their eight regional quarterfinal in the program's 10-year history to face Cy Creek (20-3).
PLAYOFF SCHEDULE
BASEBALL
Class 6A Area Round
Travis vs. Katy
Game 1: 6 p.m., Thursday, Katy HS
Game 2: 6 p.m. Friday, Travis HS
Game 3: Noon Saturday, Travis HS, if necessary
Class 5A Area Round
Kempner vs. Port Neches-Groves
Game 1: 8 p.m. Thursday
Game 2: 8 p.m. Friday
Game 3: 5 p.m. Saturday, if necessary
SOFTBALL
Class 6A Region III quarterfinal
Ridge Point vs. Cy Fair
One-game playoff: 6 p.m., Thursday, Mayde Creek HS
Travis vs. Katy
Game 1: 6 p.m. Thursday, Katy HS
Game 2: 6 p.m. Friday, Travis HS
Game 3: Noon Saturday, Travis HS, if necessary