The Ridge Point High School softball team has been heating up as the season moves along, and the Lady Panthers put their power on display last week as they continued their quest for a fourth consecutive District 20-6A crown.
Blane Simmons and Grace Janik both hit grand slams while combining for 11 RBIs in a 19-2 win over Clements on March 30, while Alexa Semeyn also homered.
Janik then had two more hits and two RBIs in Ridge Point's 6-0 win over Austin on April 1. Semeyn and Callie Mayes had two hits apiece. It was the 10th multi-hit game of the season for Semeyn, who has a .537 batting average this season.
Pitcher Malyn Simmons had two wins for Ridge Point (16-7) in the circle last week, including a complete game with nine strikeouts against Austin.
In other softball action, Riley Westmoreland went 3 for 4 with a double and RBI for the Travis Lady Tigers in a 6-0 win over George Ranch on April 1. It was the first district loss for the Lady Longhorns. Ariel Kowalewski also had three hits for Travis.
Alyssa Medrano had two hits and three RBIs for the Kempner Lady Cougars in a 7-6 loss against Lamar Consolidated on March 30, while Samantha Shelander had two hits and two RBIs in an April 1 defeat to Fulshear.
Melanie Jackson pitched a complete-game shutout for the Elkins Lady Knights in their 10-0 win over the Bush Lady Broncos on April 1.
Quest Boniabi had two hits for the Stafford Lady Spartans in their 14-4 loss against Brazosport on March 30.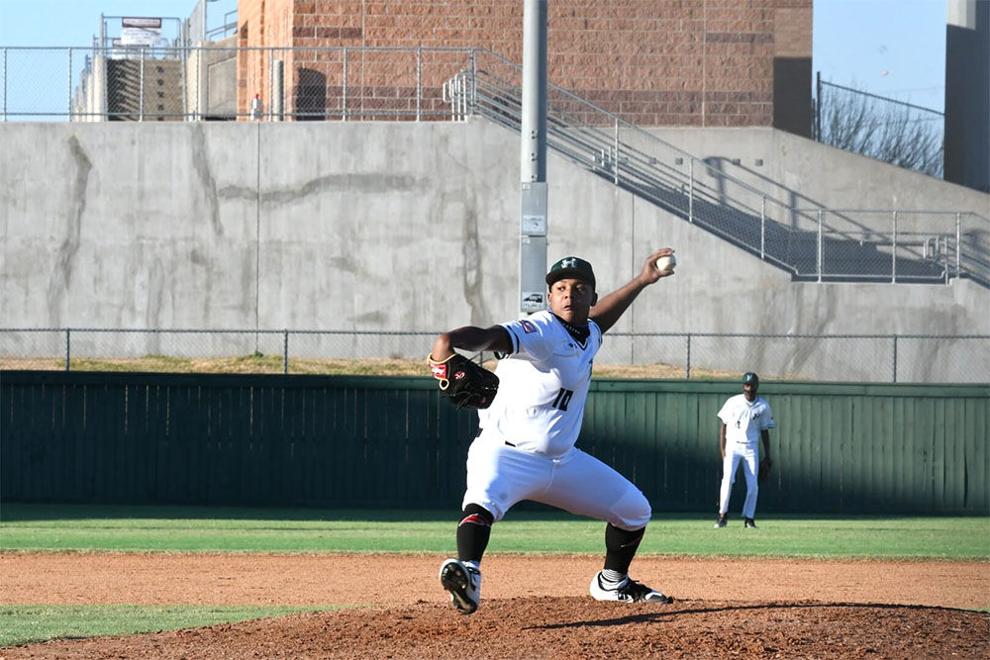 Baseball
James Sattler and Dylan Burnaman each pitched complete games for the Clements Rangers during a 2-0 week, with Sattler shutting out Austin in a 5-0 win March 30.
Ridge Point also went 2-0 last week, using a power display. Justin Vossos homered for the Panthers in an 11-2 victory over Elkins on March 31, while Zach Ellis and Brandon Nelson each hit one out of the park in a 14-3 win over Bush on April 1.
Joseph Binder had four hits in two games for Elkins last week, the aforementioned loss to Ridge Point and a 12-1 defeat at the hands of Travis.
Kaleb Roberts, Leo Ibarra, Angel Ponce and Landon Lamply had two hits apiece in Stafford's 10-2 win over Columbia on April 1, while Phillip Green and Chris Brown each drove in two runs.
Pedro Medina had two hits for the Bush Broncos in a 9-3 loss to George Ranch on March 31. Dominic Medrano had two RBIs.
Last Week's Scores
BASEBALL
March 30
District 20-6A
Ridge Point 11, Elkins 2
Clements 5, Austin 0
George Ranch 9, Bush 3
District 24-5A
Fulshear 12, Willowridge 0
Kempner 13, Marshall 1
Rosenberg Terry 16, Hightower 0
April 1
District 20-6A
Travis 12, Elkins 1
Clements 5, George Ranch 3
Ridge Point 14, Bush 3
District 24-5A
Fulshear 25, Willowridge 0
Kempner 10, Marshall 0
District 25-4A
Stafford 10, Columbia 2
SOFTBALL
March 30
District 20-6A
Austin 3, Travis 2
Dulles 13, Bush 3
Ridge Point 19, Clements 2
George Ranch 9, Elkins 3
District 24-5A
Angleton 15, Hightower 0
Lamar Consolidated 7, Kempner 6
District 25-4A
Brazosport 14, Stafford 4
April 1
District 20-6A
Ridge Point 6, Austin 1
Dulles 8, Clements 4
Travis 6, George Ranch 0
Elkins 10, Bush 0
District 24-5A
Lamar Consolidated 15, Hightower 0
Fulshear 15, Kempner 3
District 25-4A
Needville 15, Stafford 0