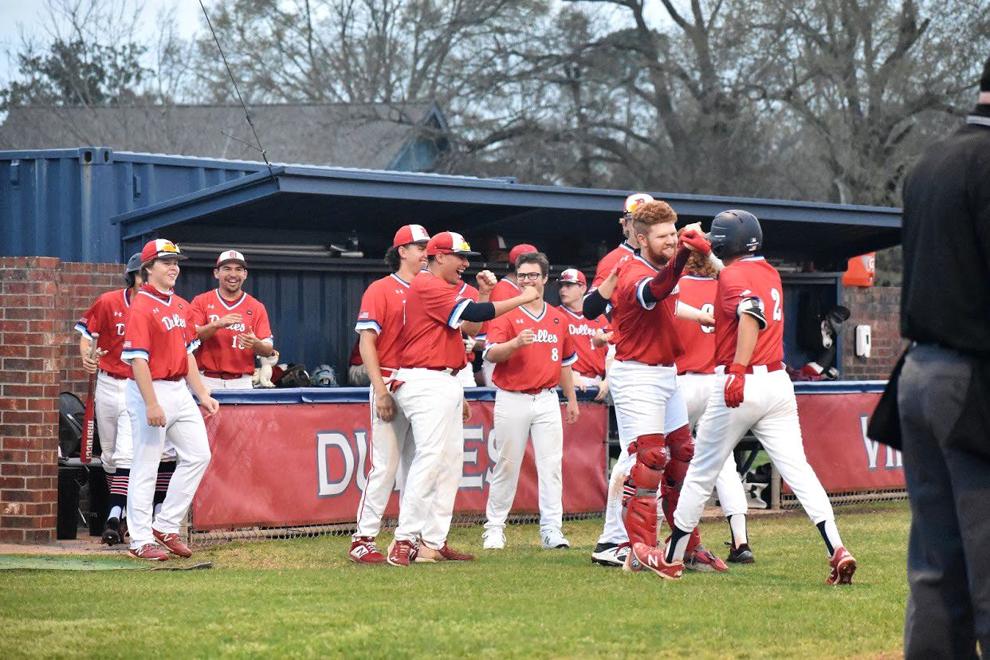 Walker Holzhausen pitched a no-hitter for Travis High School in its 4-0 win against Ridge Point on April 19, helping the Tigers overtake the Panthers for first place in District 20-6A.
Travis (21-4-1, 10-1 district) then beat Clements 14-0 on April 20 for its ninth straight win heading into this Tuesday's matchup against Elkins.
After Elkins beat Clements 4-1 on April 19, the Knights (14-9-2, 8-4) dropped their final two games of the week despite strong performances from junior Adam Wade. Wade allowed one run in 6 2/3 innings pitched while striking out 11 batters in a 1-0 loss to Dulles on April 21, then had a double in a 4-0 loss to Ridge Point on April 23.
J.J. Kennett pitched a complete-game shutout for the Panthers (18-8, 7-3), who had a rough week otherwise. In addition to the loss against Travis, Ridge Point also lost 3-2 against George Ranch on April 20 and 3-0 against Clements on April 24.
Clements' win was buoyed by Ben Couture, who pitched a shutout. The Rangers (13-16, 6-8) also enjoyed a walk-off win against Austin, prevailing 6-5 on April 23, to bounce back from two losses earlier in the week.
It was the young guns driving the bus for Austin in a 14-4 win over the Bush Broncos on April 20. Freshman Logan Witt had a season-high four hits and five RBIs for Austin (13-11, 4-5 district), while sophomore Tyler Do had a career-high four hits of his own to go along with three RBIs. Bryceson Williams threw a complete game against Bush, allowing no earned runs while striking out 10 hitters.
Dantonio Hackworth had a double and two stolen bases for the Broncos (6-19-1, 0-11) in the loss. Bush was looking for its first district win entering Tuesday's scheduled game against Ridge Point.
Ross Reichardt pitched a shutout for Kempner in District 24-5A action last week as the Cougars (16-10, 11-3) shut down the Hightower Hurricanes in a 7-0 win on April 19.
In the area's Class 4A action, Landon Lampley had two RBIs for Stafford as the Spartans lost an 8-5 decision to Bay City on April 20, dropping them to 7-10-1 overall and 3-4 in district play.
Softball
The Travis Lady Tigers clinched the District 20-6A title with a 3-2 win over Ridge Point on April 19. Rachel Ybarra struck out eight hitters in the circle for Travis (11-2, 11-2), while Ariel Kowalewski went 3 for 4 with a double.
Freshman Kori Vasquez led the Kempner Lady Cougars with three hits in their 15-0 win over Willowridge, while Erin Casilang, Lauren Hatch and Samantha Decker had two hits apiece. Hatch and Decker each smacked a double and a triple for Kempner (15-13, 9-8), while Hatch had four RBIs and Decker drove in two runs.
Bailey Gray had four hits for the Hightower Lady Hurricanes in a 17-1 win over Willowridge on April 22 as Hightower improved to 6-12 overall and 5-11 in District 24-5A.
Last Week's Scores
BASEBALL
April 19
District 20-6A
Elkins 4, Clements 1
Travis 4, Ridge Point 0
April 20
District 20-6A
Austin 14, Bush 4
Travis 14, Clements 0
Dulles 1, Elkins 0
George Ranch 3, Ridge Point 2
District 24-5A
Kempner 7, Hightower 0
Angleton 14, Marshall 4
Richmond Foster 25, Willowridge 1
District 25-4A
Bay City 8, Stafford 5
April 23
District 20-6A
Clements 6, Austin 5
Ridge Point 4, Elkins 0
District 24-5A
Kempner 12, Hightower 1
April 24
District 20-6A
Clements 3, Ridge Point 0
Austin 8, Dulles 4
SOFTBALL
April 19
District 20-6A
Clements 16, Bush 5
Travis 3, Ridge Point 2
George Ranch 6, Dulles 3
April 20
District 20-6A
Ridge Point 19, Bush 0
District 24-5A
Kempner 15, Willowridge 0
District 25-4A
Columbia 17, Stafford 1
April 22
District 24-5A
Hightower 17, Willowridge 1
Fulshear 19, Marshall 0
April 24
District 20-6A
Ridge Point 11, Elkins 1