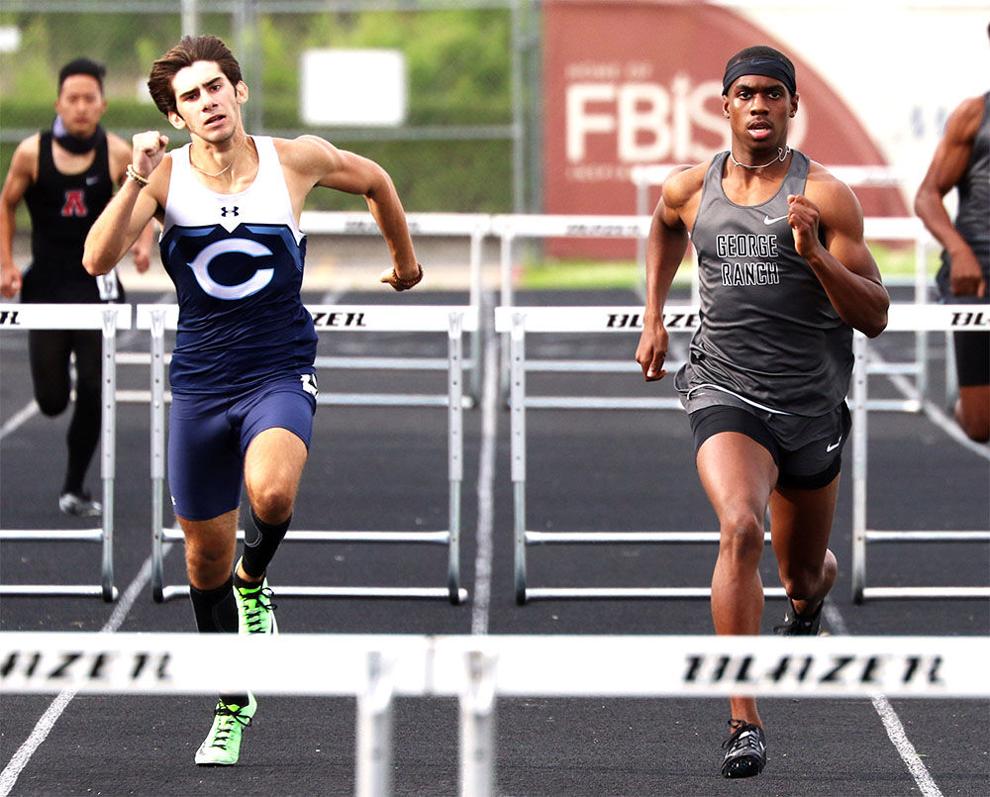 Clements track and field coach Jason Haddock said not even wet, rainy weather or late start times could derail the community's support for the Rangers' lone regional meet participant, senior hurdler Felipe Medrado.
His event, the Class 6A 300-meter hurdles, was one of the last races to reach the starting blocks on April 24 due to inclement weather that had delayed the Region III competition.
"We were in a situation where we ran late because of bad weather, so we knew all the other marks that had come and what he needed to be at in order to get that at-large spot (to the state meet)," Haddock said.
Less than a minute later, exhaustion gave way to jubilation as the 18-year-old Medrado snagged a wild-card berth to the UIL state meet in Austin with a personal-best time of 38.27 seconds – among the eighth-fastest in Texas among third-place finishers at the four 6A regional meets. He is the first Clements male athlete since 1988 to qualify for the state track meet, which takes place this Friday through Sunday.
"When he crossed the finish line, they started rolling those times out and we saw he had gotten the time he needed, we just went absolutely nuts in the stands," said Haddock, who is in his second season as Clements' head coach.
The accomplishment has been a few years coming for Medrado, who said he did not pick up track until around middle school, and did not begin pursuing it in earnest until coming to Clements as a freshman in 2018.
He has been in the program all four years at Clements, and has been one of the varsity leaders since his sophomore season in 2019, according to Haddock.
"A lot of kids, when you have an affinity and talent for a sport, you want to see yourself succeed," Medrado said. "I knew I had the potential and knew that I could grow in this sport. It's something that was going to challenge me, keep me healthy and everything else."
A few years later, Medrado – who is primarily a hurdler and short-distance sprinter – has etched his name into the school's record book. He previously set a school record in the 300 hurdles during the April 16 area meet and then bested the time at the regional.
"I didn't really know all that about it being so long since we'd had someone qualify," Medrado said. "I'm really happy to just represent my program and my team to bring more recognition to the track program."
His coach said Medrado's exploits were not much of a surprise. According to Haddock, he tabbed Medrado early in 2020 as a runner who had a chance to make school history. Medrado was among a select group of runners who took part in the Texas A&M High School Indoor Classic in January 2020, finishing third in the event's 60 hurdles with a time of 8.92 while anchoring the Rangers' 1,600 relay team.
The work, Haddock said, was a precursor to this year's history-making season.
"Realizing where his potential can take him has really driven his work ethic," Haddock said. "When he saw that he really had a shot at achieving some stuff, it cranked up. Then this year, he really stepped up and took a leadership role. At that point, I told our coaches I thought he had a chance to go to state."
Medrado, however, knows it wasn't just an individual effort.
"It was just a feeling of validation, that sense of, 'We did it.' The first thing I think about when I run a really good race is all of my teammates and my coaches," he said. "I know I can control my work ethic, but the teammates and coaches are both outside my control. I'm forever grateful for them."
Haddock reciprocated the sentiment, adding that some of the Clements community will be making a special trip to Austin for the occasion.
"His teammates mobbed, we mobbed him (when Medrado qualified)," Haddock said. "We're all just really excited for him."