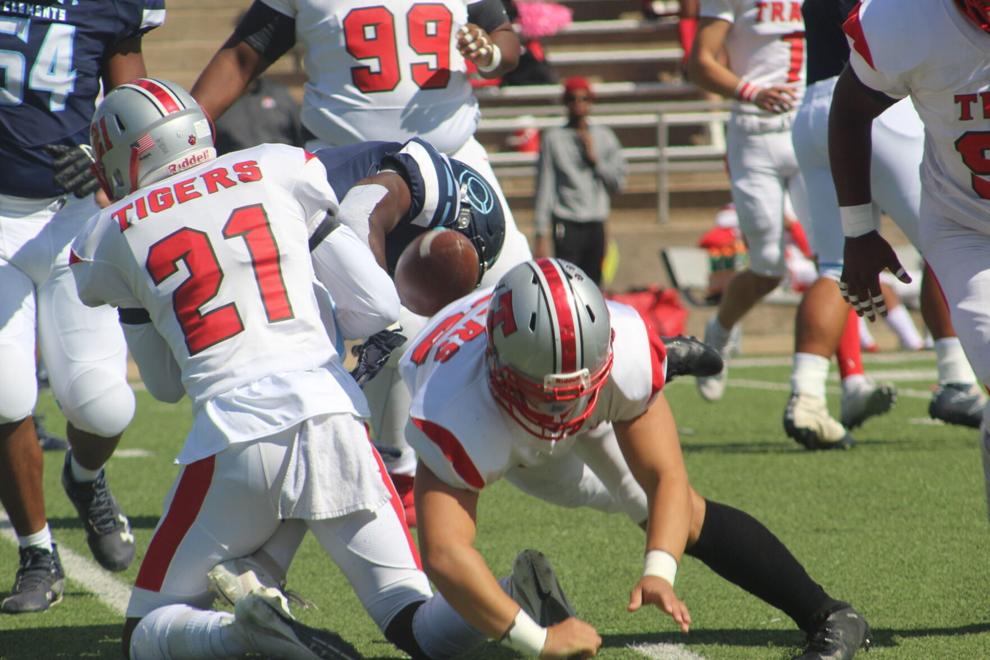 By Landan Kuhlmann
While many of Fort Bend ISD's schools were able to finally kick off their football season last week, the wait continued at least another week for one area school.
The Travis Tigers, who were scheduled to face Richmond Foster on Thursday, had their game cancelled due to a positive COVID-19 test from someone associated with Foster's football program, according to a tweet from Lamar Consolidated ISD. LCISD also cited "a need to quarantine additional players."
The Travis-Foster game was last week's only local athletic event impacted by COVID-19, which as of Monday had infected a total of 16,603 Fort Bend County residents, with at least 196 people having died from the disease and 15,471 patients having recovered.
Travis is now scheduled to begin its season at 7 p.m. Friday with a road game against Montgomery Lake Creek as it looks to extend a 13-game regular-season winning streak that dates back to 2018.
Marshall, a state finalist last year in Class 5A Division II, may have looked far from the offensive juggernaut that fans in Fort Bend and around the state are accustomed to seeing in last week's 7-0 victory over Elkins. But the result was much the same for the Buffalos, who have won 50 games over the last four years.
Marshall, ranked No. 2 in 5A heading into the season, made a first-quarter touchdown from Jy'Adrian Wortham stand up in the win over the Knights. A defense that returned multiple starters led the way for the Buffalos, and junior defensive back Adari Haulcy had two of the unit's three interceptions.
A strong ground attack paved the way for Clements in the Rangers' 50-13 victory over Houston Sterling last week as they matched their win total from 2019. Senior quarterback James Sattler accounted for 113 of the Rangers' 295 rushing yards and two scores. He also added 111 yards and three touchdowns through the air as Clements amassed 451 yards of total offense in the win. On defense, Ian Conatser and Giovanni Arredondo had multiple sacks to lead the Rangers' onslaught, which produced 12 sacks.
In other area action, Kempner senior running back Joseph Trim rushed for 182 yards and three touchdowns in the Cougars' 33-13 victory over Alvin. Ethan Griswell helped the Cougars stymie the Yellow Jackets' offense with two interceptions.
The Willowridge Eagles also emerged victorious, holding off a late comeback attempt from Dulles in 12-11 victory. Senior quarterback Rufus Scott accounted for 140 total yards and two touchdown passes in the win, while Anthony Stevens and Nicholas McFarland each had interceptions.
A rundown of last week's games and upcoming schedule involving area teams is below.
Last week's scores
Willowridge 12, Dulles 11
Marshall 7, Elkins 0
Kempner 33, Alvin 13
College Station 54, Bush 0
Clements 50, Houston Sterling 13
Dickinson 38, Ridge Point 21
Westfield 37, Hightower 28
Westside 21, Austin 7
This week's games
Thursday
Dulles at Mayde Creek, 6 p.m. (Legacy Stadium)
Kempner vs. Wisdom, 7 p.m. (Mercer Stadium)
Marshall vs. Galena Park, 7 p.m. (Hall Stadium)
Travis at Montgomery Lake Creek, 7 p.m. (Montgomery ISD Athletic Complex)
Friday
Bush vs. Dobie, 7 p.m. (Hall Stadium)
Clements vs. Pasadena, 7 p.m. (Mercer Stadium)
Ridge Point at C.E. King, 7 p.m. (C.E. King High School)
Stafford at El Campo, 7 p.m. (El Campo High School)
Saturday
Elkins at Clear Springs, noon (Challenger Columbia Stadium)
Austin vs. Woodlands College Park, 6 p.m. (Mercer Stadium)
Willowridge vs. Northside, 6 p.m. (Hall Stadium)