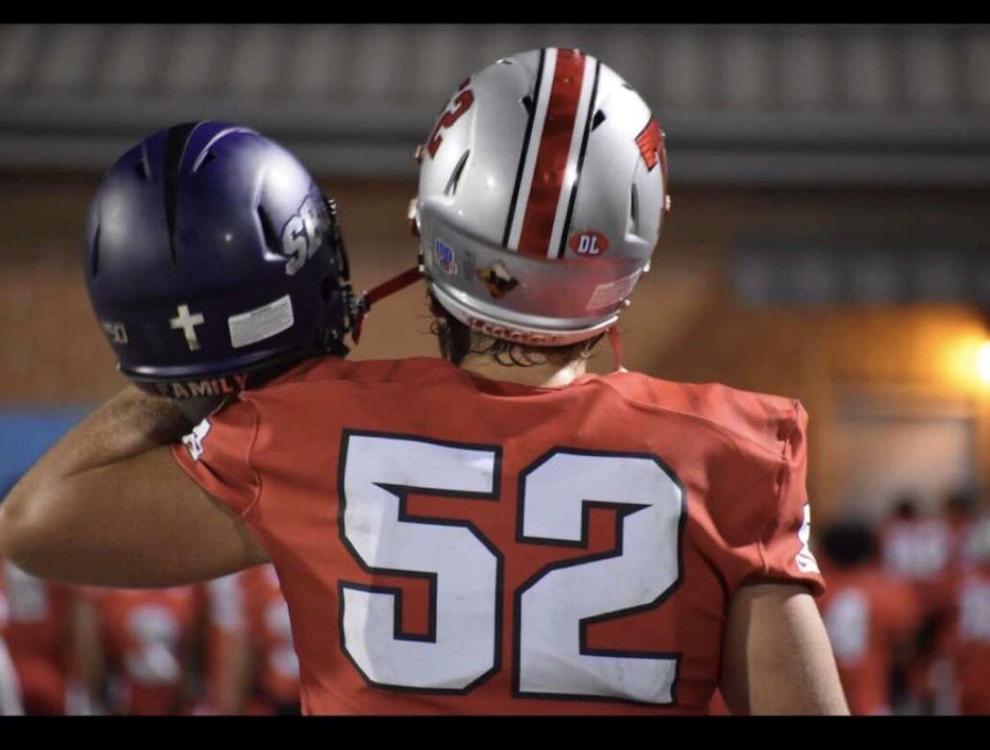 By Landan Kuhlmann
It's already been a hectic football season for the Travis Tigers, despite playing just two games far.
First, COVID-19 forced an abrupt halt to spring workouts in March. Then the Tigers had their originally scheduled season opener, Oct. 8 against Richmond Foster, cancelled due to a positive test among the Foster team. Later, after dropping a 30-29 heartbreaker in a fill-in game against Montgomery Lake Creek, receivers coach Derwyn Lauderdale was killed in a shooting in Rosenberg on Oct. 10.
Last Friday, with "DL" decals on the back of their helmets and after honoring Lauderdale with a moment of silence before the opening kickoff, the Tigers channeled their emotions into a 41-28 win over the Heights Bulldogs at Hall Stadium in Missouri City.
Junior quarterback Anthony Njoku found holes in the Bulldogs' defense with relative ease in throwing for 307 yards and three touchdowns. Njoku also added two scores on the ground for Travis, which accumulated 444 total yards of offense.
Michael Samba caught two touchdown passes, while Jeremiah Ephran caught another.
In other area action, a pair of traditional playoff contenders remained the sole unbeaten teams in Fort Bend ISD.
The Marshall Buffalos stampeded past the competition for a second consecutive week with a 60-0 win over Houston Northside last Friday night. Marshall improved to 3-0 on the season, winning its ninth consecutive regular-season game dating back to last season.
In true Marshall fashion, the run game was again strong for the Buffalos. Three different players scored touchdowns, with Jy'Adrian Wortham and Aaron McGowen rushing for two each and Runderick Dudley finding pay dirt for the fifth time on the young season.
Roland Harvey threw a touchdown each to Javion Matthews and Chris Marshall, who hauled in two scoring tosses. On defense, Adari Haulcey had his third interception for a unit that forced three turnovers.
Elsewhere, the Willowridge Eagles (3-0) also stayed unbeaten with a 12-0 win over Waltrip last Thursday at Hall Stadium. Quarterback Rufus Scott accounted for both touchdowns with an 11-yard run and a 36-yard scoring strike to Kolby Cohen.
The Hightower Hurricanes (1-1) rebounded from a loss to Westfield by defeating The Woodlands 28-25 last Friday. Freshman quarterback Jered Sherman had his second consecutive multi-touchdown game, with one each rushing and passing. Tailback Charles Shelling followed up a 152-yard outing against Westfield with two scores Friday.
Hightower held off a late charge from the Highlanders, recovering an onside kick with less than two minutes to go to seal the win.
A rundown of last week's scores and this week's games involving area teams is below.
Last week's scores
Travis 41, Heights 28
Conroe 47, Dulles 7
Willowridge 20, Waltrip 0
Marshall 60, Northside 0
Fulshear 33, Clements 7
Hightower 28, The Woodlands 25
Grand Oaks 69, Austin 10
Katy Paetow 42, Kempner 7
Needville 28, Stafford 20
This week's games
Thursday
Dulles vs. Bush, 6 p.m. (Mercer Stadium)
Ridge Point vs. Clements, 6 p.m. (Hall Stadium)
Kempner at Rosenberg Terry, 7 p.m. (Traylor Stadium)
Friday
Stafford at West Columbia, 7 p.m.
Austin vs. Travis, 7 p.m. (Mercer Stadium)
Elkins vs. George Ranch, 7 p.m. (Hall Stadium)
Saturday
Hightower vs. Richmond Foster, 1 p.m. (Mercer Stadium)
Marshall vs. Waltrip, 1 p.m. (Hall Stadium)
Willowridge at Sharpstown, 2 p.m. (Barnett Stadium)